More News
Double XP Through the Mountains and Snow!
Posted by Lord Lowden Clear on December 23, 2020 at 2:00 PM
On the ninth day of winter, Toontown gives to you:
Twice the battle experience,
Mall Santa madness,
Red-nosed reindeer Toons,
Winter art aplenty,
A MEGAAAAAA COG INVASION!
(bum bum bum...)
Snowtoons singing serenades,
Merry musical melodies,
Street prop party performances,
And a long-awaited update just for YOU!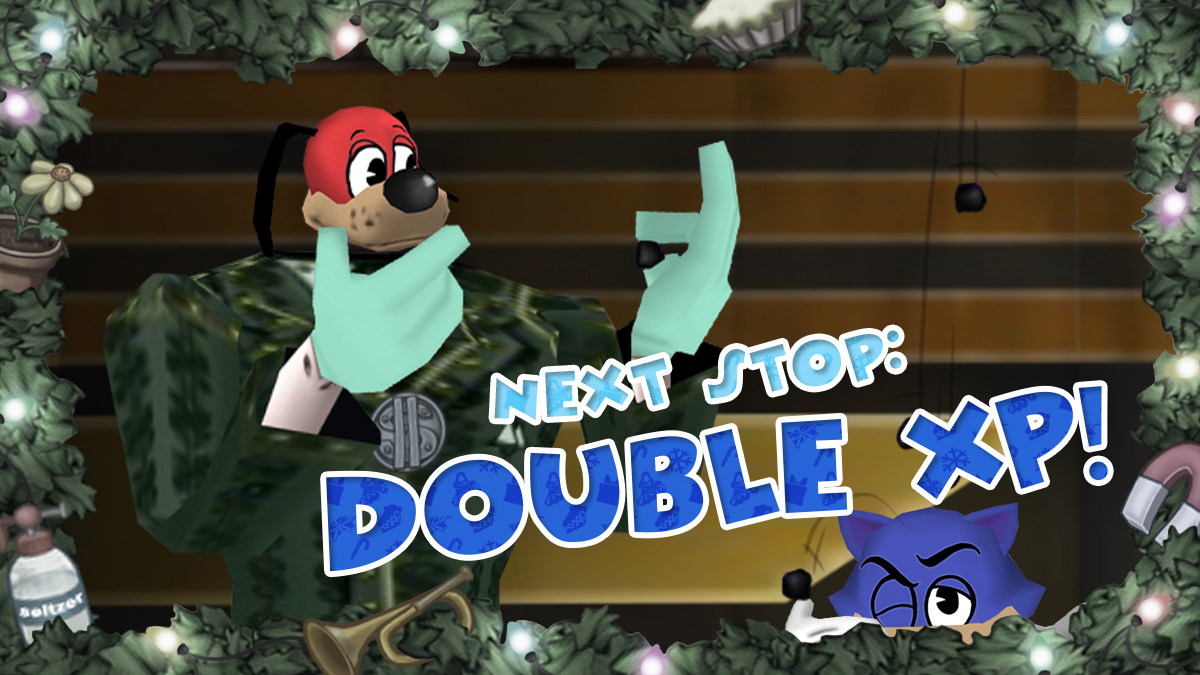 Hello again, Toontown. I trust that you're all enjoying the wonderful Winter Holiday! I'd love to do the same... but as usual, these Cogs are trying to mess with our fun. Resistance Rangers have reported that the Coaler Express has made a stop in Cashbot HQ, preparing Cogs to fill every Toon's stocking with coal!
We believe this no-fun parody procession must have come from the South Pole -- which any Toon who knows their way around a figgy pudding knows is the opposite of everything jolly and merry. To save the holidays, we must stop those grinchy gearboxes!
To make up for any lack of holiday hijinks, we're serving every Toon hot chocolate with a side of Double XP, from now until 11:59 PM Toontown Time (PST) on December 25th! With this little incentive, streets will surely be filled with caroling and explosions.
Now that sounds like my idea of a fun Winter Holiday. Now if you'll excuse me, I've got a train to catch! Until next time, keep them busting -- with laughter!
Lord Lowden Clear
Leader of the Toon Resistance

December 22, 2020 [ttr-live-v2.7.1]
General
• Fixed a bug where Community Partners did not show up as such when viewing their profile in a different area.
• Toons no longer lose speed when pressing the walk key mid-air. Actually, this time!
• Fixed various cases of Content Packs not being applied or applied correctly.
• Implemented stability enhancements for lower-end machines using an Intel Integrated GPU.
• Addressed various GUI related bugs introduced in ttr-live-v2.7.0.
• Fixed multiple bugs and crashes throughout Toontown.
• Removed Laff limit from the Sellbot Factory side entrance.

Visuals
• Implemented a fix for a long-standing bug where Anti-Aliasing would not be applied.
• Addressed a visual bug where streets would have improper lighting during Halloween and Winter holidays.
• In ToonTasks given by HQ Officers, a random Toon head is now used on the ToonTask scroll.
• Accessories will no longer display on the Toon statue preview in the Cattlelog.

---
Comments
Sorry! Comments are closed.
---
---
---
---
---
---
Back To Top