More News
Cold Callers are Comin' to Toontown!
Posted by Sweaty Pete on December 19, 2020 at 2:00 PM
On the fifth day of winter, Toontown gives to you:
A MEGAAAAAA COG INVASION!
(bum bum bum...)
Snowtoons singing serenades,
Merry musical melodies,
Street prop party performances,
And a long-awaited update just for YOU!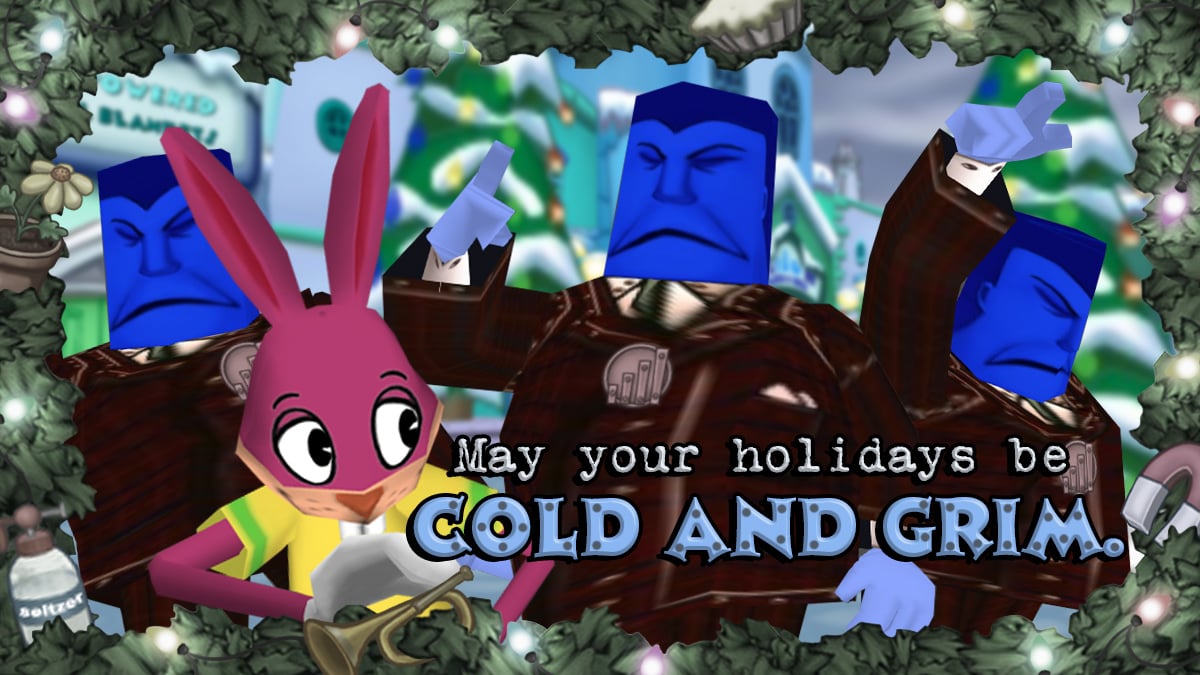 Boy oh boy, have I got a story for you. I was minding my own business down at my shop -- Heat! Get it While it's Hot -- in The Brrrgh today when I felt a sudden chill in the air. I asked one of my customers if they felt it too, but they just shrugged and said the Brrrgh is always cold. Ha! Not in my case! My shop is NEVER chilly. Not ever, ever, ever in the slightest bit!
So I bundled up in my warmest attire and ventured outside to see what in Toontown was going on. And let me tell you what I saw: Cold Callers all over the streets! Billions of 'em, I tell you, billions! I just know they're the reason my darn heat keeps on getting cold. I can't sell cold heat, now can I? Toons would go nutcrackers!
Just let me tell you, these Cold Callers are all over Toontown, dropping Toontown's temperature faster than you can say "happy holidays." Dare I say, it looks like they've started a Mega-Invasion!
Tell you what: if you skate your way along the newly frozen streets and get rid of all those nasty Cold Callers to heat things back up, I'll even make it worthwhile and call in the Resistance Rangers to hand out some free Cog Crusher outfits! What are you waiting for, Toons? Get to it!
---
Comments
Sorry! Comments are closed.
---
---
---
---
---
---
Back To Top