More News
Here Comes Santa Paws
Posted by Santa Paws on December 22, 2020 at 2:00 PM
On the eighth day of winter, Toontown gives to you:
Mall Santa madness,
Red-nosed reindeer Toons,
Winter art aplenty,
A MEGAAAAAA COG INVASION!
(bum bum bum...)
Snowtoons singing serenades,
Merry musical melodies,
Street prop party performances,
And a long-awaited update just for YOU!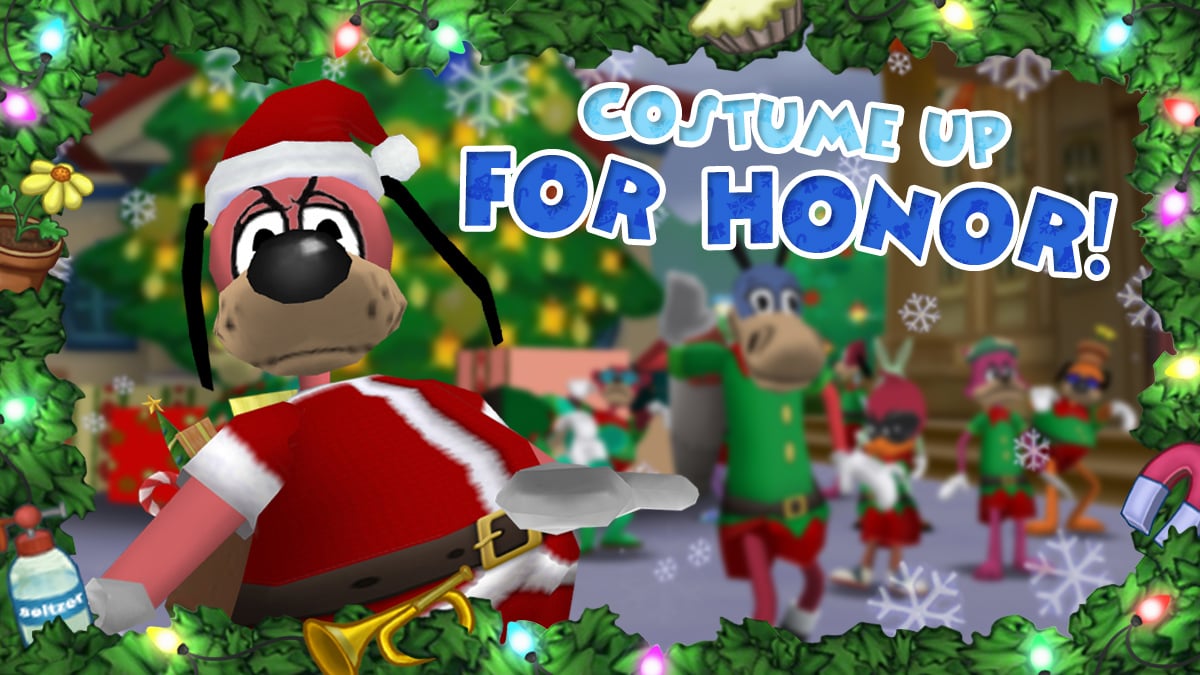 Ho, ho, ho! Happy holidays, Toons! My name's Santa Paws, and I'm-- what? No, I'm not SantaToon, but-- hey, hear me out!
Listen. SantaToon thinks he's all high and mighty with that "flying" sleigh of his, but the sleds I sell down at my shop in The Brrrgh are way better! You won't find craftsmanship like mine in the North Pole, I tell you. I even wrote a letter to SantaToon, saying all I want for Christmas is a wrestling match to prove who's the real Santa, and all I got was a lousy set of Shtick 'Em Trick 'Em Robots!
You know what this means? War. It's that jolly time of year when I take on the North Pole! For honor! I've taken all the gifts from last year and wrapped them up in a nice, new bow so that you can join me. Open your Shticker Book to the "Codes" section, and enter "coming-to-town" for a matching red suit like my own. If you wanna make snowballs for the snowball fight of the century, entering "on-the-shelf" for an elf outfit would suit you better.
You've got until 11:59 PM Toontown Time (PST) on December 30th to redeem your gifts, as we will charge forward on the dawn of the new year. Join me, my merry minions! No, seriously, come on... SantaToon isn't even a pun!
Note from The Toontown Team: We're aware of an issue where the item codes appear to currently be expired in-game. The issue should be resolved after tonight's maintenance at 9 PM PST, making the codes available afterwards. Sorry for the delay, and thank you for your patience!

---
Comments
Sorry! Comments are closed.
---
---
---
---
---
---
---
---
---
Back To Top