More News
Run Run Sir Max!
Posted by Sir Max on December 26, 2019 at 2:00 PM
On the twelfth day of winter, Toontown gives to you:
The Greatest Snowball Fight,
Merry Christmas Wishes,
A Polar-Palooza,
Twice the Gag experience,
Fuzzy festive outfits,
Ruby-red-nosed Reindeer,
Blankets of soft snow,
A MEGAAAAAA COG INVASION!
(bum bum bum...)
Soulful singing Snowtoons,
Jolly winter jams,
Out-of-this-world ornaments,
And the start of a festive jamboree!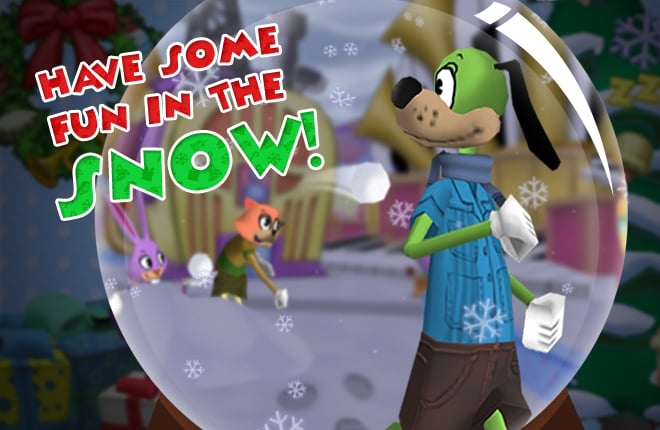 Hey, Toons! Haven't heard from me in a while, you say? To tell you the truth, I've been in hiding. My meeting with Hawkheart didn't go quite as planned. But no worries, I dug myself out of that hole and have been enjoying the Twelve Days of Winter! On the down-low of course. Although, I've been having the strangest feeling. I feel like I'm being- POW!
YOUCH! A snowball? How could I forget! Today is the Great Snowball Fight! Toons, from now until 11:59 PM Toontown Time (PST) on December 30th, you can sling snowballs at each other as much as you want! Just grab a handful from the piles of snow scattered all across the playgrounds. This is a longstanding Toontown tradition, introduced by Slappy Quackintosh many years ago. I gotta join the fun as soon as- POW!
YOWIE! I've gotta make a bunch of snowballs pronto. I'm gonna need a bucket to- WHAM! Ignore it, Max. Bucket, bucket. I need a- WHAMMO! Bucket! Found a bucket. Now, some snow... that's a pretty good pile. Time to form some snow- WHAP!
Alright, that does it! Who dares incur the wrath of Sir Max? My snowball-throwing skills are like no other! I'm as strong as an ox! As fast as a cheetah! As fierce as a lion! As sharp as a-
Team Hawkheart, NO!
POW! POW! POW! POW! POW! POW! POW! POW! POW! POW!
WAIT, WAIT, WAIT! Pause! Timeout! Red flag! Penalty! Gimme a second! Hiring a team of Toons to pelt me with snowballs is cheating!
---
Comments
Sorry! Comments are closed.
---
---
---
---
---
---
---
---
---
---
---
Back To Top