More News
Toons, It's Cold Outside!
Posted by Lord Lowden Clear on December 23, 2019 at 2:00 PM
On the ninth day of winter, Toontown gives to you:
Twice the Gag experience,
Fuzzy festive outfits,
Ruby-red-nosed Reindeer,
Blankets of soft snow,
A MEGAAAAAA COG INVASION!
(bum bum bum...)
Soulful singing Snowtoons,
Jolly winter jams,
Out-of-this-world ornaments,
And the start of a festive jamboree!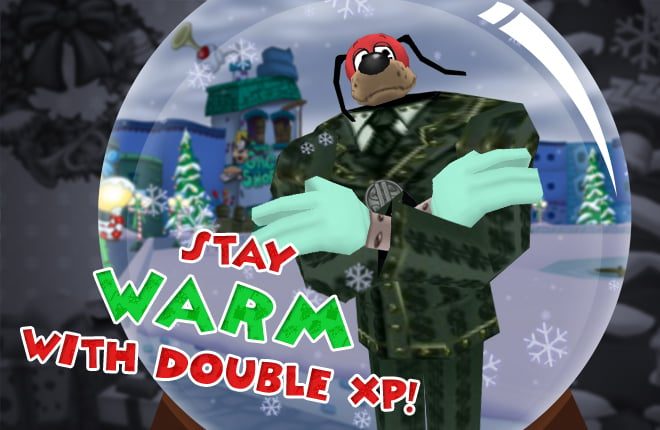 Toons of the World... stay warm! It is beyond freezing out here! This weather, though, is fitting for the message I came to deliver. I figured that frostbite might come back to bite us when we're battling against Cogs. Those steel sticklers probably don't get the least bit chilly since they're a hundred percent machine. They'll probably use that to their advantage and strike during the coldest hours of the night. We can't let them do that, Toons!
To solve this, I paid a little visit to Toon HQ. Call it an incentive or an early Christmas present, but Toon HQ will be rewarding all Toons Double XP from now until 11:59 P.M. (PST) on December 25th! Myself and Toon HQ hope this gift will persuade you to hit the streets instead of the hay.
I'm counting on each and every one of you. Until next time, keep them busting -- with laughter!
Lord Lowden Clear
Leader of the Toon Resistance


---
Comments
Sorry! Comments are closed.
---
---
---
---
---
---
---
---
---
---
---
---
---
---
---
---
---
Back To Top