More News
Cold December Invasions
Posted by The Cold Callers on December 19, 2019 at 2:00 PM
On the fifth day of winter, Toontown gives to you:
A MEGAAAAAA COG INVASION!
(bum bum bum...)
Soulful singing Snowtoons,
Jolly winter jams,
Out-of-this-world ornaments,
And the start of a festive jamboree!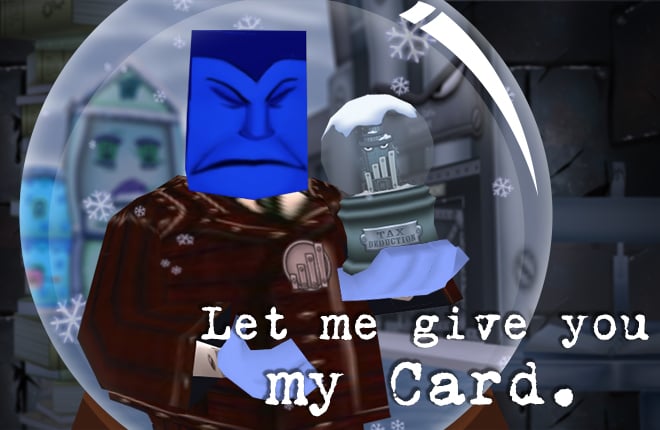 Ring ring, Toons. Cut the hold music. You've got an unexpected call coming into Toontown -- and it's from the Cold Callers. We're here to sell you our finest "holiday goods", straight from the factories of Cog Nation. For instance, our wide variety of winter themed business cards and snow globes are bound to make any acquaintance mildly enthused -- the perfect amount of excitement for a productive individual.
It seems clear as ice that our products are the next craze in Toontown. To help promote our products, we will be carrying out a Cold Caller Version 2.0 Mega Invasion. As our Mover & Shaker co-workers have taught us, the best marketing strategy is an aggressive one. From now until December 21st at 2:00 PM Toontown Time (PST), we will be taking to the streets to sell our wares. Don't back away from this good deal, or we'll have to freeze your assets.
Should we see success in this marketing strategy, we've been promised a grand promotion from corporate. Needless to say, do not send out the Resistance Rangers to the streets of Toontown. Their silly antics will stop you from getting this chillingly good deal, after all. Come now Toons, buy our product.
---
Comments
Sorry! Comments are closed.
---
---
---
---
---
---
---
---
---
---
---
---
---
---
---
---
---
---
---
---
---
---
---
---
---
Back To Top