More News
All I Want for Christmas is Snow!
Posted by Paula Behr on December 20, 2019 at 2:00 PM
On the sixth day of winter, Toontown gives to you:
Blankets of soft snow,
A MEGAAAAAA COG INVASION!
(bum bum bum...)
Soulful singing Snowtoons,
Jolly winter jams,
Out-of-this-world ornaments,
And the start of a festive jamboree!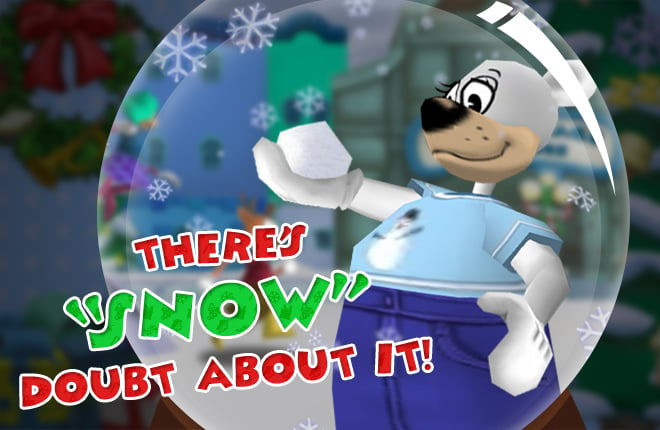 Howdy, Toons! Ain't it a beauty? Snow is absolutely everywhere! All the excessive snowfall from the Super Duper Air Conditioner has covered Toontown entirely. Boy howdy, this means that all of the Playgrounds are completely blanketed in snow! What a wonderful white winter!
Wanna get even more festive? Why don't you come by Hibernation Vacations on Polar Place in The Brrrgh? Give me your finest "Howdy!" and I'll help you blend in with the snow! Careful though -- making snow angels while polar is a dangerous game. You'll blend right in!
Now, could you grab a bucket and help me dig up some snow? There may be snow year round in The Brrrgh, but when it comes to hibernation, I can never get enough of the stuff. Plus, we might be able to use some of it later for a bit of fun! You didn't hear that from me though.

Enjoy the snow, Toontown!
---
Comments
Sorry! Comments are closed.
---
---
---
---
---
---
---
---
---
---
Back To Top