More News
Start the New Year with the Top Toons Marathon!
Posted by S'more on December 27, 2019 at 2:00 PM

It's that time of the year again: hot chocolate, warm pie, and competition. That's right, Toons... The New Year's Fireworks are BACK! Every hour, on the hour, you can see them soaring through the sky in every playground from December 30th at 12:00 AM Toontown Time (PST) until January 2nd at 12:00 AM Toontown Time. They're a long standing Toontown tradition, so you won't want to miss them!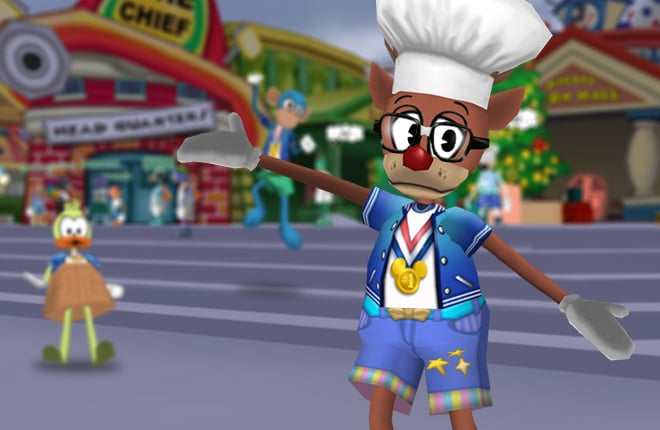 I'm just messing with you'se, I know what you really want. Get you'selves ready for the New Year's Top Toons Marathon!

After taking a break from the marathon so we could hold the Winter Laff-o-Lympics for Franz Neckvein, we noticed how spiffy all those Toons were looking with their Laff-o-Lympics Medals. Despite this, it's come to my attention that the Top Toons shirt hasn't changed once! Well, worry no more my friends. The marathon is back, and us Troopers have worked with the best tailors in Toontown to come up with something that'll blow your socks off!
But why stop there? If the Laff-o-Lympics got a theme, so should Top Toons. In order to choose a theme for the marathon, I tasked Doctor Dimm with choosing the silliest, wackiest, most terrifically Toontastic thing he could think of from this entire year. In hindsight, I probably should have just asked Prepostera. Using his brand new Arbitrary Appraisal Apparatus, he has determined that mice are the most Toontastic thing in Toontown this year!
Therefore, we are dubbing next year as the Year of the Mouse! Top Toons is probably the only event that'll reflect this, but Dimm insisted we say 'Year'... I don't think I'll ever quite understand the inner workings of that duck. Regardless, if we ever need anything to be arbitrarily appraised, we know where to find him.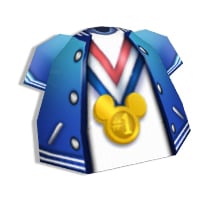 With our theme picked and a plethora of tailors ready to sew together the latest piece in Toontown fashion, we got to work on our upgrade to the Top Toons shirt. Here the beauty is, what do you'se think? Just look at it! The vibrant blue, little mouse ears on the medal… Need I say more?
So, wondering how to join the fun? Well, it may be a new year with a new shirt, but we're sticking to the usual guidelines for this competition. Here are the official rules for you'se!
---
Top Toons Marathon 2020 Rules
The New Year's Top Toons Marathon 2020 begins on January 1st at 12:00 AM Toontown Time (PST) and will end at 12:00 AM Toontown Time (PST) on January 2nd.
Each hour for 24 hours, four Toons will be chosen in two categories: Most Cogs Defeated and Most Cog Building Floors Recovered. (This means a one-story building counts as one, and a five-story building counts as five!)
Choose a category you want to compete in and fight as many Cogs or retake as many Cog Building Floors as you can within the span of whichever hour(s) you choose. In the case of ties, more Toons will be chosen for that hour.
Toons can only win once, in one category and one hour. If you win more than once, Toon HQ will only count your highest amount.
Any rewards obtained from boss-battles are permitted for use during the event.
Members of the Toontown Rewritten Team are allowed to participate, but will be excluded from the results in the event they should win to allow more winners from the community.
Any serious account infraction incurred shortly before, during, or after the event may disqualify you from participating. If you've recently received an infraction, check with [email protected] to see if this affects you!
The original Top Toons Medal shirt has been retired from circulation and is now considered legacy content.
After the winners are posted, each winner will receive an exclusive and one-of-a-kind "Victor's Varsity" jacket themed after the Year of the Mouse, complete with a gold medal!
---
Sadly, this jacket I'm wearing right now isn't actually mine -- the Toon Council only lent it to me to show off. I think I might just have to join in on the competition myself though, after feeling how warm it is! I miss the heat of the bakery when I'm out in the streets, and this does just the trick. Bah, but the bakery, it calls to me. I can just hear it now… ACK! That's actually Baker Bridget I hear. I's gotta get back to work!
I wish you luck, everyone -- wish me some, too!
---
Comments
Sorry! Comments are closed.
---
---
---
---
---
---
---
---
---
---
---
---
---
---
---
---
---
---
---
---
---
---
---
---
---
---
---
---
---
---
---
---
---
---
---
---
---
---
---
---
---
---
---
---
---
---
---
---
---
---
Back To Top