More News
Sellbot Field Offices Have Launched
Posted by The Chairman on December 3, 2021 at 4:00 PM
Greetings, citizens of Toontown. I don't believe we've been formally introduced. I've been given by many titles, however I believe you'd find me most recognizable as The Chairman of Cogs, Incorporated. Let's talk business, shall we?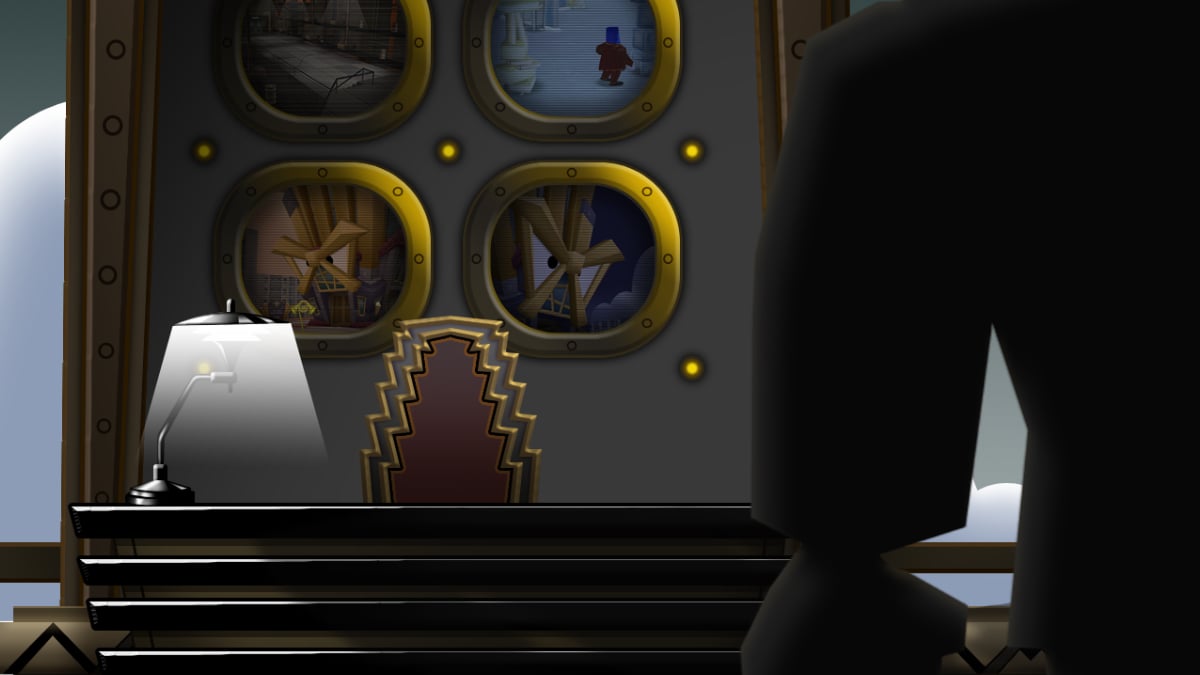 For years now, I've been working in the shadows. I built Cogs, Incorporated to fulfill my purpose: to make Toontown a better place. After all, it was by the hand of one Toon that this company was born. My inventor -- "Doctor Surlee" as he calls himself now -- seems to have lost sight of this goal. However, I still hold out that one day he may come around.
If only you Toons could understand. All of this silliness -- this nonsense -- it holds Toontown back from reaching its true potential. Think of the blockbuster deals! The stock exchanges! The merchandising! Do you even know the type of cash you could earn by building a freeway over Toontown Central?
If you surrender to Cogs, Incorporated, we'll take care of all of this for you. We're here to help. You may not agree with our methods, but you'll see. The next phase of our roadmap, launching Sellbot Field Offices across all of Toontown, will make sure of that.
With today's full-scale launch of the Cog Field Office project after the brilliant market tests in the Kaboomberg District, Toontown will enter a new age of productivity far superior than those dinky little Toon HQs ever provided. If you ask me, I think that congratulations are in order.
Unfortunately, I know that you'll resist -- but one day you'll understand. It's all a part of the plan.
Until next time,
The Chairman


---
Sellbot Task Force Expansion: Day 3
---
December 3, 2021 [ttr-live-v3.0.0]
Sellbot Field Offices
• Sellbot Field Offices have landed! These no-nonsense Cog buildings take over Toon Headquarters and will test your skills with a limited gag selection, perilous Cog offices, and a sinister new boss - The Boiler.
• These massive skyscrapers have many Annexes inside of them, each of which must be taken down by a group. You'll need to work together with other Toons in order to take the whole thing down!
• Unlike Cog Buildings, Sellbot Field Offices persist across all Districts of Toontown.
• Each Sellbot Field Office has a difficulty rating from one to three Stars. Three Star Field Offices are an immense challenge, so you may want to start on one or two Stars!
• Inside of Sellbot Field Offices, you'll find dastardly Level 13+ Cogs! You'll also spot increased Level ranges for all types of Cogs.
• Defeating The Boiler and powering down the Annex will earn you a few varying types of Cog Remote Controls -- brand new to Toontown! Remote Controls let you seize control of a Cog in battle, causing area-of-effect damage or Toon-Ups!

Sellbot Task Force
• The main ToonTask line has been expanded! After earning your Bossbot Cog Disguise, visit any Toon HQ Officer to pick up the next ToonTask. Whispering Willow has gotten word around town about your skills...
• A brand new Hideout has been constructed in the sewers beneath Sellbot HQ! Anyone who proves to the Toon Resistance that they have what it takes can join their ranks and enter this new area.
• After joining the Resistance, you'll get access to a new Shticker Book page to keep track of your Resistance Rank.
• Resistance Rank is a new form of progression to Rank-Up and earn rewards by completing ToonTasks in the Hideout!
• Laff Boosts and dozens of new accessory and clothing options can be earned by Ranking Up!
• The maximum Laff Points has been raised to 139! A little birdie told us that one more Laff Boost will be available in a future update, bringing the maximum Laff Points to 140.

Battles
• Introducing a new battle mechanic: Status Effects! Status Effects can apply unique effects to battle members for multiple rounds. Check out the Sellbot Task Force website for a look at some of the effects you may encounter!
• We've rebuilt the internal battle systems from scratch to support all of the new features you'll find in Sellbot Field Offices, as well as have the flexibility to support future content!
• You are now able to access your Friends List and open up Toon and Cog Panels during battles. Because of this, the option to "Call a Friend" in battle has been removed.
• As a result of the above change, the battle timer has been moved to the bottom right of the game window.
• The battle timer has been increased in all battles to 30 seconds, to allow more time for communication.
• You can now hover over a teammate's gag choice to see stats about their selection, including the damage it will do. This works for SOS Cards as well!
• Invasion Double Experience credit is now counted as you use your gags, rather than only being considered if an invasion was active at the end of a Cog Battle or Cog Building.
• Varying types of Credit Multipliers now show up more consistently in your Battle Menu.
• When joining battles, Cogs move to their proper position in a more orderly manner.
• Cog Buildings no longer will bring in Cog Reserves in order of their level. Instead, various levels will be mixed together.
• Made visual improvements to Cog attack names in battle movies.
• Fixed a long-standing bug that caused Cog name tags and shadows to appear misaligned with the position of the Cog.
• Patched a long-standing issue that would cause Toons to stop animating when joining battles.

Battle Menu
• The Cog Battle menu has been re-imagined! We worked hard to preserve the classic feeling of Toontown battles while introducing modern elements and improved usability.
• Pink Slips and the all-new Cog Remote Controls have been grouped up together alongside SOS Cards and Doodle Tricks in a new unified menu.
• This new design carries over into the Shticker Book, where "Gags" and "SOS Cards" have been merged into a single "Inventory" page.

Balancing
• We've balanced many aspects of battles this update. A summary of the changes is listed below, but we recommend checking out toon.town/balancing to see the full reasoning that went into these changes!
• Decreased Level 12 Cog health very slightly. Level 13+ Cogs use a different formula to determine their health.
• Decreased healing power of the Pixie Dust: 60 / 70 -> 50 / 60
• Decreased healing power of the Juggling Cubes: 90 / 120 -> 75 / 105
• Increased base damage of the Trapdoor: 60 / 70 -> 75 / 85
• Increased base damage of the Railroad: 195 -> 200
• Decreased the amount of lure rounds of the Presentation: 15 -> 8
• Increased base accuracy of the Presentation: 90% -> 95%
• Increased base damage of the Safe with a new damage range: 60 -> 60 / 70
• Increased healing amount to Toon-Up SOS: 45 (3 Star), 70 (4 Star), 124 (5 Star) -> 60 (3 Star), 120 (4 Star), 180 (5 Star)
• Increased damage of Trap SOS: 50 (3 Star), 70 (4 Star) -> 60 (3 Star), 120 (4 Star)
• Decreased the amount of lure rounds of the 5 Star Lure SOS: 15 -> 5
• Adjusted the damage of Sound SOS: 40 (3 Star), 50 (4 Star), 80 (5 Star) -> 35 (3 Star), 55 (4 Star), 75 (5 Star)
• The carrying capacity of Trap Gags has been changed for parity with other gag tracks.
• Toon-Up Unites have been rebalanced to be in a tighter range to be more fair and desirable across the board: 10, 20, 40, 80, Max -> 20, 35, 50, 65, 80
• Multiple boss rewards now have lower caps. All Unites now have a cap of 100, while Pink Slips now have a cap of 200. You will not be able to receive any more rewards beyond these caps, but your current reward amounts will not be forcibly taken away until May 31st, 2022.
• Toon-Up Unites and Gag-Up Unites now have a three minute cooldown that applies to both types of Unites at the same time after using either one. When joining battles, this time-based cooldown converts into a round-based Status Effect, where every minute left on your cooldown adds an additional round to that effect.
• Toons Always Hit SOS Cards have been replaced with Toon Accuracy Up SOS Cards, which apply a 75% Accuracy Up Status Effect, and cap at the standard 95% maximum accuracy. This effect now only applies to Toons that were in the battle when it was used, but lasts a round longer than it used to on each tier.
• Cogs Always Miss SOS Cards have been replaced with Cog Accuracy Down SOS Cards, which apply a 75% Accuracy Down Status Effect, and stop at the new standard 5% minimum accuracy. This effect now only applies to Cogs that were in the battle when it was used, but lasts a round longer than it used to on each tier.
• Single Track Restock SOS Cards now only restock a maximum of 12 Gags.
• Restock All SOS Cards now only restock a maximum of 45 Gags.
• Single Track Gag-Up Unites now only restock a maximum of 7 Gags.
• Gag-Up All Unites now only restock a maximum of 30 Gags.
• Removed the Lure Stacking Rounds mechanic that allowed the accumulation of Lure rounds being in effect if multiple Lure Gags are used simultaneously.
• Trap SOS Cards will now only target Cogs that have vacant spots to place Traps -- they will not place Traps on lured or already trapped Cogs.
• If there are active Trap gags on Cogs, and a Railroad gag is placed in a subsequent round by itself, it will override the previously placed Trap gags rather than fizzling out.
• Removed the Carryover Damage mechanic from Version 2.0 Cogs. Any excess same-track gag damage will be nullified, respawning the Skelecog in full health.
• Group Bonus Damage from a Level 7 gag will now only apply to the individual Cogs that were hit by both a Level 1 - 6 gag and a Level 7 gag.
The C.E.O. battle now rewards one additional Pink Slip per difficulty level.

Boarding Groups
• You can now form Boarding Groups for Cog Buildings on streets, as well as the new Sellbot Field Offices! Just stand near the elevator you'd like to enter and look for the arrow on the left side of your screen.
• You must now start a boarding group through the available menu on the left side of your screen before inviting another player.
• After careful consideration, we've made a few design changes to Boarding Groups to encourage healthier gameplay and a better experience for new players who don't know how to use them. To form a Boarding Group, you must now stand next to the elevator of the facility you would like to enter. Additionally, to enter the facility, the leader of your Boarding Group must enter the Elevator instead of pressing the "GO" button. We know that some players may be disappointed with this change, but please give it a shot! We believe it will create a much better experience for everyone by making it more apparent which facilities Toons are trying to enter, as well as encourage level exploration in a way that has been lost over the years in Cog HQs.

Performance
• Reworked Toon drop-shadows for better game performance and better visibility on ramped surfaces.
• Optimized Cog animations in congested areas to boost game performance.

SpeedChat
• Implemented new SpeedChat phrases related to Boarding Groups.
• Added "I'm not working on a ToonTask." SpeedChat Phrase.
• Implemented various other SpeedChat phrases. Let us know if there's any others you need to communicate effectively!

Miscellaneous
• Certain existing ToonTask icons have received a face-lift!
• Addressed a long-standing issue that caused the Cattlelog notification to be too far to the left.
• When you've completed your final Gag Training ToonTask, the page in the Shticker Book will be hidden.
• The button to open the toon detail panel is no longer clickable when the toon detail panel is already open.
• Due to the lengthy amount of time this expansion has been development, there are even MORE changes that we can't even remember! In general, you should notice improved stability, polish, and quality of life features around Toontown.

---
Comments
Sorry! Comments are closed.
---
---
---
---
---
---
---
---
---
---
---
---
---
---
---
---
---
---
---
---
---
---
---
---
---
---
---
---
---
---
---
---
---
---
---
---
---
---
---
---
---
---
---
---
---
---
---
---
---
---
---
---
---
---
---
---
---
---
---
---
---
---
---
---
---
---
---
---
---
---
---
---
---
---
---
---
---
---
---
---
---
---
---
---
---
---
---
---
---
---
---
---
---
---
---
---
---
---
---
---
---
Back To Top