More News
A Perplexing Pie-lemma
Posted by Q.T. Pie on August 27, 2020 at 2:30 PM
Hey, has anyone seen any spare pies lying around? It's Toon Trooper Q.T. Pie here, the Head of Pie Quality Assurance for the Toon Council! I swear on Baker Bridget's fresh Whole Fruit Pie that it's a real title. It was given to me by Flippy himself because I kept repeatedly breaking into the Gag Shop after-hours to taste… uh, I mean test... pies to be sure that they were up to Goofy's standards.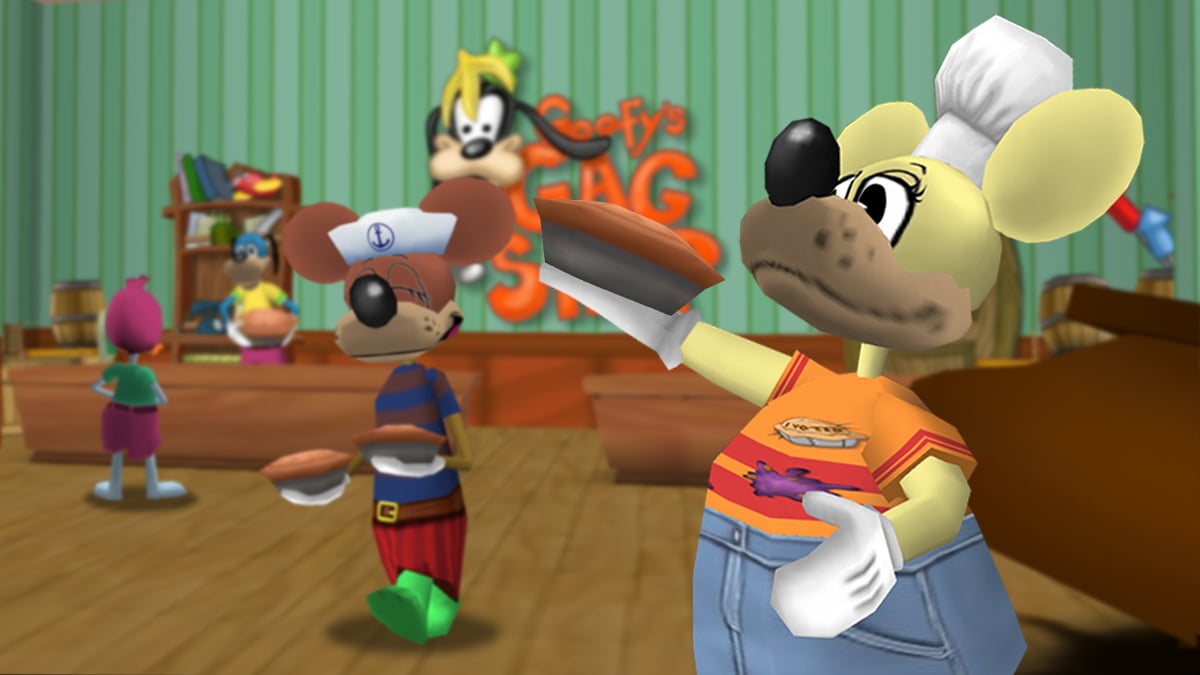 Recently, I was alarmed by the number of perfectly good pies being wasted on those pesky Cogs. After all, how good is a pie when it's not being enjoyed by a hungry Toon like myself? I felt that all Toons should be free to enjoy the deliciousness of a freshly baked pie without having to give it up to some boring, tax-loving robots without taste buds. But how could I get Toons to better appreciate its true value? I pondered the pie-lemma for a while. Then, one day, it hit me. A stray pie from a Toon in battle! I couldn't escape the feeling that it was a sign. A sign of a way to make sure everyone in Toontown would be able to celebrate the beauty of pie!
That's why today I am bringing you, Toons of Toontown, a pie toss of Toontastic proportions! All you've gotta do to participate in the wacky pie-filled festivities is to record a video of you pie-ing yourself (or being pied) in the face. Once the pie-throwing antics are over, upload your video and send a link to our Support Toons via email at [email protected] with the subject "Toontown 2020 Pie Toss Video", or post it on social media with #TTPieToss2020 by September 14th. The Toon Council will then review your submission -- and it may be included in a compilation showcasing the wackiest pie toss moments from all across the Tooniverse!
Some of you may be thinking, "What if I don't have enough jellybeans lying around to buy one of Baker Bridget's fresh-baked pies?" If you're anything like me, you've probably eaten all your jellybeans and are too lazy to go on the trolley and get more. Don't worry! You can simply use paper plates and whipped cream to make a "P.I.E.", or "Pie Imitative Experience" for your video. It will taste just as delicious, I promise!
I hope that every Toon will be able to appreciate the deliciousness of pie by taking part in this event. Who knows, maybe you might even be tempted to switch to a pie-based diet like me. It really does wonders for your Laff Meter. Until then, let the pies fly!
Additional Information/Disclaimer
If you are under the age of 13, make sure you have permission from a parent/guardian first before participating. By sending a video submission, you consent to have Toontown Rewritten use your likeness in a video which will be publicly shown to the community.
Any submissions sent to [email protected] must be in the form of a link to a YouTube video. This video can be unlisted. All submissions must be no more than 20 seconds in length.
---
Comments
Sorry! Comments are closed.
---
---
---
---
---
---
---
---
---
Back To Top