More News
Come visit ToonFest at Home!
Posted by The Toontown Team on August 19, 2020 at 2:30 PM
If you've seen the most recent ToonCast, then you've already heard the good news: ToonFest is returning this year as a digital event! While we're deeply saddened that we won't be able to see so many of you in person -- we can't let our Laff Meters deplete! We're super excited for all the fun we have planned for this year's celebration of all things Toontown. From old favorites to new event ideas, we've got a jam-packed ToonFest ahead of us next month. Let's break it down!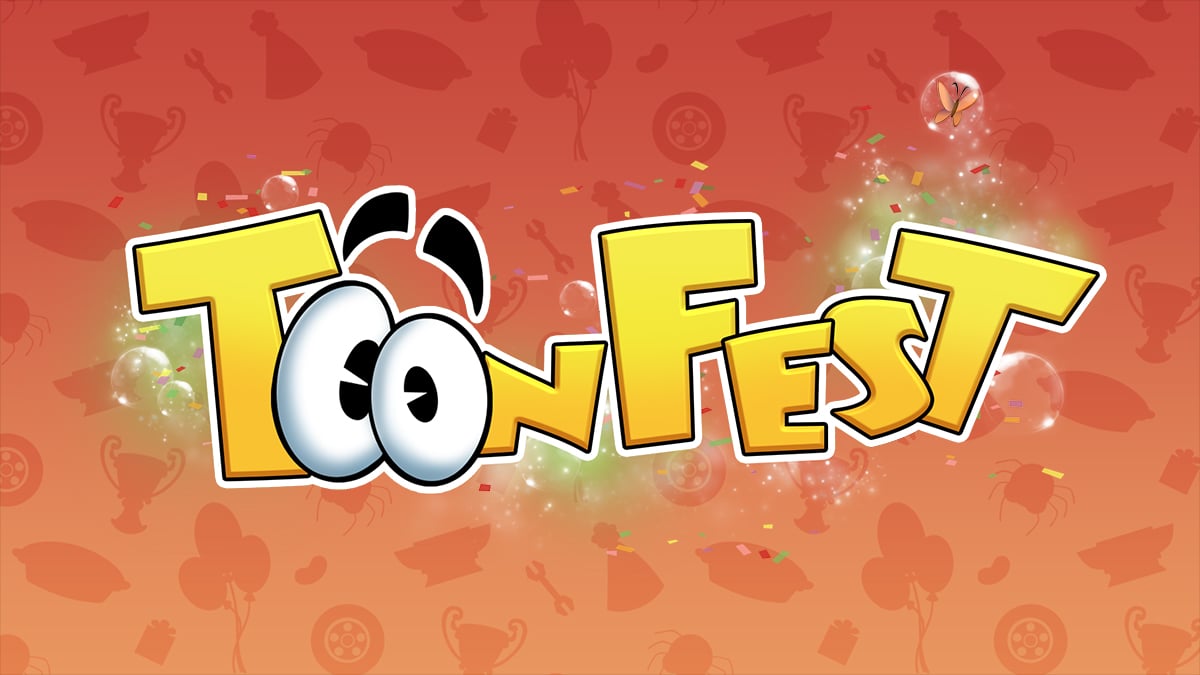 ---
The When
ToonFest at Home will begin the same day as Toontown Online closed, and the anniversary of Toontown Rewritten's announcement -- September 19th. We've always had the goal of making what was once a sad day into one of rejoicing, and this year we'll make it better than ever! But that's not all -- ToonFest at Home is a week-long event, running through September 27th! Each day, we'll introduce a new element to the event and give us new ways to celebrate Toontown together.
---
The What
We're working to make ToonFest at Home the most jam-packed ToonFest yet -- even from the comfort of your own home. From Toontown to the Toontown Blog to our YouTube and Twitch pages, we plan to make this a week to remember. We'll be giving more details in the coming weeks, but here's just a few of the events we've got planned for the week-long celebrations:
---
Main Events
Behind the Tooniverse
Behind The Tooniverse is a peek behind the development curtain! A panel of Toontown Team members will be taking you behind the scenes to discuss development progress and this year's ToonFest celebrations. This is a part of our ongoing commitment to keep all of YOU updated on our work and you won't want to miss it!
The TOONYs
The TOONYs are BACK and better than ever! The second annual TOONY awards are here to celebrate YOU -- the wonderful Toontown Community! From art to costumes to videos, the Toontown Community is one of the most creative ones out there. For all the details and to learn how to enter a submission, check out the recently released Blog Post!
The Pie Toss
If you've ever been to ToonFest in-person, one of the greatest events you'll remember is the annual Pie Toss! This event has always revolved around pie-ing the members of the Toontown Team -- Toon-style! But this year, we're bringing YOU into the fun. Our resident Toon Trooper, Q.T. Pie, has been working very hard to bring this experience online. Check out the Toontown Blog later this week for all the info on how we're bringing the Pie Toss online!
Toontown Online Developers
Once again, both Jesse Schell and Shawn Patton of Schell Games will be joining us for a very special session of questions and answers! Ever had a burning question about Toontown's past? These are the folks with the answers! Jesse and Shawn are both experienced Games Industry veterans, so they're full of fun and useful insider knowledge about the Games Industry as a whole.
The Q&A Panel
As always, we'll be hosting an in-depth Questions and Answers session of our own! We've got tons of stories to share about what makes Toontown Rewritten tick, and we'd be happy to share them with you.
---
Toontown Partners
Fun-Filled Livestreams
We'll be giving our Livestreamer Toontown Partners the stage all week, letting them bring their Toontown Rewritten experiences directly to our social media channels. If you're looking to see some old favorites in the spotlight or want to discover your new favorite Toontown Streamer, ToonFest is the place!
Partner Spotlights on the Blog
Livestreaming Partners won't have all the fun! From content packs to communities, we'll be featuring some of our most creative Toontown Partners right here, on the Toontown Blog! There's so many amazing creators in the Toontown Community that we've partnered with. Hopefully, you'll discover a creator that you've never even heard of!
---
In-Game Fun
Meet Toontown Team Members In-Game
Even if we didn't answer your question during the Q&A Session -- don't fret! We'll be running around Toontown all week, fighting back those Cogs and answering any and all questions you may have. Just look for the Blue Badge above our heads -- you can't miss it!
Experience... Toon-est?
What's a Toon-est, you may ask? Why, it's the once-a-year chance-of-a-lifetime to CELEBRATE in Toontown with games galore! Leading Toon-est is the one and only Riggy Marole, the host with the most! Those of you who were around last year may remember the case of the missing letter 'F' -- and Riggy has been deliberating the new name for Toon-est ever since. We'll let you know once Riggy has finished counting those votes and refurnishing the grounds -- so you better stay TOONed!
---
The Why
ToonFest is a celebration of all things Toontown. Every year, we make an effort to bring the people who love Toontown together to enjoy the game and the community in ways that can't be done quite the same during other times of the year. While having to make ToonFest this year a digital event may be sad news for many who have enjoyed the way we have celebrated it, we are working hard to make sure everyone is able to still have a Toontastic time celebrating.
---
In the weeks to come, we'll be sharing more exciting details about what's in store for ToonFest: Online on the Toontown Blog! Feel free to email us at [email protected] or send us a message on social media with any questions you may have. Stay TOONed for further updates!
---
Comments
Sorry! Comments are closed.
---
---
---
---
---
---
---
---
---
---
---
---
---
---
---
---
---
---
---
---
---
---
---
---
---
---
---
---
---
---
---
---
---
---
Back To Top