More News
Showcase Your Creativity at The TOONYs 2020!
Posted by The Toontown Team on August 4, 2020 at 2:30 PM
As you may have heard in the most recent ToonCast, ToonFest 2020 will still go on through an online event! Even though we can't see all of your smiling faces in person, we'll be bringing the full ToonFest experience home -- including our second annual celebration of the Toontown Community: The TOONYs!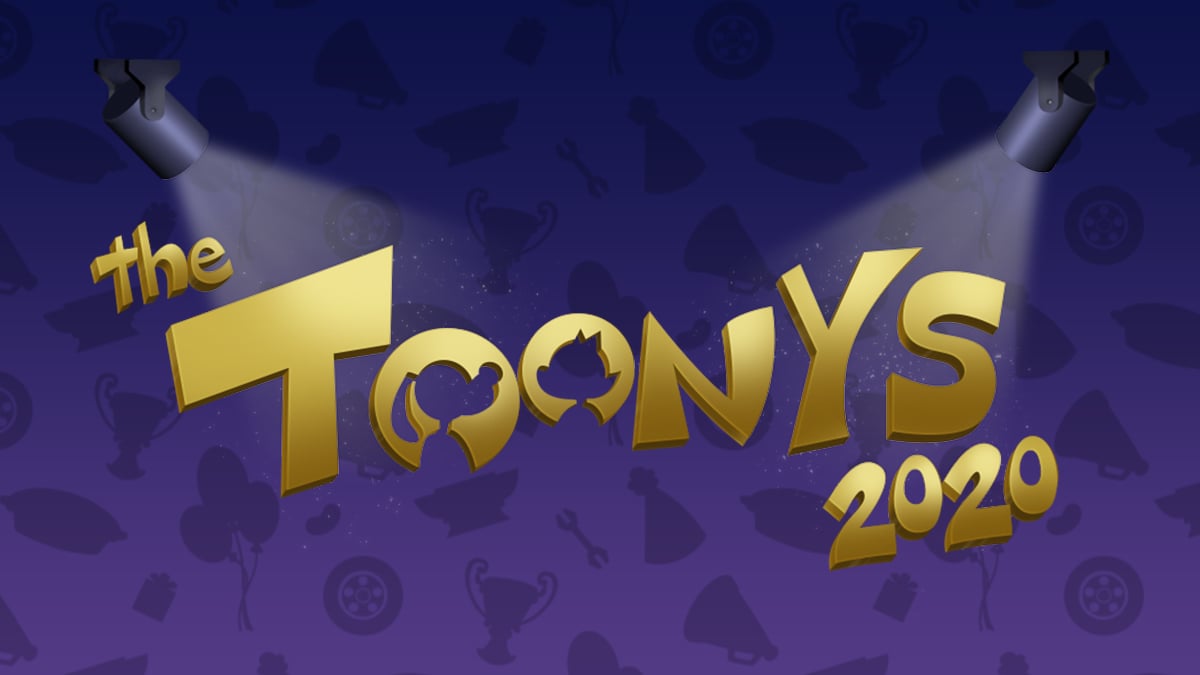 What exactly ARE the TOONYs?
The TOONYs are the most Toontastic annual awards show of the year! While we on the team may be keeping Toontown Rewritten running, the real piece of the puzzle that keeps Toontown alive is YOU -- the community! The TOONYs are designed to showcase the best and most iconic creations from any and all fans of Toontown -- the real reason we're able to play this wonderful game 7 years after it officially closed.
Our three main categories of submissions include Art, Costumes, and Videos. We want to see you flex your creative muscles, so go create the best Toontown-themed creations you can! But enough chit-chat -- here are the rules and guidelines:
---
General Guidelines
Submissions should be directly related to Toontown Rewritten, but feel free to go in any direction you want! Whether it be Toons, Cogs, Doodles, or even a dancing mailbox -- when it comes to Toontown the sky is the limit.


All submissions will be judged 25% on presentation and artistic quality, 25% on originality, and 50% on Toon-inspired humor and inspiration by a panel of sufficiently silly Toontown Team Members.


At a toss-up between creating a costume or a video? You can enter as many categories as you want!


The three best submissions from each category will be contacted after ToonFest is over to receive a Toontown Prize Pack!


How to Submit
All Artwork, Costume, and Video entries must be submitted online!


There are two ways to submit an entry:

(1) Create a public post with a picture or link to your entry on Facebook, Twitter, or Instagram with the hashtag "#Toonys2020".

(2) Email

[email protected]

with the subject "TOONYs - [Category Name Here]" and a picture or link to your entry.


For all entries, whether posted online or sent via email, make sure to include both your Real Name and your Toon Name!


All online entries must be submitted by 11:59 PM PST on Sunday, September 6th, 2020. This is to give our panel of Tooneriffic Judges time to pick their winners!


Costumes
Although we won't see you in-person this year, the Costume Contest will still go on! You can show off your Toontown style from the comfort of your own home.


Since you'll be submitting your costume online, remember to get as many different angles as possible in your photos!
Videos
To enter a video for the TOONYs, create an up to three minutes long Toontown Short about any story you can imagine! It can be an advertisement, comedy, backstory -- anything relating to Toontown.


Videos should not contain any copyrighted music, images, or other content. You are welcome to use any content from Toontown, including music made for our videos on the Toontown Rewritten YouTube channel!


Once you've created your video, upload it to YouTube and include the link in your social media post or email to enter the contest.


Artwork
Any sort of digital, physical, sketched, or fully illustrated artwork can be submitted for the TOONYs!


Submissions should be entirely new artwork created specifically for the TOONYs. Artwork that has been previously posted online before the announcement of this contest will be disqualified.
---
Phew! That's a lot of guidelines. If you have any questions, don't hesitate to contact [email protected] with any questions and we'll be happy to assist.
We can't wait to see all of the amazing submissions from the Toontown Community. Thank you for helping us keep Toontown alive for all these years -- we truly do owe it all to you! YOU are "TOON" Enough!
---
Comments
Sorry! Comments are closed.
---
---
---
---
---
---
---
---
---
---
---
---
---
---
---
Back To Top