More News
"Toon-est" Needs a New Name!
Posted by Riggy Marole on October 1, 2019 at 3:00 PM
Good Afta-noon, Toontown! As this is my first post o' the season, I think some proper introducin' is in order. Me? The name's Rigmund Q. Marole, the esteemed gentletoon of these Winding Woods. BAHAHA, just messin' with ya. Call me Riggy Marole -- and don'tcha ever forget it! To letcha' in on a bit of a secret: I'm in a bit of a pickle at the moment...
The letter "F" has fallen off of the ToonFest Toon-est Tower!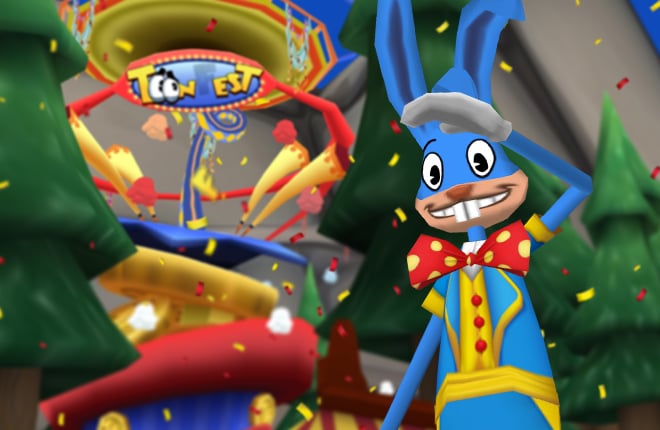 The Toon-est Tower's been in tip-top shape for years now, but maintenance-in' the top ain't so easy, y'see? To letcha' in on a little secret, back when we built the Toon-est Tower years ago, the Toon Council's safety standards weren't as thorough as they are now.
When I was makin' the iconic sign, I used only the finest Blue Glue from Sticky Lou! It's not like dere's many other options for glue in Toontown. Aside from lure, if some Toons are to be believed. HAH!
Afta' many years o' cats and dogs falling on the sign (and a bit o' rain, too), the Blue Glue on the Toon-est Sign began ta' loosen. I can't even find the ol' letter F, even after walkin' around in circles hundreds of times. If ya see it 'round here, be sure to snap a photo with it and pay ya respects with #ToonFest on the socials. I bet that Blue Tweeter Bird would enjoy it.
---
I'll admit, Toon-est don't got the same ring to it. I was cooking up what the bears like to call a "hare-brained scheme" when it hit me: Let's just rename the whole event! We's gotta break the bank anyhow for a shiny new sign, so let's go BIG! Plus, Toons always get confused when I say "ToonFest" and end up at an event in Pencil-vania somehow. Confusion, no more!
You heard it straight from ol' Riggy: ToonFest is getting a brand new name next year, and I need YOUR help picking it!
I've scribbled up a few ideas, but this event isn't about me -- it's about Toontown! Who's better to pick the new name than none other than the Toons o' the town? From now until October 18th, you can vote in the poll below to pick YOUR favorite new name for the event.
Which is your favorite NEW name for next year's ToonFest?
Poll ends on: October 19, 2019 at 12:00 AM
So, whaddya pick? It better have been my favorite, or else! HAH, just kidding. Probably.
---
Shortly afta' ToonFest comes to a close for the last time this year, I'll be announcin' the brand new title of next year's event. This is ToonFest's grand finale year, but don'tcha be glum! Next year, the event will be back with refurbisherments to celebrate the new name and the many years to look forward to in Toontown's future!
Remember, you'se got until October 18th at 11:59PM Toontown Time (PST) to cast ya votes. Now, let's get out there and have more fun than ever before to give ToonFest the celebratory send-off it deserves! If you spot that letter F anywhere, you know where ta' find me.
---
Comments
Sorry! Comments are closed.
---
---
---
---
---
---
---
---
---
---
---
---
---
---
---
---
---
---
---
---
---
---
---
---
---
---
---
---
---
---
---
---
---
---
---
---
---
---
---
---
---
---
---
---
---
---
---
---
---
---
---
---
---
---
---
---
---
---
---
---
---
---
---
---
---
---
---
---
---
---
---
---
---
---
Back To Top