More News
Teddy Blair's Community Spotlight: Estates!
Posted by Teddy Blair on June 27, 2020 at 2:00 PM
Yawn... It's me again, Teddy Blair. You know, the nonstop napper. Let me tell you, these past few weeks have been just exhausting. Not only have my hibernation plans for Winter been ruined, but now my summer is slipping away! What's that you say? You've got a can? Ah, we came up with a plan!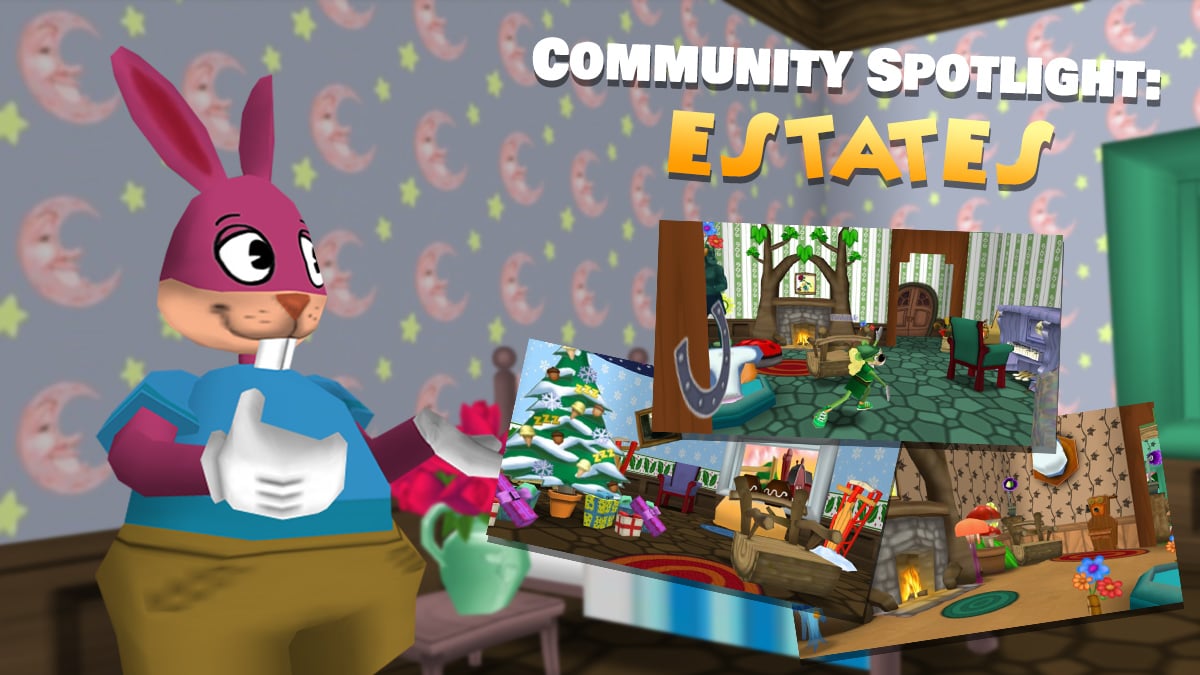 I've asked Toontown to help me design the ultimate estate. You Toons pulled through and sent tons of awesome submissions. When I woke up from my nap and saw all of them, I thought I was still dreaming! You want to see them too, right? Yes, of course. If you'll excuse me, I'll be on my tour now...
Note: By clicking on any of the images below, you'll be taken to a website not operated by Toontown Rewritten. If you're under the age of 13, ask a parent before clicking through!
---
Astounding Atmosphere
The atmosphere here is astounding -- from a moonlit desk to Halloween in my home?! And those striking bed shots! I'd be right at home after a day of 'work' at the House of Hibernation. Halloween is my favorite time of the year, even. When the entire town gets dark, it makes anywhere just perfect for napping...
Cozy Cottages
Nice, cozy, simple homes with a side of nature. I can already smell the fresh air! It's like having a bit of Acorn Acres right at home. I've taken some nice naps there. I especially love the Western feel in Firestar's humble abode. I'd need to turn that Surlee standee toward the window, though. It gives me the creeps...
Welcoming Whereabouts
Ah, you all just make me feel so welcome! It's very daring for Wacko to put the couch so close to the door, so far from the bed, though. I don't think I'd make it past the couch before falling asleep. And all these pianos! I wonder if they're self-playing so they can serenade me to sleep... And Gizmo's home! Perfect. Ack, but the problem of sleep-walking. If I'm in a house filled to the brim as this, I'd trip and crash over everything! Yowch! Wait, did Gizmo not invite us in? SCATTER!
---
Pant, phew... Gee, all this flee-ing has me tired. Remind me to never intrude on Gizmo's wacky house again. Luckily, I've seen all I need to finish redecorating. See, I'll put the couch over there, and the bed here. The self-playing piano, hmm, that'll be a toughie. Maybe my back-up couch right here... All this talk is making me... real sleepy...
snorrrre...
---
Comments
Sorry! Comments are closed.
---
---
---
---
---
---
---
---
---
---
---
---
---
---
---
---
---
---
---
---
Back To Top