More News
Roll Up, Roll Up! Cartoonival is Coming!
Posted by The Toontown Team on August 20, 2023 at 2:00 PM
Roll up, roll up! The Cartoonival is coming to town! With the arrival of yet another Cartoonival, we have another Toontastic year of pie-throwing, Cog-busting and Trolley-hopping to celebrate! However, this year's Cartoonival stands apart from all the others before. This year we celebrate Toontown Rewritten's 10th anniversary!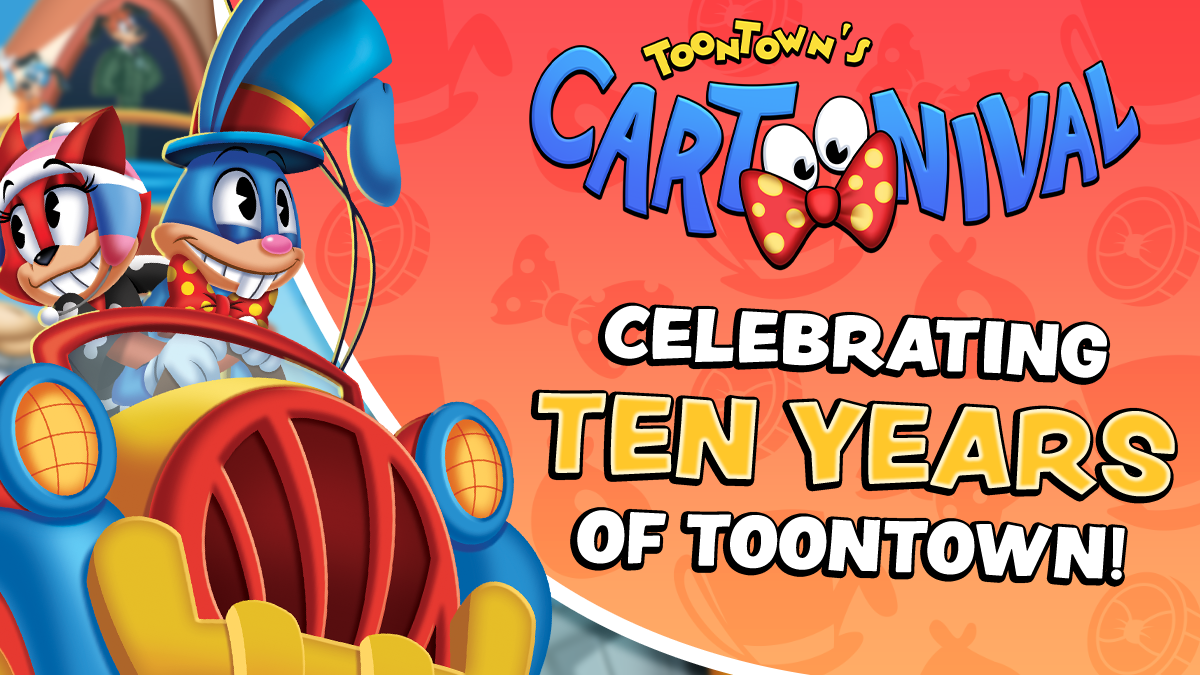 Toontown Rewritten has finally reached double digits! And we couldn't have done it without you all! Ten years ago, Toontown Online was closed forever and we never thought we'd be able to throw a Cream Pie at a Cog ever again. It was a miserable moment for Toons all over the world… but that only brought us all closer together! The closure of Toontown Online is now a distant memory of the past and today, there are thousands of Toons roaming the streets of Toontown and battling the Cogs!

What is Toontown's Cartoonival?
The Cartoonival is Toontown's biggest party! There are games to enjoy alone or with friends, as well as funky fair prizes that are only available to buy once a year. Cartoonival truly has something to keep every Toon entertained.

What Happens During the Cartoonival?
On the 19th of September 2023, we're going to be bringing out the shiny Tokens and Party Cannons! We'll kickstart the celebrations with a series of blog posts brought to you by our extraordinary emcee, Riggy Marole! They're sure to keep you in the Toontown spirit!
Here is an overview of what you need to know to enjoy this year's Cartoonival:
You can join in on the fun by taking a trip to Acorn Acres, where you will find the tunnel that'll lead you to the Cartoonival Event Grounds.


Be careful not to get too dizzy on the giant Merry-go-Round. (We suggest laying off the jellybeans before you get on.) Nearby, you'll find some fun activities to enjoy while you chat with friends. There are also Jellybean Bags dotted around the grounds so keep your eyes peeled!


Every three hours, an extravagant fireworks display lights up the sky with a nostalgic Toontown melody. If you arrive early, you'll also be able to catch the sunset!


You can earn "Cartoonival Tokens" by partaking in the activities. They can then be spent on special items, accessories, and even two unique Toon colors only available once a year!


You'll be able to meet our team of Token Takers who are stamped with their very distinguishable mustaches. It's impossible to miss them!


Have a chat with Riggy Marole, the iconic blue rabbit in charge of celebrations at Cartoonival! His giant spotty bow-tie can be seen all the way from The Brrrgh!


Have fun at the Duck Tank, where you will work alongside other Toons to dunk Cleff, Toontown's favorite duck, using Throw Gags. The more you dunk him, the more prizes you earn!

What is There to Celebrate?
2023 might have been one of the most exciting years for Toontown EVER! We kicked off 2023 with a new, New Year's event! The Toon HQ Takeover! The entirety of Toontown worked hand-in-hand to complete a "TownTask", which was split into three tasks: the 'Punchy Task', the 'Silly Task' and the 'Loopy Task'!
Shortly after the Toon HQ Takeover, ToonFest made a BIG return for Toontown Rewritten's 10th birthday and Toontown Online's 20th birthday! While we celebrated the 20th anniversary of Toontown Online with the return of all public code items from previous conventions and a brand-new outfit, we had many more announcements to share!
After all these years, we've finally discovered what's been lurking underneath the cloud: Clear Coasts! A tropical beach-themed playground where the Toons can dip their paws in the sea and relax under the sun, away from the Cogs…
While Toons get prepared to have a home away from home, the Cogs' corporate structure has been shaken up, as well. The Toon Resistance discovered that the Cog facilities will soon have four new Supervisors in charge: The Club President, The Office Clerk, The Mint Auditor, and The Factory Foreman. Currently, the Toon Resistance have discovered that they are already brainstorming big changes for the Cog HQs.
Lastly, Toontown Rewritten is finally getting a fresh coat of paint and polish! The announcement of Toontown Remastered means that we can look forward to improved visuals and remarkable reorchestrations of our favorite Toony tunes! Many of our longtime fans might be familiar with this Remastered project (formally called "Toontown Retextured") being our first ambitious project. We have posted about it A LOT over the years. This was our original labor of love, and we had to learn that we didn't have the right resources at the time we wanted this to launch. We had to put the project on hold to focus on other game improvements over the years, but we can safely say that we are so excited for this to release!
---
There have been so many adventures that we have shared with you, the community, over these past 10 years. We would have never imagined where this would have taken us. In 2013, we started with a dream to even see if the game could still run. You guys have proven that we can continue to let Toontown thrive.
We want to say thank you from the bottom of our hearts for officially making Toontown Rewritten run LONGER than Disney's Toontown Online. That's an incredible feat! So, Toons of the World, we have one last question:
Are YOU Toon Enough?
---
Comments
Sorry! Comments are closed.
---
---
---
---
---
---
---
---
---
---
---
---
---
---
---
---
---
---
---
---
---
---
---
---
---
---
---
---
---
---
---
---
---
---
---
---
---
---
---
---
---
---
Back To Top