More News
A New, New Year's Event: Toon HQ Takeover!
Posted by Toon HQ on January 1, 2023 at 11:55 PM
This is Toon HQ, whispering in today to the Toontown Blog to make an important announcement!!! We suggest you first read yesterday's blog post by Sir Max if you haven't, though we understand if you're already too excited to stop reading.
It's an exhilarating New Year's Day, marking the start of a long-anticipated community-wide event to succeed the Top Toons Marathon -- and as fate would have it, this is the Toontown Blog's 800th blog post, too! We're elated to say on such a day, for such a fancy affair, Toon HQ PROUDLY presents... The New Year's Toon HQ Takeover!!!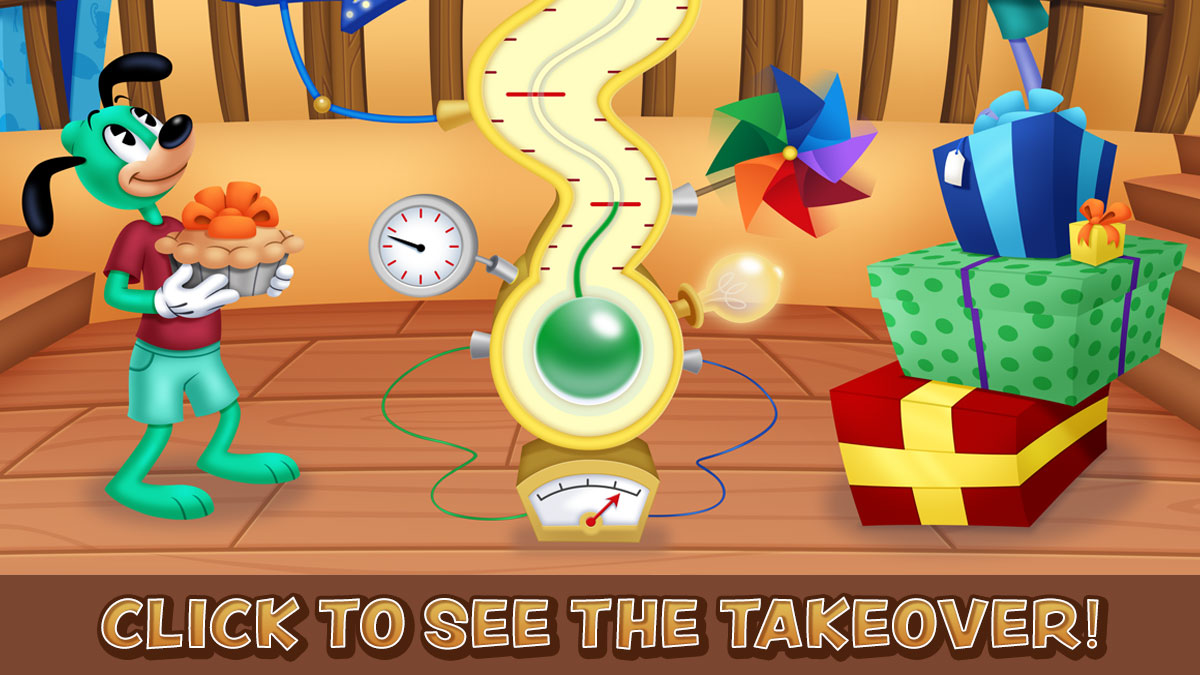 What is the Toon HQ Takeover?
The Toon HQ Takeover is an event where Toons far and nigh come together, working hand-in-hand to complete a town-wide ToonTask. This "TownTask" is split into three sub-goals that must be completed in order: the prompt Punchy Task, the subsequent Silly Task, and lastly, the Loopy Task! These are NOT ToonTasks picked up from any HQ -- but more on that later.

Completing one TownTask earns a brand-new, PERMANENT reward unlocked for all of Toontown. When a goal is completed, it may take a bit for its reward to become available. Our HQ Officers have some anti-Cog analysis tools that need to check for interference!
You have seven days to beat the TownTask, or face the music -- you failed! The Takeover lasts until January 9th at 2:00PM Toontown Time (PST), after which any unearned rewards remain unearned.

Rewards enter the Cattlelog sometime after the Takeover, though others could become available elsewhere, like Clothing Shops. Toons participating in the Takeover can also make use of limited-time Shticker Book codes activating soon after any goal is met -- which can be found by their respective tasks on the Toon HQ Takeover webpage.

Every Takeover will have its own unique identity with new titles, tasks, and rewards. As today's first-run Takeover is our final goodbye to the New Year's Top Toons Marathon, it's only fitting that this week's festivities be known as the New Year's Toon HQ Takeover!
Wait, what's the webpage!?
A view into a Toon HQ who-knows-where (not the Cogs, that's for sure!) can be found at toon.town/toonhq, displaying everything important that you do need to know. HQ Officers will track progress, keeping that chalkboard updated for the entire event.

You'll be able to view your currently assigned TownTasks here -- and we're sure you are wondering what this event's is! We hope you loved defeating Cogs for your marathons...
The New Year's Toon HQ Takeover TownTask takes triumphing over TWO MILLION COGS! Remember: one week to complete our TownTasks and earn the rewards -- or you don't earn them!! We could open the presents anyways, but where's the fun if there's no pressure? After the Takeover has ended, unopened presents will be stashed away in the Toon HQ Vault, and the Gag-O-Meter returns to Loony Labs for repairs.
Introducing the Gag-O-Meter!
The Takeover's goals are tracked through Toon HQ's whistling and waggling Gag-O-Meter -- the distant, derivative cousin of the Silly Meter provided by Loony Labs and specially invented for Toon HQ Takeovers. By progressing through TownTasks, the Gag-O-Meter steadily fills up with Phierce Phluid to reach the goals!

Phierce Phluid is the dangerous green liquid inside, designed to withstand a Takeover's sudden bursts of intense activity without all the bells and whistles keeping the Silly Meter safe -- provided you keep it away from fire. So, we made sure those Scientoons hooked a big box of fireworks to the top to make sure this event really blows Toontown away!
The ferocity of Phierce Phluid isn't something to be messed with. The Gag-O-Meter must go out for repairs after every single Takeover we host, and not even those questionably sane Scientoons can calculate how long repairs will take -- months, at minimum! As such, Toon HQ Takeovers have NO set dates, and can happen any time of year. Just know we'll be back on the Toontown Blog the second the Gag-O-Meter is ready for action!
---
We hope you enjoy the Takeover, and we hope you reach the goals!~ It'd be a shame to start filling the Vault up, but there's no participation prizes for our Takeovers. Toon HQ wishes you a Toontastic New Year -- now go grab your Gag Pouches and defeat 2,100,000 Cogs!!!
View the Toon HQ's Gag-O-Meter!
---
Note from the Toontown Rewritten Team: Sorry for the super duper late post, folks. We had loose ends to tie up, but at long last, it's time for the Takeover to begin! This event is experimental, so as it goes on, be sure to think over any feedback you may have to share with our team. Also, to make up for downtime in preparation of the event, we have extended Double Battle Experience to January 2nd at 11:59PM PST. Enjoy the New Year's Toon HQ Takeover, and have a Toontastic 2023!!

January 1, 2023 [ttr-live-v3.6.4]
Toon HQ Takeover
• The New Year's Toon HQ Takeover is a go!
• This is the first of many Toon HQ Takeovers, and a final goodbye to the New Year's Top Toons Marathon.
• Defeat as many Cogs as you can in the next week, and contribute to the Gag-O-Meter's tally.
• Check out the full details at toon.town/toonhq!
• Made internal preparations for rewarding event prizes.

Miscellaneous
• Status banners will now be displayed on the title screen. Neat!
• Restored some words to the Toontown Dictionary that were temporarily removed. Sorry about that!
• The Caller-Hauler has been added to the January/February Cattlelog season.

Bugs 'n Blunders
• Re-enabled memory saving measures from v3.6.3 that were temporarily disabled.
• Patched up a client crash in Pick-a-Name when a name was automatically rejected.
• Addressed some shenanigans around entering Boss Cog Lobbies incorrectly.
• Fixed an issue with throwables introduced in a previous release.

---
Comments
Sorry! Comments are closed.
---
---
---
---
---
---
---
---
---
---
---
---
---
---
---
---
---
---
---
---
---
---
---
---
---
---
---
---
---
---
---
---
---
---
---
Back To Top