More News
Under Construction: Toontown's Newest Neighborhood!
Posted by Flippy on August 28, 2023 at 2:00 PM
I think those sand castles could be just a tad larger… Would somebody grab me a shovel?
Oh, excuse me, haha. I didn't see you there. I bet you're wondering what that was all about… Well, get in, Toons! We're going to the beach! Silly summer shenanigans are underway here at Toontown!
As you all know, these Cogs just never rest. Ever since they came to Toontown, they've been a real pain in my Doggenbottom! Between mercilessly intruding on the Toon Council Presidential Elections and kidnapping my dearest friend, Slappy Quackintosh, to the increased number of Toons going sad, the Toon Council has been working tirelessly to figure out how to give Toontown the silliness it was always intended to have without the Cogs' interference.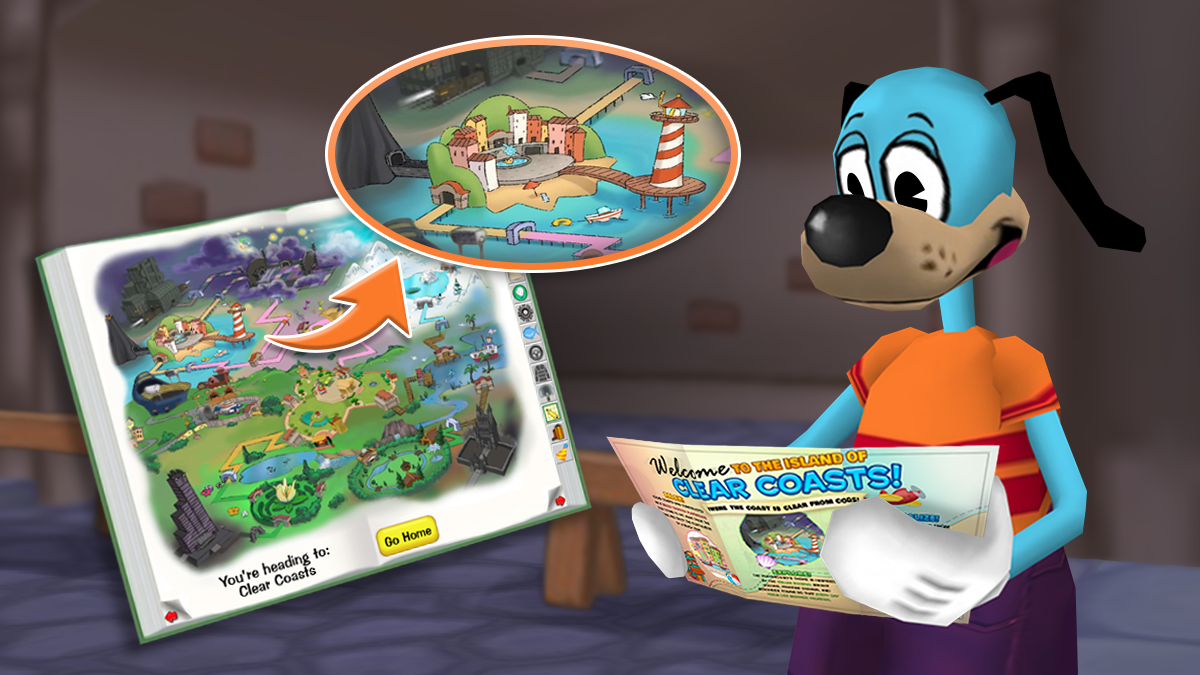 Over the years, Cog-fighting has left Toontown in distress, but the Toon Council is elated to bring Toontown into a new era of relaxation! As president of the Toon Council, it is my distinct pleasure to formally announce that Toon Troopers have been drawing up the schematics for this Playground for a long time, and now they've officially begun construction! When all is said and done, Toons will be able to take a relaxing vacation to Clear Coasts, where the coast is clear from the Cogs!
Fresh off the press, check out this pamphlet detailing just the surface of what Clear Coasts has to offer!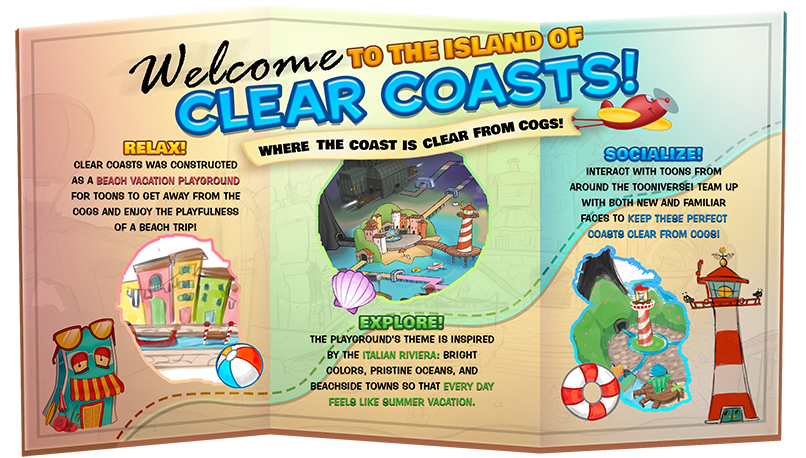 Ever since Sir Max's weather report on the sudden cloud manifestation on the map, all of Toontown has been pondering about what might be hiding underneath it. Even Hysterical Harry shared his theories on the blog some time ago… Once everything is ready, that cloud will disperse, welcoming Toons from far and wide to the hottest vacation spot ever!!! And, while it might not be the old-timers Playground he had in mind, I'm hopeful that this Toontastic addition would make Slappy proud.
After nearly a decade of fighting against the Cogs, and with Cogs, Inc. strengthening their forces, the Toon Council decided that it's time for the Toons of the world to get a vacation – a Toon-cation, if you will. At Clear Coasts, you'll be able to kick back and relax, enjoying clear skies, warm sand, and a salty ocean breeze. Relaxation isn't all Clear Coasts has to offer, though! If you're still looking for work to do, the locals will surely have plenty of ToonTasks in store! Without a Cog in sight, Toons will be able to explore the beautiful, interactive environment of the Clear Coasts riviera.
Now, I'm sure you're excited, but hold onto your hats! We'll be opening up reservations to book your Toon-cation as soon as we can, but Clear Coasts will be under construction for the foreseeable future. After all, there's still a Toontanic-load of construction to finish in order to ensure your vacations are bursting at the seams with silliness, of course!
For now, keep those Whole Cream Pies coming! Despite whatever the Cogs may put us through, a relaxing break from all the conflict is on the horizon. Until then, stay TOONed!
---
Comments
Sorry! Comments are closed.
---
---
---
---
---
---
---
---
---
---
---
---
---
---
---
---
---
---
---
---
---
---
---
---
---
---
---
---
---
---
---
---
---
---
---
---
---
---
---
---
---
---
---
---
---
---
---
---
---
---
---
---
---
---
---
---
---
---
---
---
---
---
---
---
---
---
---
---
---
---
---
---
---
---
---
---
---
---
---
---
---
---
---
---
---
---
---
---
---
---
---
---
---
---
---
---
---
---
---
---
---
---
---
---
---
---
---
Back To Top