More News
Executive Shake-Up Due at Cogs, Inc.!
Posted by Terry Prompter on August 4, 2023 at 2:00 PM
Good afternoon, Toontown -- the name's Terry Prompter. I'm here today with an exclusive investigative report from Toontown's favorite news network, Toon News... for the Amused!
When the Toon Resistance's mid-May interception hit the presses, everyone was left scratching their heads. A leaked memo revealed Cogs, Inc. to be undergoing "corporate restructuring," but with details left sparse, no one could spell out what dangers this brings to Toons. Unremarkably, the Cogs were expecting an email on May 26th, but surprise struck that same day as COG-TV broadcasted to all of Toontown that Cogs, Inc. is undergoing an executive shake-up!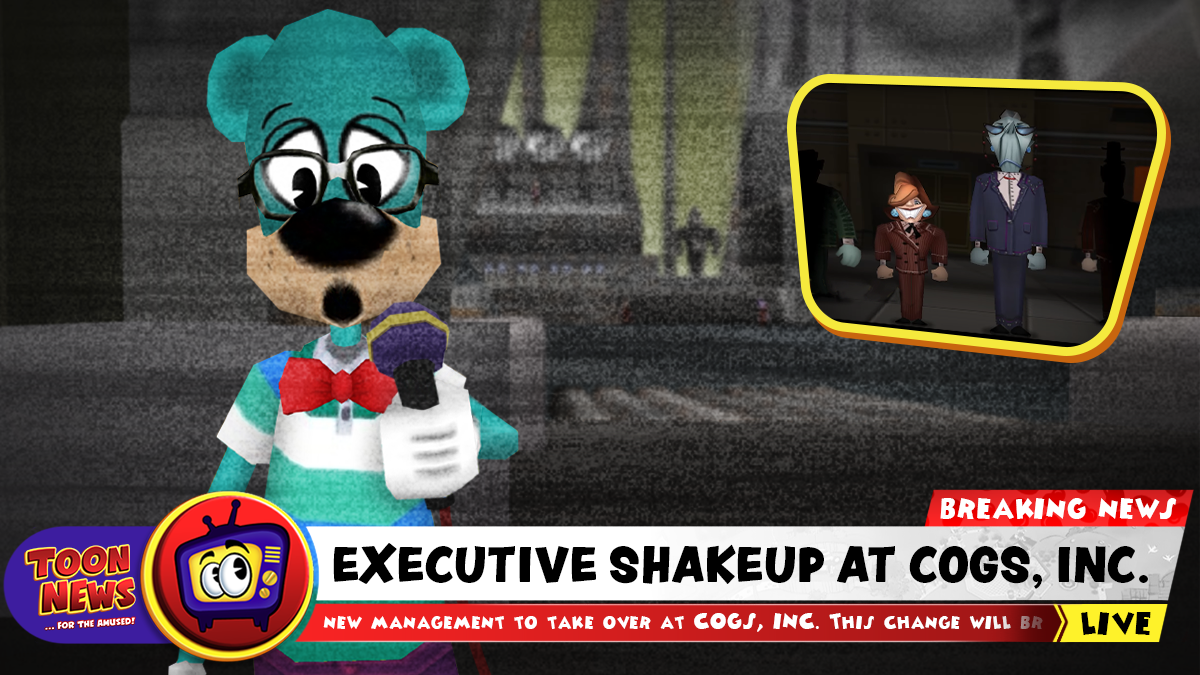 Before you're blindsided by those 'bots, I interviewed Toons in the know to get you in the know. From Melodyland's Teli-Caster Fishing Television Network, my cousin Telly Prompter speaks on her harrowing experience: "Right at the peak of my duet with a Baby Grand Piano Tuna, those buckets o' bolts cut off my program! They have no respect for how hard it is to tuna fish!"
We won't let them off the hook, Telly -- even our network was overtaken in their airwave invasion. In fact, every Toon TV network was left televising this COG-TV segment! A recording is found below:
Toons were only scratching their heads before, but after this incident, many were filled with fear! Rest assured, the Toon Resistance immediately jumped into action. A top Resistance Ranger even stopped by our studio during reconnaissance and was able to provide case files on these sinister "Supervisor" Cogs that'd appeared on COG-TV. Click the case files below to learn more about them!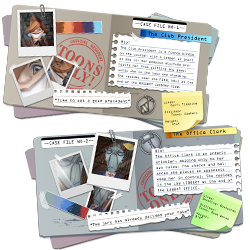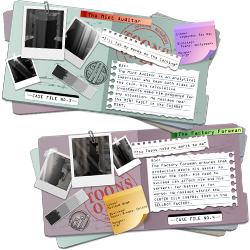 I asked them what the Toon Resistance knows so far, though given this rocky situation with the Cogs, our informant has been left anonymous. "After years of Toon infiltrations, the Cogs are making some big changes to their Cog HQs. Here's what we know so far..."
Cog facilities will provide easier Promotions with enhanced output across the board.
Facility options will be reduced, leaving only two facilities per Cog HQ. One seems to be easier to infiltrate, while the other is a souped-up challenge even for us Rangers.
A sinister Supervisor will oversee each facility, equipped with abilities to tip the balance of the fight to favor the Cogs.
Yee-ouch! The Cogs' typical red tape means that it will still take some time before Cogs, Inc. is "Under New Management," but these changes are nothing to laugh at. Toons at home, what's YOUR take?
This has been Terry Prompter, bringing you the latest Toon News... for the Amused!
---
Comments
Sorry! Comments are closed.
---
---
---
---
---
---
---
---
---
---
---
---
---
---
---
---
---
---
---
---
---
---
---
---
---
---
---
---
---
---
---
---
---
---
---
---
---
---
---
---
---
---
---
Back To Top