More News
Cartoonival's End Brings Celebrations Again!
Posted by The Toontown Team on October 20, 2022 at 2:00 PM
Whew, that's been a whole month of partying done and done. At this year's Cartoonival, we celebrated nine years of Toontown Rewritten. Anyone else a bit tired from all of that? No? You want more? Good thing – the party isn't over yet!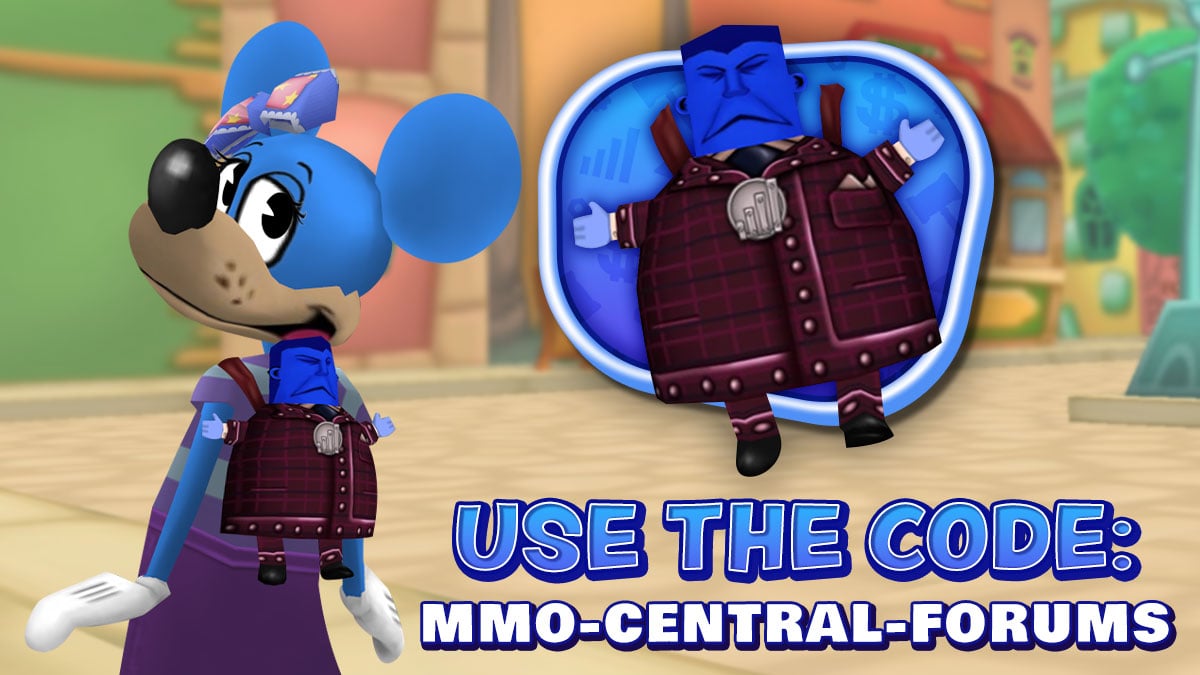 Today's blog post is a double-whammy. We've got two things to celebrate: a major anniversary for a long-time Toontown community, plus a brand-new update for Toontown Rewritten! Without further ado...
Celebrating MMO Central Forums
Where one celebration ends, another begins. MMO Central Forums, long-time hub of all things Toontown, is turning 20! MMO Central's contributions to the Toontown community throughout the years can't be said enough. Toontown Rewritten literally wouldn't exist had it not been for the community built through MMO Central Forums. The Cold Caller's Guild, one of the most important groups of Toontown's long history, got a start on MMO Central Forums.
To celebrate the occasion, we've put together a special something for everyone. You've already seen the post's image, so little introduction is needed: Introducing The Caller-Hauler, an all-new Backpack accessory! From now until Thursday, November 3rd at 2 PM Toontown Time (PDT), you can enter the code mmo-central-forums in your Shticker Book to grab this chilling accessory for your Toon! Afterwards, it'll end up in the Cattlelog's rotation of accessories. You can't argue with the price of free that the limited-time code gives, though!
Also, be sure to check out MMO Central's thread detailing all the celebrations on their end! You can click the button below to head on over there.
---
Announcing the 3.6.0 Update!
Today... we're launching the 3.6.0 Update for Toontown Rewritten! This update continues the work we started with 3.5.0 back in September -- expanding upon Boarding Group features and fixing tons of bugs and crashes.
The headlining feature, of course, is that Boarding Groups have come to ToonHQ.org! When you create a group on ToonHQ, you'll now have the option to automatically create a boarding group in-game. When you join a group with this enabled, you'll be prompted to teleport directly to the group in-game. If the group leader adds a +1 on ToonHQ, their spot will be reserved in the Boarding Group interface. Better yet, if a Toon happens to join on their own in-game, they'll automatically be added to the group on ToonHQ!
It's like magic, but it's actually just a really cool integration that we've spent a ton of time on alongside the folks at ToonHQ. They put together a video showing off all the new features, which you can watch below!
Haven't heard about ToonHQ.org yet? They're a community-led Group Finder service that helps Toons like YOU quickly find groups in-game! From Boss Cogs to Beanfests to everything in between, they've got a ton to see. Be sure to check them out with the button below!
In addition, Boarding Groups now get their own set of SpeedChat phrases to help with coordination between Toons. These phrases can only be seen by group members, and appear in an extra-special orange color.
This update also includes countless bug fixes and crashes resolved, as most updates do. We've still been investing a lot of time and energy into making Toontown Rewritten a crash-free experience -- while there's still work to be done, with each update we're getting closer than ever before. Thank you for sticking with us while we make progress!
---
Is that enough things to celebrate for all of you? Still no!? Luckily, there's still something just a bit sentimental coming up tomorrow on the Toontown Blog. We can't wait to see you then -- stay TOONed!
October 20, 2022 [ttr-live-v3.6.0]
Boarding Groups
• You can now invite Toons to your boarding groups for any activities from anywhere in Toontown!
• When joining a group from afar (ie. ToonHQ, Discord, friend invites), you will no longer teleport to the leader immediately. Your spot is still reserved, though!
• Instead, a super-duper hi-tech 'Go To' button is now present, even allowing you to slip straight past security in Cog HQ lobbies!
• The group leader may not board an activity until all group members are present.

Boarding Group Chat
• The Toon Council is rolling out a nifty, novel, and completely brand-NEW chat mode, Boarding Group Chat!
• You and all your boarding group members can communicate amongst yourselves through this new chat option!
• The orange button up in the top left of the screen will drop down a SpeedChat menu for boarding group chat.
• Using Alt+Enter will allow you to communicate with a boarding group via SpeedChat+!
• Those outside your boarding group cannot see these messages.

ToonHQ Integration
• Boarding groups can now be synchronized between in-game and ToonHQ -- made possible through the wonderful world of ToonSync!
• To elaborate, groups first created through ToonHQ will also appear as in-game boarding groups if ToonSync is enabled. Groups first created in-game will be pre-filled on ToonHQ should you wish to create a group afterwards.
• Synchronization between Toontown Rewritten and ToonHQ groups also applies to the following: group members joining/leaving, group messages sent, and additional +1's (which can be chosen when joining a group on ToonHQ and selecting how many Toons are with you).
• When a ToonSync-powered group is disbanded or enters the activity, the group is removed from ToonHQ auto-magically!
• Only messages from ToonSync-enabled ToonHQ accounts will appear in-game.
• All group SpeedChat messages are still filtered for your safety!

Miscellaneous
• Celebrate MMO Central Forum's 20th birthday with the Flunk-Trunk's awkward cousin -- the Caller-Hauler!
• Doodle names are no longer gender-restricted.
• Forfeiting a board game will now shamefully announce your defeat to other Toons in the area. Sore losers are advised to steer clear.

Bugs 'n Blunders
• We've quashed some crashes related to facilities & battles.
• Goofy Speedway is now more 'welcoming,' -- we fixed a bug that would prevent teleport access from being awarded if entering from Welcome Valley.
• Fixed some crashes related to high network latency.

---
Comments
Sorry! Comments are closed.
---
---
---
---
---
---
---
---
---
---
---
---
---
---
---
---
---
---
---
---
---
---
---
Back To Top