More News
Stay TOONed for Toontown's 20th Anniversary!
Posted by The Toontown Team on October 21, 2022 at 2:00 PM
Howdy, howdy, howdy, Toons! It's Joey Ziolkowski here, Creative Director of the Toontown Rewritten team.
On this day in Toon History – 20 years ago, to be exact – Disney's Toontown Online officially began its Sneak Preview! Can you believe we're just a few short months away from Toontown's 20th Anniversary? As crazy as it is to believe, it's just the tip of the anvil of what's to come for Toontown as we enter 2023. Let's take a look!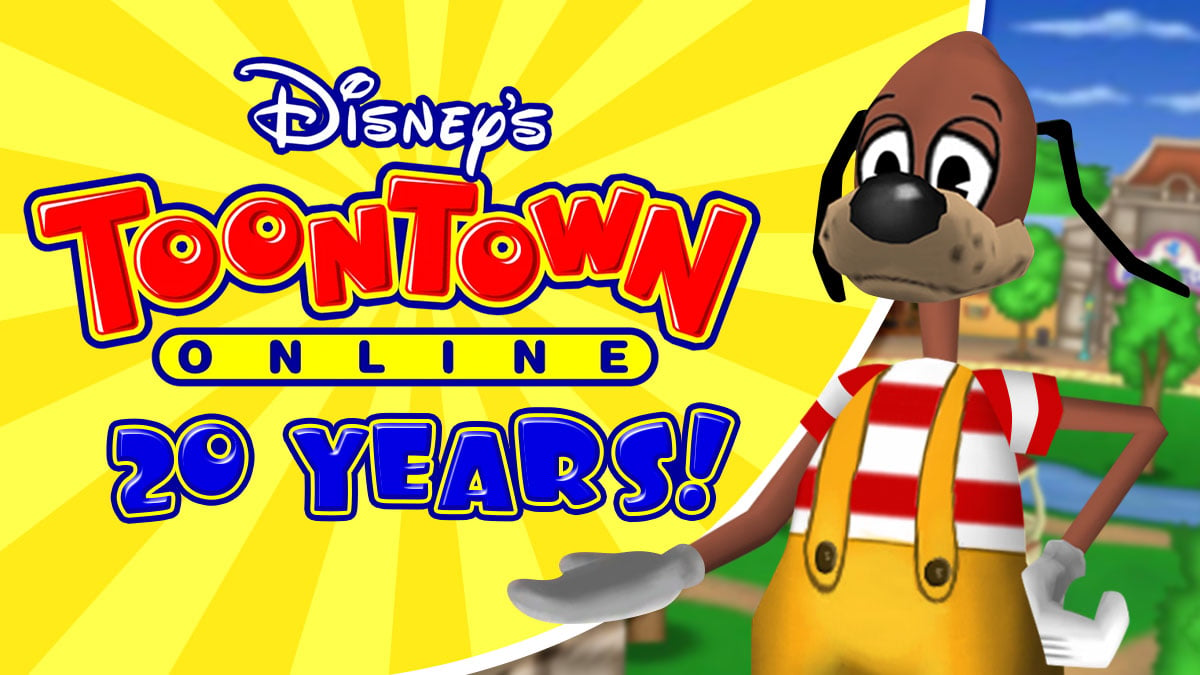 ---
As we look ahead to the new year, two extraordinarily Toontastic dates stand out:
June 2, 2023
Disney's Toontown Online will turn 20 years old!


September 19, 2023
Toontown Rewritten will turn 10 years old…
Officially living as long as Toontown Online did before it closed!
I've been thinking about these dates for a long, long, loooooonnnggggg time - especially about what it will mean for Toontown Rewritten to be older than the original game! I can't overstate how exciting and important this sort of once-in-a-decade event is for our community, and you can be sure that our team is already laying down the Trolley Tracks for our plans. We're hard at work planning and preparing to put on a celebration worthy of the best party hats that jellybeans can buy!
It's easy to take for granted that Toontown is still alive today. It can never be stressed enough how impossibly wonderful it is that this game still exists, which wouldn't be possible without our Toontastic community! We may keep the servers online, but what truly makes Toontown unique is the community that has kept it alive for almost 20 years.
Here's the deal: We will never be able to put on this massive celebration without YOU! These celebrations aren't about our team; they are about all of you who have made Toontown the wonderful place that allows us to unleash our silly side no matter the circumstances. If there was ever a time to get back involved with the Toontown community, it's now!
Here are a few ideas about how you can help us prepare for the celebration:
Join us on the Toontown Rewritten team! We have some exciting new content in the works that we'll only be able to complete with your help.


If you are a Content Creator or Community, think about events you could put on next year to add to the celebration! We're currently reworking our Toontown Partner Program to better support you all, and we hope to open up applications again before the anniversary next year.


Dig up your old Toontown screenshots and memories to share next year when the anniversary begins!


Let us know your ideas for the celebration in our feedback channel on Discord!
We'll have more information for you in the new year about this celebration, but today officially begins the countdown until that grand party across the Tooniverse begins. Stay TOONed to the Toontown Blog in the coming months for more about what's to come for Toontown throughout 2023. Only 225 days until the party begins!
---
P.S. - To see an example of how to get involved with the celebration, look no further than our friends at MMO Central Forums who just celebrated their own 20 year anniversary! Be sure to enter the code mmo-central-forums in your Shticker Book before October 27 for an exclusive item.
---
Comments
Sorry! Comments are closed.
---
---
---
---
---
---
---
---
---
---
---
---
---
---
---
---
---
---
---
---
---
---
---
---
Back To Top