More News
Changes Are On The Way To The Cartoonival!
Posted by The Toontown Team on September 28, 2022 at 2:00 PM
Hey there, Toontown! We hope that you've all been having an absolutely Toontastic time at Cartoonival. As we celebrate nine amazing years of Toontown Rewritten, we've been listening to community feedback and working on enhancements to make this party even better. We have some exciting updates to share, so let's jump right into it!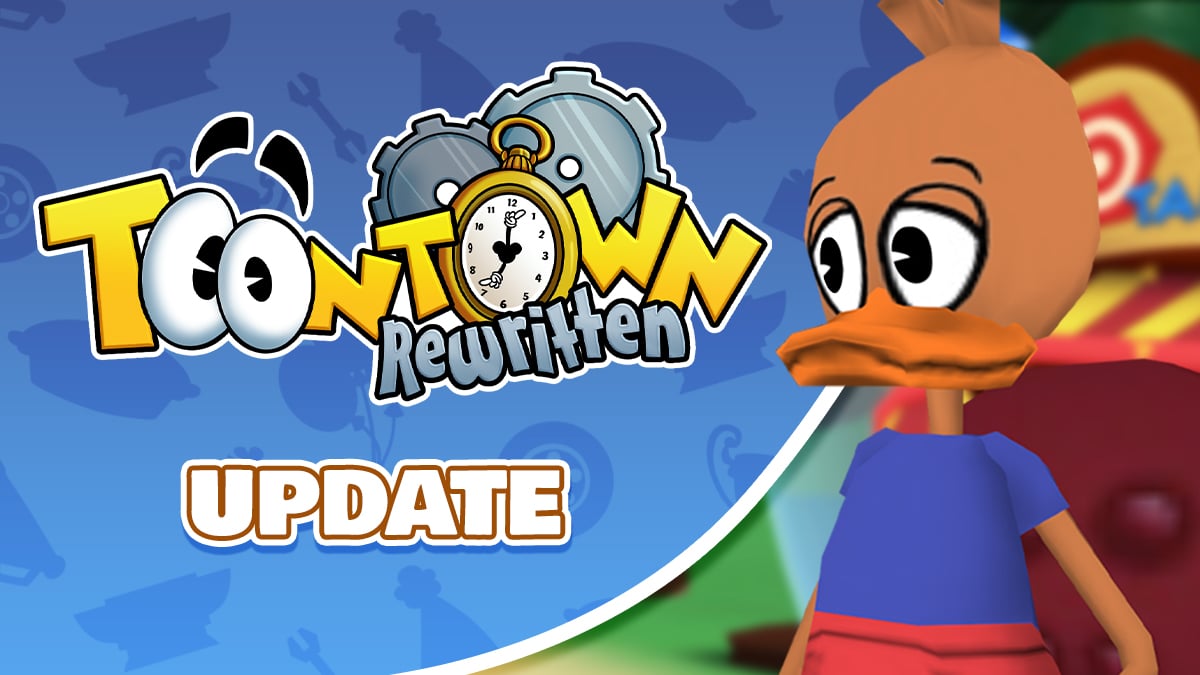 Addressing Cleff & The Duck Tank
To begin, we wanted to thank everyone who brought to our attention over the years how Cleff's Jamaican accent is offensive in nature, and concerns over his placement in a dunk tank. When we conceptualized the Duck Tank many years ago, we picked Cleff as an NPC due to his role in the Minnie's Melodyland ToonTask that requires Toons to deliver a Whole Cream Pie. In our shortsightedness, we thought it would be fun to deliver that Whole Cream Pie back in the form of a classic carnival game.

What we failed to recognize, however, were the racist connotations of a black-coded NPC being placed within a dunk tank. Additionally, Cleff's Jamaican accent from Toontown Online was based on a stereotype that we should not have continued in Toontown Rewritten. We failed to follow our due diligence and put in the proper research to ensure something like this didn't happen, and for that we deeply apologize. We can't undo these mistakes, but we are committed to taking steps to make this right to those who were hurt by this harmful stereotype.

In short, in this update, we have made changes to Cleff's dialogue for both Cartoonival and his ToonTask in Minnie's Melodyland. We sincerely apologize that it has taken us years to address the Cleff issue, and rest assured that we hear you. We strive to ensure that Toontown is a safe and inclusive environment for all walks of life, regardless of race, gender, orientation, or otherwise.

We believe that this change is a step in the right direction, and will hopefully help correct our past mistakes. We hope you enjoy his new dialogue -- we certainly do!

Furthermore, we've received feedback regarding other diverse items within the game as well, such as the Native American themed items, and some concerns of us possibly removing diversity from the game. We won't just remove things from other cultures -- don't worry, your sombreros are safe! We would love to showcase and celebrate a variety of diverse cultures within Toontown as much as we possibly can. That being said, though, we want to do it right. Not all representation is good representation. Caricatures and stereotypes can have the opposite effect to our goal of inclusivity and can instead harm others, which was the case with Cleff.

We intend to do the research required to address each case properly, and want to add new diverse items, NPCs, and even holidays to Toontown in the future! We hope to be guided by the feedback and suggestions of our BIPOC (or Black, Indigenous, and People of Color) players -- we would love to hear from you! Please contact us at support@toontownrewritten.com if you have any ideas to share with us.

---
The Cartoonival Gets Toonier (And Roomier)!
Given that the Cartoonival is such a popular time of year and Toons all around town are participating in the festivities, Token Taker booths can get quite crowded. To alleviate booth congestion, we've added two new booths -- one Merry Multipliers booth and one Pie Purchases booth. Let nothing stop you from spending your hard-earned tokens!
---
Speaking of Merry Multipliers...
After some (merry) multiplication, we've made it to where you can now extend the duration of Merry Multipliers, up to a cap of 48 hours. To coincide with this change, we've adjusted the price of the one hour and three hour multipliers to better put them in line with the other multipliers. With this tweak, you can stack Gag XP and Promotion XP multipliers. These are, however, mutually exclusive from All Battle XP multipliers, and purchasing an All Battle XP multiplier will overwrite your previous multiplier(s). No refunds!

(P.S. How many times do you think we can say "multiplier" in one paragraph 'til it stops looking like a word?)

---
Feelin' Lucky?
Remember when you were stuck on that one ToonTask, because you just couldn't get those rotten Cogs to drop the item you needed? Your misfortune is no more! We've sprinkled some extra lucky Pixie Dust on certain ToonTasks. You are now guaranteed to recover an item after a certain amount of failed attempts. Bad luck, be gone!

---
We would like to thank you all, both new and old players, for sticking with Toontown Rewritten for all these years, through the good and the not-so-good. Toontown is such a special place because of all of you: The players. Without you, your valuable feedback, and your dedication to busting Cogs, we wouldn't STILL be here today.

Here's to many more years to come! And never forget…

YOU are Toon Enough!

September 28, 2022 [ttr-live-v3.5.1]
Cartoonival
• Cleff has gotten a radical new set of dialogue. Check him out in the Cartoonival and in the Melodyland!
• Riggy's Token Taker crew has constructed additional Pie Purchases and Merry Multiplier booths.
• Merry Multipliers can now be extended by purchasing an additional multiplier! This caps out at 48 hours in total.
• Earning Cartoonival Tokens now counts towards Silly Meter progress.
• Plus, you can have both Gag XP and Promotion XP Merry Multipliers active at the same time! Grabbing the double-pack will cancel out your existing Multipliers -- be careful!
• Adjusted pricing of a few Merry Multipliers.
• Fish will no longer be sold for 0 Cartoonival Tokens, now at a minimum of 1. Even the lightest of Balloon Fish are worth at least a Token!
• Addressed a visual issue that could cause Riggy to appear underground. It's not hibernation season yet, Riggy!
• Fixed four different client crashes in the Cartoonival.

Miscellaneous
• Added a new mechanic to improve Toon luck in recovery ToonTasks.
• Fixed an issue with the Options Menu remote in Pick-a-Toon.

---
Comments
Sorry! Comments are closed.
---
---
---
---
---
---
---
---
---
---
---
---
---
---
---
---
---
---
---
---
---
---
---
---
---
---
---
---
---
---
Back To Top