More News
The 3.1 Update Addresses YOUR Feedback!
Posted by The Toontown Team on February 6, 2022 at 2:00 PM
Hey, Toons! It's been just over two months since we released the Sellbot Task Force Expansion -- Toontown Rewritten's biggest update EVER -- and we hope you're enjoying it! However, we know you all have had tons of feedback you've been sharing with us about the update, and we're here for it. It can be hard to know we're listening without any concrete proof though, so today, we're bringing you version 3.1.0, a Toontown Rewritten update all about addressing recent feedback from Toons just like YOU!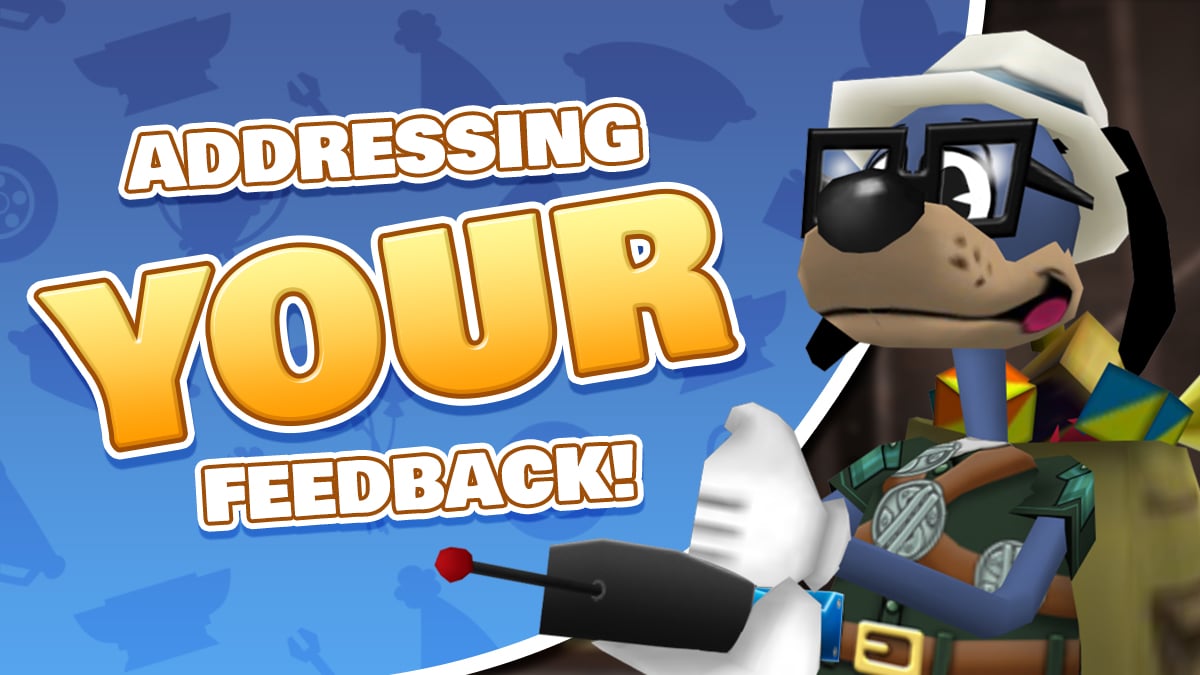 Now don't go running in-game just yet! Toontown Rewritten is currently down for a longer maintenance period than usual, but 3.1.0 will be there when it comes back up. So keep a look out at toon.town/status! Without further ado, let's get into what we actually changed in the update!
One of the most common feedback points we've heard from the community has been about the recent Boarding Group changes. So what did we do? We made even MORE Boarding Group changes! Wait, what? Of course, these changes are based on your feedback. The biggest change is simple: elevators in Cog HQs now have name tags you can click on and teleport to!
We feel that this is an ideal middle ground between the old system and the new one -- it means that Toons aren't bunched up in one spot, but it also means that you don't have to spend a ton of time walking (or worse yet, clicking on a parked Toon near the elevator!). There's been a few more Boarding Group changes as well including some much-needed bug fixes, but you'll need to check the release notes to see all of them.
Additionally, we've been closely watching battle strategies that have emerged as a result of the changes the Sellbot Task Force Expansion. We've made some minor tweaks to battle balancing to make Cog battles more fun and consistent. With that said, we also listened to another consistent point of feedback: Three-star Sellbot Field Offices will now always reward at least one Three-star Remote. That's not all, though: we made some changes to SOS Toons as well, speeding up restock, Toons Hit, and Cogs Miss animations.
There's a bunch more minor changes and fixes in this update... too many to mention here in Blog Post form! But that's what the Release Notes are for, right? But don't scroll to the end of the post just yet! There's something important to read!
Addressing feedback takes time, and we're nowhere near done here. Don't worry if something hasn't been addressed yet! One of the big areas of feedback we haven't been able to address due to its complexity is the feedback on Version 2.0 Cogs and their impact on the C.E.O. battle. Work on addressing your feedback in this area is well underway, but isn't quite ready to release today.
---
Do you have more feedback to give or bugs to report? If so, consider stopping by Postmaster Pete's and send an email to support@toontownrewritten.com! If you're 13 years of age or older, consider dropping into our official Discord Hub Server, where we have channels dedicated to giving feedback and bug reports! We really do hear everything that the community says, even if we're not able to address it or even respond right away.
With that, the release notes await! Check them out below.
February 6, 2022 [ttr-live-v3.1.0]
General
• When "Animation Smoothing" is enabled, various animations that did not get properly smoothed before now will be.
• Squashed a bug that would cause the Friends button to "stick" in the corner of the screen.
• Fixed an issue in the Chief Justice and C.E.O. battles that could cause certain dialogue to either appear cut-off or too small.
• Addressed a bug that got Toons stuck when trying to enter a building as a Cog is taking it over.
• Moved a couple of misplaced props on Pajama Place and Elm Street.
• Adjusted a Cog path near the Sellbot Factory Front Entrance to prevent Toons from accidentally entering battles.
• Addressed typos in certain lines of dialogue.
• Fixed several client crashes across Toontown.

Battles
• Sped-up the animations of Restock, Toons Hit, and Cogs Miss SOS cards.
• In the SOS card menu, there is now an option to filter by "Other" for certain types of cards.
• The rounds left indicator for Lure Gags is now more consistent with other round-based status effects. Note that the amount of Lure rounds has not been changed in this update.
• Doodles, Pink Slips, and Remote Controls now properly count as stuns in battles.
• Fixed several battle-related game crashes.

Boarding Groups
• In Cog HQs, elevators now have a Name Tag that can be clicked on. Once clicked, you can teleport directly to the elevator.
• When in Boss Cog lobbies, Boarding Groups can be created from anywhere in the area once again.
• When in Boss Cog lobbies, Toons can no longer be invited to a Boarding Group if they do not have a promotion.
• When inside a Boss Cog elevator, you can press Tab (by default) to swap to a view looking out of the elevator from inside.
• Implemented various anti-shuffling checks in Cog HQs.
• When a full Boarding Group enters an elevator, the timer will drop down to five seconds.
• Fixed various bugs and visual issues with Boarding Groups and elevators.

Cog Remote Controls
• One-star remotes now last for two rounds instead of three.
• Instead of dealing self-damage over time, controlled Cogs will instead get all damage at once when the remote control expires.
• Damage Remotes now un-lure Cogs.
• Boosted the damage output of Damage Remotes.
• Three-star Remotes are now guaranteed to be rewarded at the end of three-star Sellbot Field Offices.
• Applied a slight speed-up to the Healing Remote's animation.

Sellbot Field Offices
• Tweaked spawn rates of Sellbot Field Offices across Toontown.
• One-star Field Offices now start with 90 Annexes remaining.
• On the first floor of Field Offices, the Trap Gag Track will only appear in combination with Lure.
• Addressed a visual issue in Cold Caller Cubicles.
• Fixed a visual issue with The Boiler's health bar that could cause it to "jump" back in the next round.

Sellbot Task Force
• Fixed several bugs preventing Toons from obtaining certain Rank-Up Rewards.
• Addressed an issue where you could not re-obtain cosmetics if you had deleted them. If you delete part or all of a set of cosmetics, you can re-do the associated ToonTask to get them back.
• Fixed a bug that led to obtaining multiple Just-for-Fun ToonTasks with the same reward in the Hideout.
• Made a particularly difficult ToonTask for the Sleuth Badge just a bit easier.

---
Comments
Sorry! Comments are closed.
---
---
---
---
---
---
---
---
---
---
---
---
---
---
---
---
---
---
---
---
---
---
---
---
---
---
---
---
---
---
---
---
---
---
---
---
---
---
---
---
---
---
---
---
---
---
---
---
---
---
---
---
---
---
---
---
---
---
---
---
---
---
---
---
---
---
---
---
---
---
---
---
---
---
---
---
---
---
---
---
---
---
---
---
---
---
---
---
---
---
---
---
---
---
---
---
Back To Top