More News
Inviting the New Year with Increased XP and Fireworks!
Posted by The Toontown Team on December 31, 2021 at 3:30 PM
Whew! We did it again, Toons -- we somehow blew right through another entire calendar year! We're sad it's coming to an end, but we're glad to see how far we've come. Toontown has been through a lot this year, releasing a record amount of new content and making many fun memories along the way. Let's take a look at this year in review!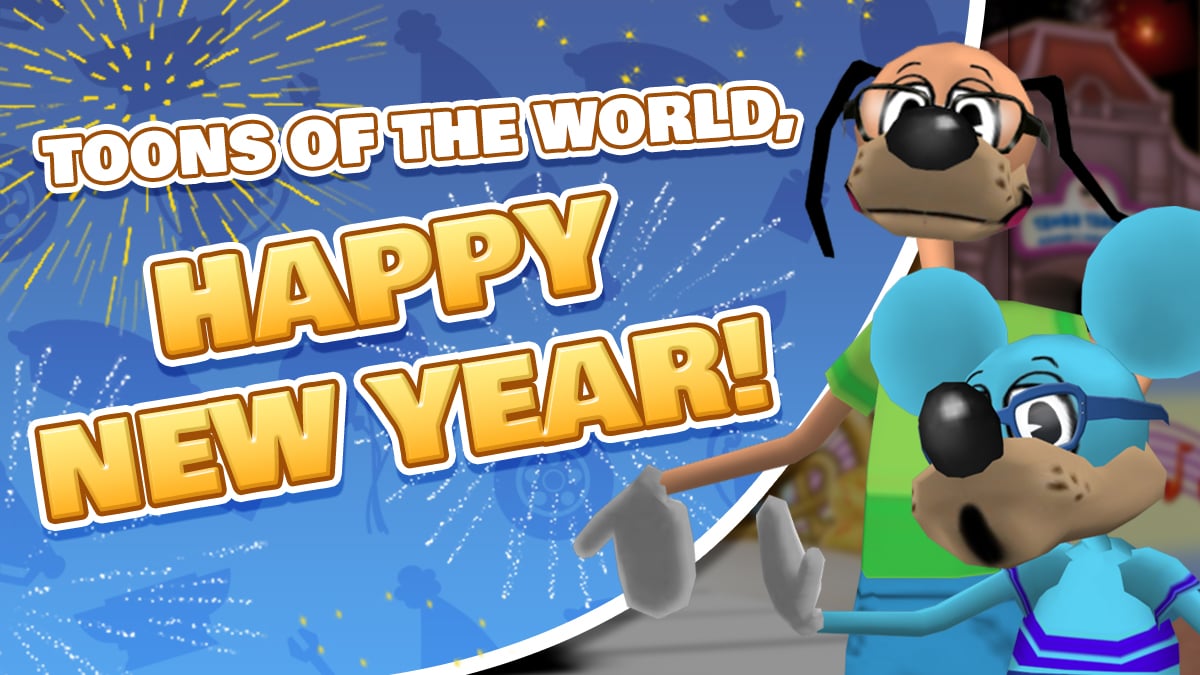 Starting back in February, we released a brand-new ValenToon's Day wallpaper showcasing a sweet interaction at a local pop-up diner, along with six unique ValenToon's Day cards for you to send to all your friends! Then, after a couple months, we released a new update for April Toons' Week that brought Fluffy to Toontown Central along with adding two new Trolley Games, Spotlight Search and Doodle Roundup! A few weeks afterwards, our team released the Spring 2021 Development Update, giving a special look backstage at the progress we had made on our recent expansion along with the announcement of our new on-the-side development team, the "Next Update" team!

To celebrate Toontown's 18th birthday in June, we released the Toontown Preservation Project with the goal of sharing a whole host of never-before-seen Toontown Online original documents. You should totally check it out if you haven't already, because it's really something special! Only one month later, we continued on to release another exciting update -- the Silly Summer Update. Fit with a racing overhaul, rebalanced trophy requirements for golfing and racing, the Cherry On Top Estate Exterior, and a whole lot of other fun stuff, 2.9.0 had a little bit of everything. August continued the fun with the SUPER Silly Summer Encore, introducing benches, a week of fun with Cast Members, and the Merry-go-Round to Toon Parties!

We went on to celebrate Toontown Rewritten's 8th anniversary with the opening of the newly-named Cartoonival. The celebration continued throughout the next month thanks to our amazing Partners, from being able to showcase some sweet Content Packs along with our first Cartoonival Partner Palooza! Here, the Partners banded together to create a fun-filled week that included everything from taking down the Chief Justice down a few too many times to naming each and every bench throughout Toontown, and many more fun activities. A huge thank you goes out to each and every Partner, as this really made this year's Cartoonival something special.

That awesome ValenToon's Day wallpaper wasn't enough for us -- just a couple weeks ago, we released a new Winter Holiday wallpaper to celebrate Toontown's Winter Holiday as well! Although the festivities may now be wrapping up in-game, it's still so exciting to see the Toons and Cogs celebrating the holidays together. (If you happen to still be using either wallpaper, we'd love if you sent us pictures!)

We're sure you all know how we kicked off December, but we'll remind you all anyways. Thanks to the culmination of years of hard work and effort from everyone on our team, we closed off 2021 with a bang by releasing our biggest update ever, the Sellbot Task Force expansion! This brought many exciting new changes and additions to Toontown: an all-new boss battle, our first expansion to the game's main taskline, our first-ever battle balance changes, and so many more things that we can't possibly list them all here (...but we can HERE, on the launch day blog post!). Our entire team is so, so grateful to see the positive reception that this expansion has received, and it warms our hearts seeing how much fun everyone's had playing the game.

---
When we look back on everything that has been accomplished this year for Toontown Rewritten and elsewhere in the community, it makes us so excited to see what the new year will bring. We hope you're excited too, because we know everyone in the Toontown community has lots to bring to the table. Keep defeating those blasted Sellbot Field Offices, and we'll see you in the new year! Until then,
you can
watch the fireworks crackle high in the sky
in every playground on the hour, every hour,
until January 2nd 12:00 AM Toontown Time (PST)
. Fireworks not your style? Instead,
enjoy some Double Experience (both Gag XP and Promotion XP) on New Year's Eve and New Year's Day
!
Now you may be thinking, wait! What about the annual Top Toons event!? To be completely transparent with you, we were planning on creating a revamped version of the event this year, but with everyone on the team preoccupied making sure the release of v3.0.0 went smoothly, the time completely got away from us -- we hope Sellbot Field Offices make up for it!

From the entire Toontown Team to you, have a happy New Year! We'll see you in 2022!
---
Comments
Sorry! Comments are closed.
---
---
---
---
---
---
---
---
---
---
---
---
---
---
---
---
---
---
---
---
---
---
---
Back To Top