More News
Check Out Toontown's Coolest Costumes!
Posted by The Toontown Team on November 18, 2021 at 3:45 PM
Howdy, Toontown Community! We're here today to announce the winners of the Costume Contest that kicked off last month -- with the award being the elusive (and exclusive) ToonFest 2020 Attendee Code! Every single Toon had amazing costumes and ideas, so thank you to everyone who submitted an entry! In fact, looking back at all the emails, we had over 200 individual submissions!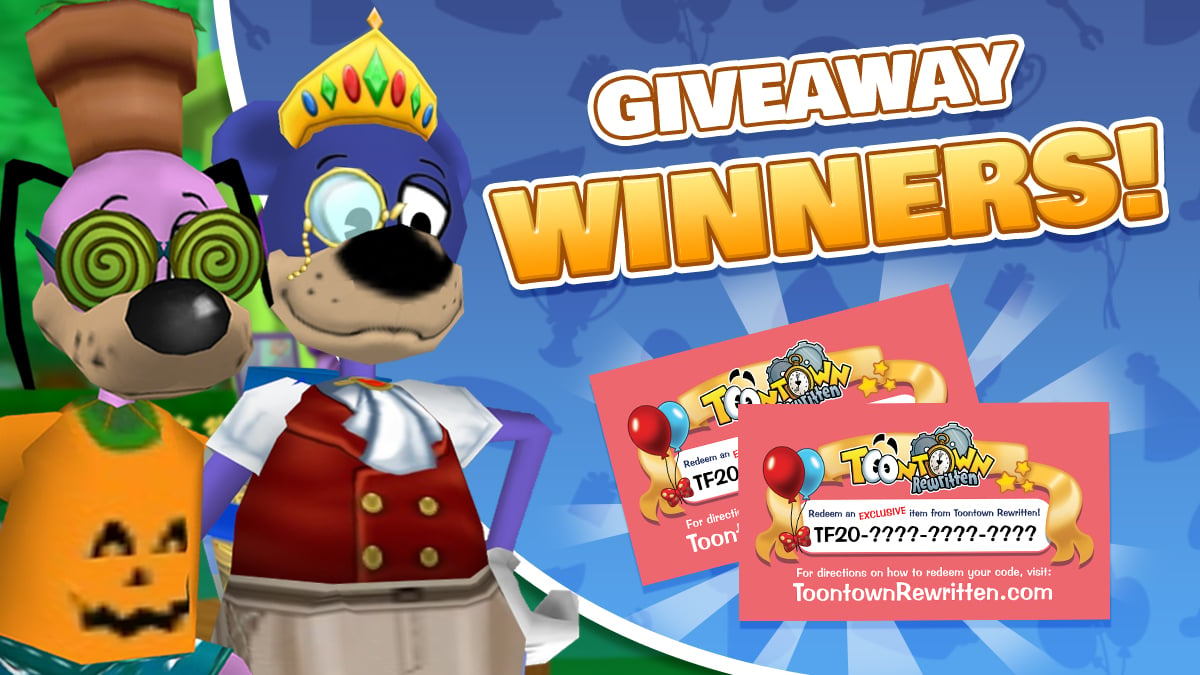 Phew… that's a lot. Luckily, all entries have been accounted for, all participants included, each category sorted, and we're finally ready to randomly pick the 10 winners of each category! Let us just find our (patent-pending) Totally Random Hat-O-Costumes™ real quick. I know we left it somewhere…
---
Fanciest Fashion
Ah, here it is! Let's start off by announcing the 10 winners of the first category: Fanciest Fashion! Each winner had quite the dapper outfit on, and we must say you all looked quite exquisite! Without further adieu, your winners of Fanciest Fashion are…
1) Boo
2) Shadow
3) Milo
4) Daedalus
5) Mousy
6) Buttercream
7) Skel E. Toone
8) Flora
9) Toonley
10) Investi-Gator

Fairest and Fanciest
The Fanciest of all? Well, that honor would have to go to Milo, with an exquisite taste in Toon attire. Just look at how that red bowtie contrasts with the simplicity of that white shirt. Simply stunning.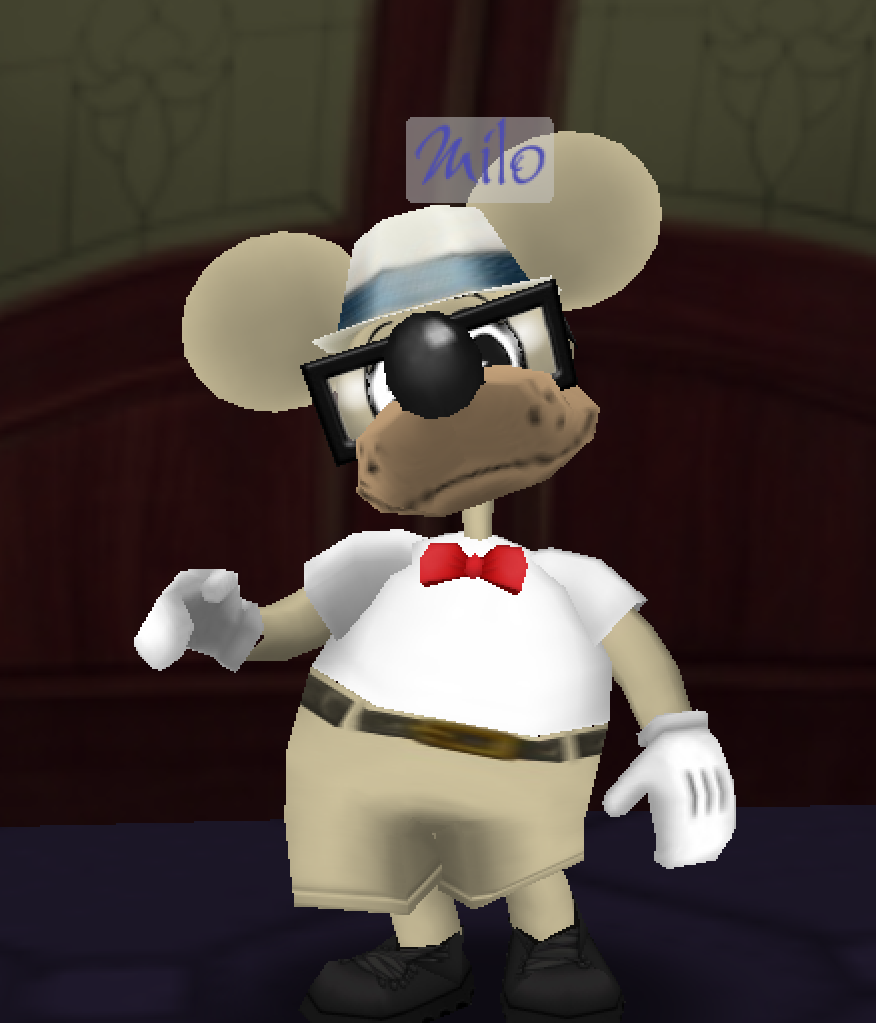 ---
Super Silly Style
Moving right along, let's announce the next 10 winners for the second category: Super Silly Style! We don't know about you guys, but these outfits just scream silly! And with that, your winners for Super Silly Style are…
1) Blue Crewmate
2) Moldy Ham
3) Silly Silas
4) Alia
5) Awesome Carrot
6) Coconut Tinkermelon
7) Pupsicle
8) Hudwizzle
9) Wildbee
10) Oreo

Silly Standouts
Far and above, the silliest costume here has to be... Blue Crewmate... oh no! If there's ever been proof that the Totally Random Hat-O-Costumes™ is gaining sentience, this is it! Watch out for this suspicious-looking Toon on the streets of Toontown!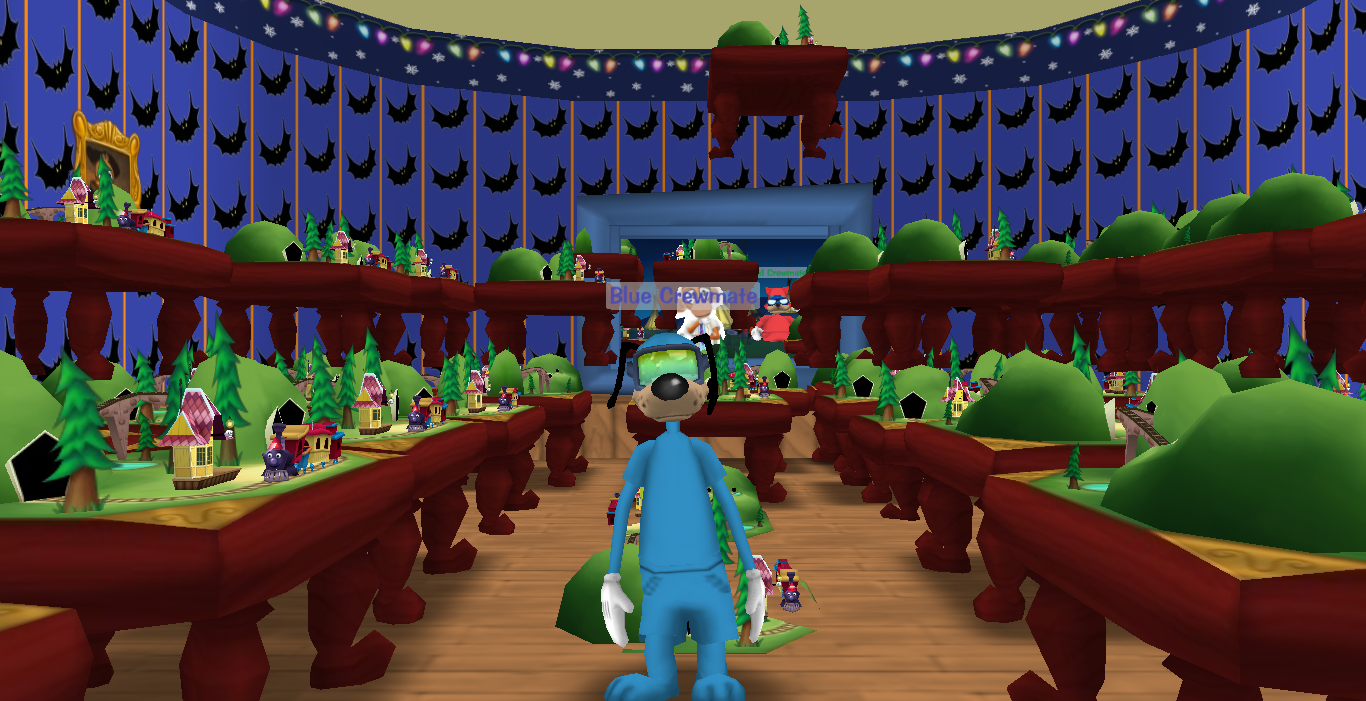 ---
Cartoonival Clothing
Last but certainly not least is Riggy's personal favorite category: Cartoonival Clothing! Who knows, maybe these 10 winners may be even more excited about the Cartoonival celebrations from last month than Riggy!
Despite going into hibernation a month ago, as well as being nowhere in the general vicinity, Riggy has informed us that, unfortunately, no one is more excited for Cartoonival than he is. Should we be concerned?
Aaaaand here they are, the 10 winners of the Cartoonival Clothing drawing!
1) Miss Rosie
2) Waldo
3) Im Fawn'd O' Chocolate
4) Rockenboom
5) Yang
6) Moe
7) Princess Violet
8) Blu
9) Bananamush
10) Beatrix Twiddlewhip

Coolest of the Cartoonival
Who is the Coolest of the Cartoonival? That would go to Blu, whose color-matching attire combined with the silliest of smiles found their way into our hearts. Shoutouts to you, Blu. You take your name seriously.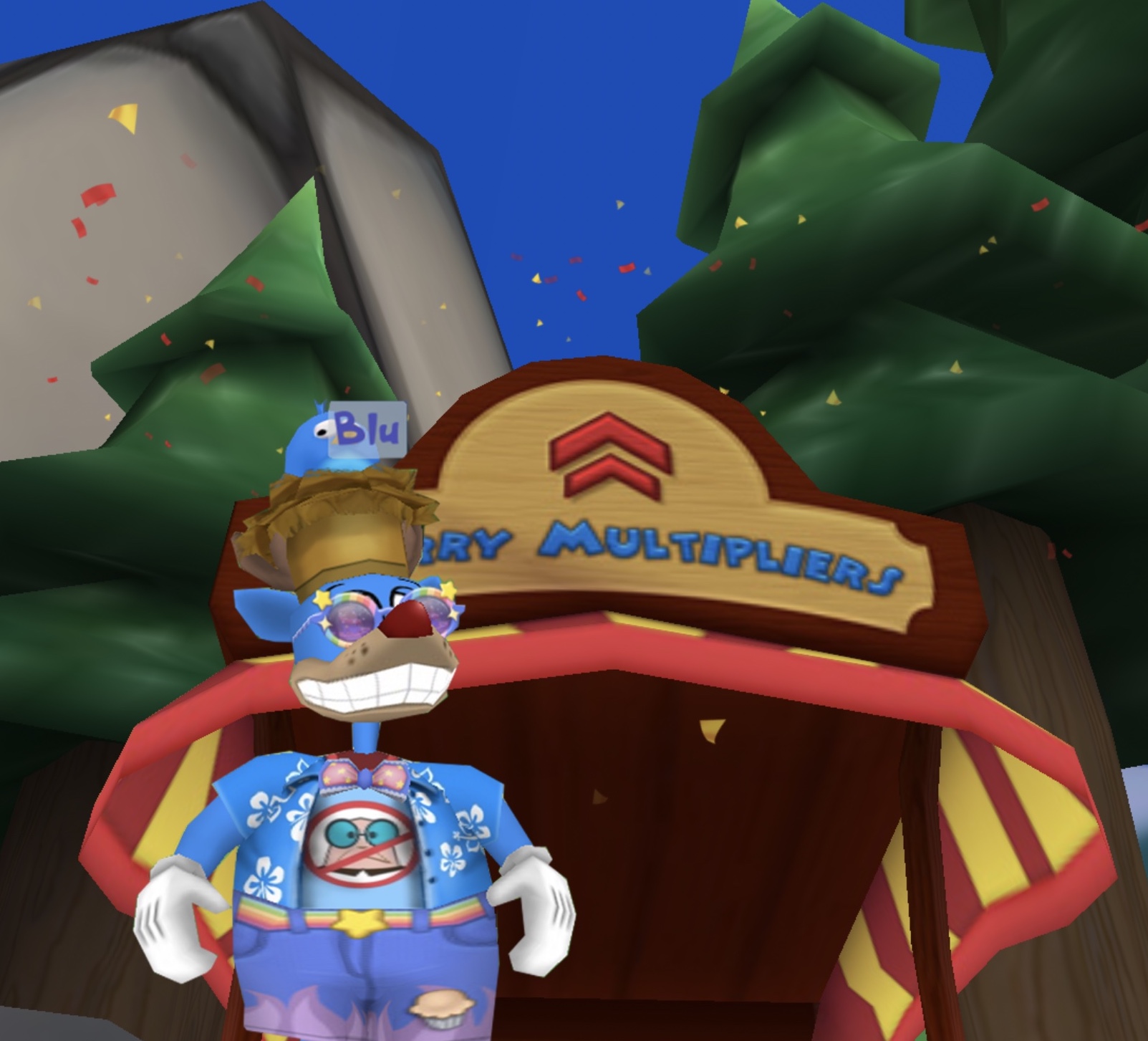 ---
Congratulations to each of our winners! You'll be getting an email in the inbox of the email you used to submit your costumes to us. In that email will be your exclusive code to use! Remember: The code you get can only be used on one account, but all Toons on the account can redeem the code.
And with that, our Costume Contest has come to a close. Once again, congratulations to all of our winners, and thank you to everyone who submitted their outfits!
Until next time… you are all TOON ENOUGH!
---
Comments
Sorry! Comments are closed.
---
---
---
---
---
---
---
---
---
---
---
---
---
---
---
---
Back To Top