More News
It's Shades On for the Silly Summer Update!
Posted by The Sun on June 27, 2021 at 3:15 PM
Get your shades ready. It's time for the number one ball of gas, absolutely BRIMMING with class, the bourgeoisie of vitamin D, the real star of the show: The Suuuuuunnnnn!
GOOD AFTERNOON, TOOOOONTOWWWWN!!~~
Thank you, thank you. I have a lot of important news to get through, though, so try your best to hold your applause until the very end. I know it will be hard with all the astronomically awesome deets I'm bringing you today, but it's well worth it. I hope you're ready... Today's the day of Toontown's 2.9.0 Update -- the Silly Summer Update!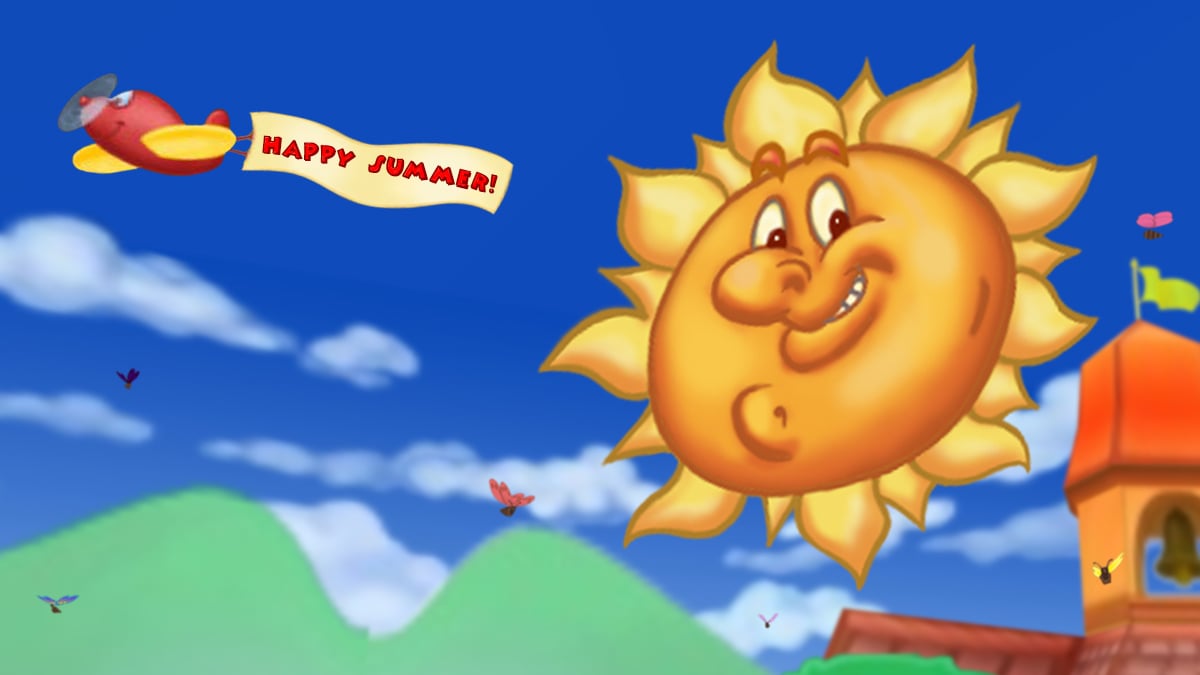 The Moon just visited the Toontown Blog himself, and good for him. He's got some stuff in the freezer for the update, so check it out too if you're interested in that sort of thing. However, there's no way I'm going to let that Moon think he can eclipse ME! It's summertime in Toontown, which means I've got the leg up with extra long days.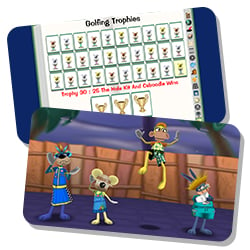 Now, you can get the leg up on your competition too. By double-tapping the forward button, all Toons can now sprint! Much like Loon-a, I've been silently listening to what you folks have been asking for. But I will remain silent no longer! Sprint around town to your heart's content!
If legwork isn't the thing for you, maybe you can shine over at Goofy's Speedway. Rev up your engines, Toons -- racing controls have been overhauled. Karts are faster and more responsive to input... plus, you can honk! That'll come in handy next winter when that Moon thinks he can hog the sky lane.
Whether you're a beginner kart-driver or an expert, you'll want to check these out -- especially those of you holding out on earning your last few trophies. Yes, you! I see you! I see ALL of you! There's no need to spend every waking hour of my beautiful summer days working for those final trophies, as racing and golfing trophy requirements have been rebalanced.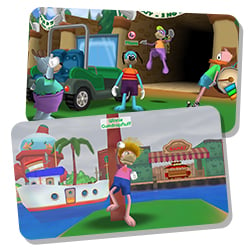 Already earned those trophies? Fret not, for all Toons who have already earned every single Racing or Golfing trophy prior to this update will be mailed the exclusive, new, out of this world "Triumphant" nametag to commemorate their hard work!
Better yet: earning every trophy in one activity -- that includes golfing, racing, fishing, and gardening -- rewards you with a proper fanfare and an exclusive, themed outfit perfect for bragging about! This goes for every Toon in town, even if they earn all the trophies after today.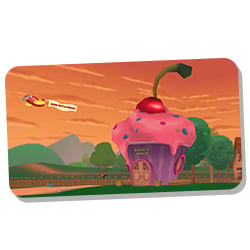 As part of the summer fun, Cast Member Badges have all received a brand-new look. Keep your eyes peeled for the new "Featured Toon" badge, too. This pink badge identifies well-known Toons such as Flippy, Doctor Surlee, and Lil Oldman! I do see all from on high in the sky, and it does seem like one will be making an appearance soon.
And with that, I take my curtain call. Between what that Moon rambled on about yesterday and all of the things I've announced today, this will be the greatest summer that Toontown has ever seen.
...Now you may clap. Have an absolutely Silly Summer, Toontown!
June 27, 2021 [ttr-live-v2.9.0]
General
• Sprinting has been added to Toontown! Just double-tap the forward movement key and your Toon will run faster until you let go.
• The base movement speed of Toons has been boosted by 5 percent.
• True Friends has been removed from the Toon Details Panel.
• Reworked Cast Member and Staff badges with a higher quality model and texture.
• Made various additions and changes to the Toontown Dictionary.

Activities
• Overhauled the reward requirements for Kart Racing and MiniGolf trophies.
• A confetti-filled fanfare will now appear when obtaining all trophies in Fishing, Kart Racing, MiniGolf, or Gardening.
• Earning every trophy in Fishing, Kart Racing, MiniGolf, or Gardening will now reward you with a unique outfit themed around the activity. Collect them all!
• If you've already gotten all trophies in an activity or accidentally deleted the outfit, just complete the activity one more time and the reward will be re-sent to your mailbox.

Customization
• Newly purchased Nametags are now added to your Wardrobe! After you purchase a new one, your old one can be re-selected at any time.
• The mailbox now sends accepted clothing, accessories, and nametags to the wardrobe/trunk by default.
• There's a new button added to the mailbox to wear clothing, accessories, and nametags right away.
• Added revamped clothes based on Racing, MiniGolf, Fishing, and Gardening to the various Cattlelog series. Try to collect them all throughout the year!
• The "Red Fez" accessory has been retextured at a higher quality. A certain Jester has gotten an orange version for himself...

Estates
• Butterflies and Fireflies have migrated to the Estate!
• Cog Invasion!!! The airplane has returned to the skies of Toon Estates.
• Added new Estate options to the Cattlelog, which will be available in your next issue:
• House exteriors, a cut concept from Toontown Online, have been polished up and implemented!
• Houses are seasonal, with the first release being the "Cherry On Top" Cupcake House from June til' the end of August.
• The Moon has overturned the Sun's rule over Toon Estates -- now you can purchase different time of day options for your Estate!
• Cleaned up estate code and addressed some estate-related crashes.

Kart Racing
• Kart handling has been overhauled to be more fun to drive! Please give us your thoughts on these changes by emailing [email protected]
• You can press the Walk key (defaults to SHIFT) to honk your horn. Coming through!
• Adjusted Kart networking code to reduce the "jittering" seen with other Toons in races.

---
Comments
Sorry! Comments are closed.
---
---
---
---
---
---
---
---
---
---
---
---
---
---
---
---
---
---
---
---
---
---
---
---
---
---
---
---
---
---
---
---
---
---
---
---
---
---
---
---
---
---
---
---
---
---
---
---
---
---
---
---
---
---
---
---
---
---
---
---
---
---
---
---
---
---
---
---
---
---
---
---
---
---
---
---
---
---
---
---
---
---
---
---
---
---
---
---
---
Back To Top