More News
Battling Through the Snow
Posted by Lord Lowden Clear on December 23, 2018 at 2:00 PM
On the ninth day of winter, Toontown gives to you:
Twice your battle experience,
Wonderful wintry wardrobes,
Red-nosed reindeer Toons,
White winter wonderlands,
AND A MEGAAAAAA COG INVASION!
(bum bum bum...)
Christmas caroling Snowtoons,
Snowy winter melodies,
Festive decorations,
And a holiday packed with very merry news!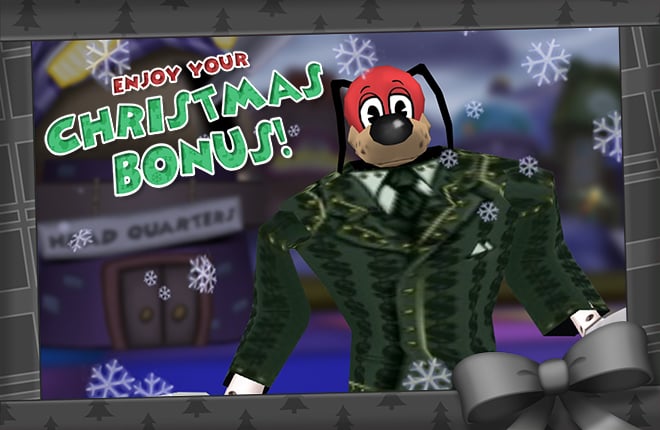 Toons of the world... Focus! Whilst it's great to see Toons enjoying the winter flurry of surprises, gifts, and excitement -- it is often easy to overlook the very challenging task we all have: To stop these robot rascals taking over Toontown!
We recently fought off a tough Cold Caller Mega-Invasion, and I'm very proud of all who participated. The Toon Resistance has received word that the Cogs are regrouping, however, and won't be getting any time off this winter. To ensure each Toon continues with their duty to protect our town from the Cogs, I've persuaded Toon HQ to award you all Double Gag Experience from now until 11:59 PM Toontown Time (PST) on Christmas Day!
Enjoy this gift from me to you, and enjoy your Winter Holiday. Until next time, keep them busting -- with laughter!


Lord Lowden Clear
Leader of the Toon Resistance
---
Comments
Sorry! Comments are closed.
---
---
---
---
---
---
---
---
---
---
---
---
---
---
---
---
Back To Top