More News
Toontown's Twelve Days of Winter Have Arrived!
Posted by Sir Max on December 15, 2018 at 2:00 PM
On the first day of winter, Toontown gives to you:
A holiday packed with very merry news!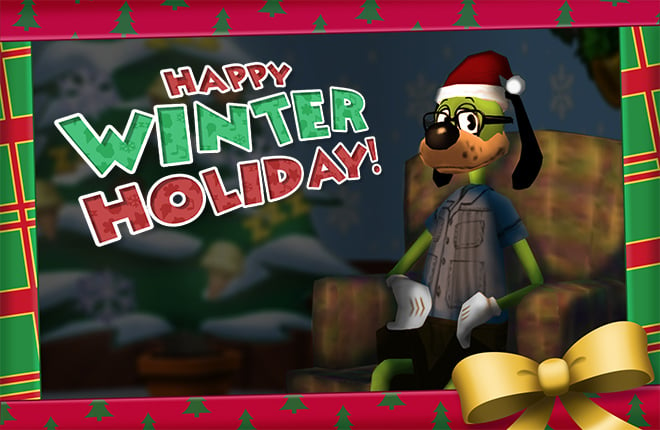 Season's Greetings, Toons! It's that time of year where we stock our cabinets full of hot cocoa, warm up by the fire, and start looking for a new home if you're one of the unlucky residents of The Brrrgh this time of year. You'd think that this occasion would cause Toons to start wearing pants instead of shorts, but I digress...
To tell you about this year's event, I've taken up a cozy spot next to this here yule log for Sir Max's Holiday Special! Gather round, dear Toons, as I tell you the tale of Toontown's Twelve Days of Winter. This annual event counts down to Christmas with holiday activities every day, followed by a grand finale to wrap things up on December 26th!
What's today's gift, you ask? It's my holiday special, of course! Who wouldn't want to sit back and just stare at the fire for hours upon hours? You would do that, right?
Okay, you got me. Sticky Lou helped put this set together, so I'm permanently frozen in this chair until someone figures out how to get me unstuck. But since you're here, I figured you could stick around... Hey, where are you going? Come back!
Well, it looks like I'm stuck in this seat for the next eight hours. Check back tomorrow for the first day of holiday fun!
---
Comments
Sorry! Comments are closed.
---
---
---
---
---
---
---
---
---
---
---
---
---
---
---
---
---
---
---
---
---
---
---
---
---
---
---
---
---
---
---
---
---
---
---
---
---
---
---
---
Back To Top