More News
Prepare for a Blue, Blue Winter
Posted by Lil Oldman on December 19, 2018 at 2:00 PM
On the fifth day of winter, Toontown gives to you:
A MEGAAAAAA COG INVASION!
(bum bum bum...)
Christmas caroling Snowtoons,
Snowy winter melodies,
Festive decorations,
And a holiday packed with very merry news!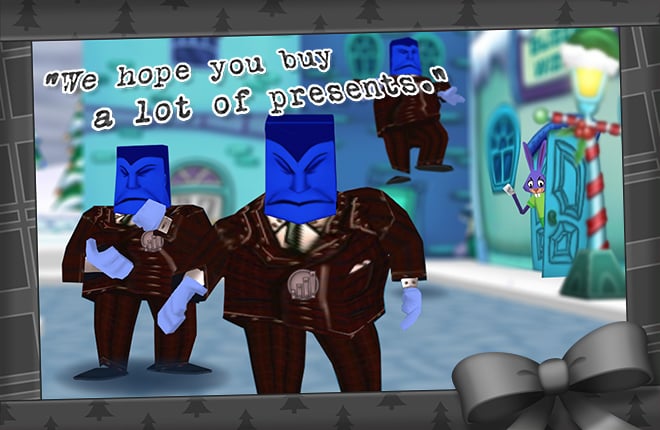 Ah, winter. The time of year when not just The Brrrgh turns into a frozen ice rink. Snow is falling all over Toontown, and Toons are wrapping up warm with scarfs and winter boots before heading out into the blizzard. Me? I own the Blizzard Wizard. I am winter. But there appears to be another trying to seize this time of year from my domain -- Cold Callers.

With the cold setting in, most Toons like to be tucked up around a roaring fire, sipping cocoa, preparing for the big day. It's the perfect opportunity for these cold metal menaces to knock on your door trying to sell you goodness knows what! They won't not take no for an answer, either, as they appear to have an extra layer of protection against our gags. This is no normal invasion, this is a V2.0 Mega-Invasion.
I, for one, will not fall for their smooth-talking salesmanship. I've already bought my toads their Christmas, which means it's time for battle. Lord Lowden Clear has dispatched his Resistance Rangers onto the streets of Toontown to keep these blue-faced blights at bay. As my apprentices of past and present, I know that you are all up for the job. We shall not let these nuisance Cogs ruin my season!
I expect this latest sales campaign to wrap up on December 21st at precisely 2:00 PM Toontown Time (PST). Until then, get out there and stop them! After this latest invasion, I can only imagine how many Cog buildings there will be to recover. Pop by the Blizzard Wizard if you fancy helping me defeat a few... And don't forget the lumpy cheese!
---
Comments
Sorry! Comments are closed.
---
---
---
---
---
---
---
---
---
---
---
---
---
---
---
---
---
---
---
---
---
---
---
---
Back To Top