More News
Break the Spooktown Curse!
Posted by Jack O' Kazam on October 25, 2015 at 2:00 PM
Eerck heh hehck,
I'm back again!
I'd frown at the sight of me, too.
But don't fret my fellow Toons, I've come here able
With a deal from me to you...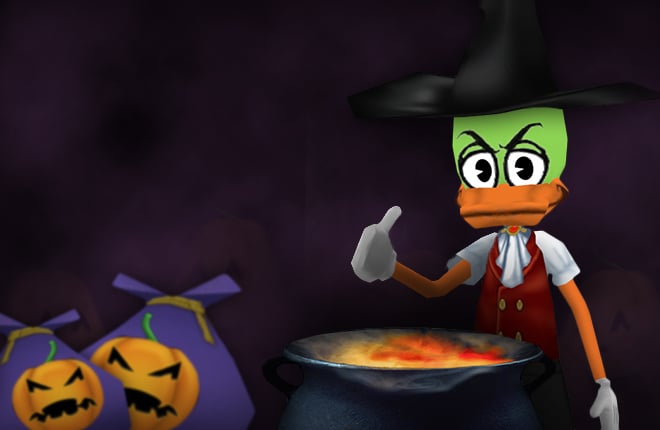 As you've seen, Spooktown's curse has returned!
I swear that it wasn't my own dastardly trick.
You see, the curse raves on from all years past,
Due to that
lime dog
who made me sick.
There is a way to break it, I tell you true,
A way worth more than a few candy tags,
I've lost my supplies, large portions of beans!
And now all over Toontown are scattered bags.
Here's the deal, dear Toons, a deal so true
Your mouths shall be watering with pure excitement.
Collect those bags of mine, full of
beans and more
,
With more than breaking the curse being your enticement.
I should warn you, however, those bags of mine,
At times they can be a bit tricky.
Jellybeans they may give you, but don't blame me,
If you find yourselves in a situation rather sticky.
So what do you say, do we have a deal?
Shake my hand, and the pact will be sold!
Don't trust me you say? After all that I've done?
I assure you that I'd never be so cold.
Keep your eyes on the streets, during Spooktown's Trick or Treat,
And with final word I'll make sure to leave the locations with you.
But know this part, that before you start,
The
Pumpkin Head Curse
reigns true.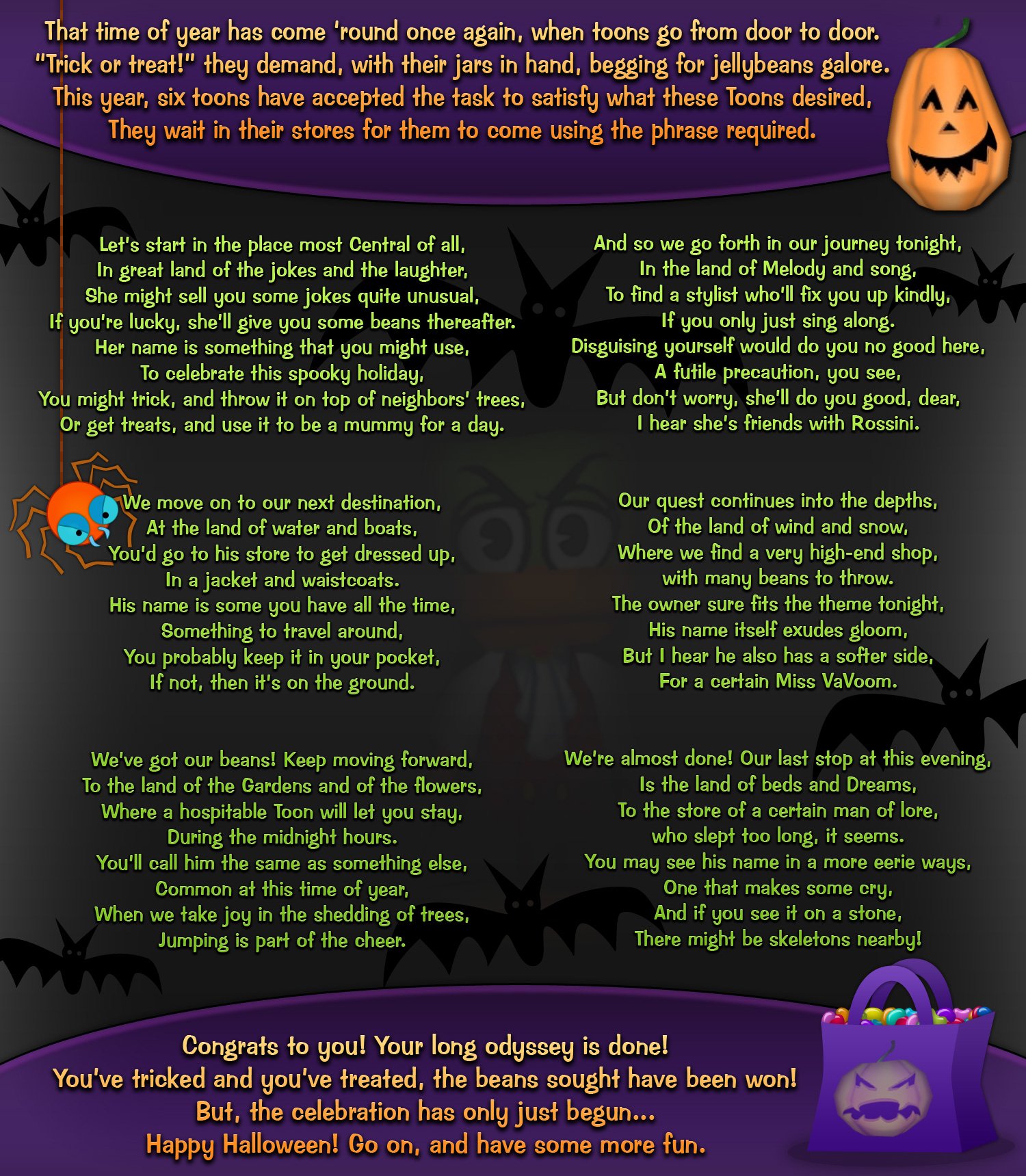 October 25, 2015 [ttr-beta-v1.10.7]
Features:
• Toontown has turned into SPOOKtown! The skies have grown dark from Jack O' Kazam's yearly curse!

• Trick or Treat Week is in full swing! From now until November 1st, you can solve the riddles to earn yourself a load of Jellybeans -- but beware the Pumpkin Head Curse.

• Jack O' Kazam has "lost" all of his Spooky Bean Bags, but can we trust him? These rare bags are scattered all over Toontown. Pick one up to receive your own Spooky Spell to share with friends, but beware -- the results are not always quite as sweet as candy!

---
Comments
Sorry! Comments are closed.
---
---
---
---
---
---
---
---
---
---
---
---
---
---
---
---
---
---
---
---
---
---
---
---
---
---
---
---
---
---
---
---
---
---
---
---
---
---
---
---
---
---
---
---
---
---
---
---
---
---
---
---
---
---
---
---
---
---
---
---
---
---
---
---
---
---
---
---
---
---
---
---
---
---
---
---
---
---
---
---
---
---
---
---
---
---
---
---
---
---
---
---
---
---
---
---
---
---
---
---
---
---
---
---
---
---
---
---
---
---
---
---
---
Back To Top