More News
ToonFest: Flip for the Fireworks!
Posted by Flippy on September 26, 2015 at 3:00 PM
Happy ToonFest, everyone! I haven't had a chance to join the celebration yet since I've been looking for a leash for my Doodle, Fluffy. Something about that area makes him want to wander off. Now that we're a week into the festivities, though, I certainly wasn't going to miss the opening night of the
ToonFest Finale Fireworks!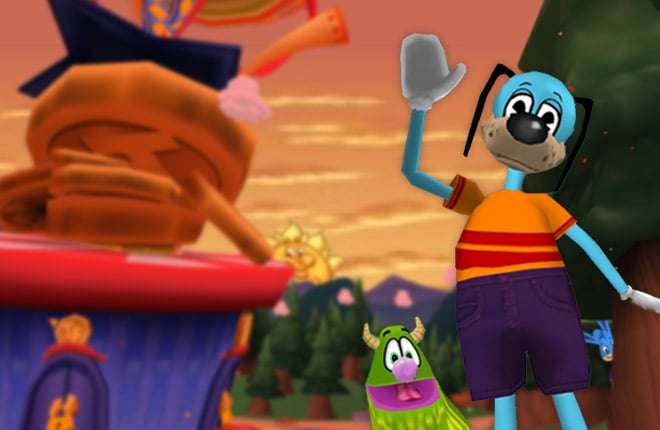 Fluffy has been flipping flips ever since I told him the news, and to be completely honest with you - I have as well! Fireworks are my favorite parts of the festivities, and the ToonFest Finale Fireworks are the most spectacular show in all of Toontown.
If you've never seen them before, make sure to stop by Toontown tonight as the sun sets on the ToonFest grounds
(Seriously, the sun sets there now! Weird, huh?)
tonight at
9:00 PM Toontown Time (PST)
for the very first show. After that, the show will repeat once every three hours in every Playground until the end of ToonFest!
You may want to stop by about 15 minutes early as well to catch the sunset - it sure is something to stare at. Although we like to call these the "Finale" fireworks, ToonFest is only getting started, and now we can keep on partying throughout the night with fireworks to light up our path!
Keep close to the blog, because I hear that Riggy has something super special for you coming up very soon. See you at the Finale Fireworks Show!
Daily Fireworks Schedule


All Times are in Toontown Time (PST)

| | |
| --- | --- |
| 12:00 AM | 12:00 PM |
| 3:00 AM | 3:00 PM |
| 6:00 AM | 6:00 PM |
| 9:00 AM | 9:00 PM |
September 27, 2015 [ttr-beta-v1.10.4]
Features:
• Party all day, and party all night -- the sun now sets on ToonFest every hour!
• The ToonFest Fireworks Finale is here! Check the blog for a schedule.
• Flippy and Fluffy have made their way into ToonFest!

Tweaks:
• ToonFest activities now give a more balanced (INCREASED!) amount of tokens.

Bugfixes:
• Fix an issue with the Tag Game spawning Bean Bags.
• Fix crashes relating to Trampolines.
• Fix a bug allowing Toons to reach impossible heights on trampolines.

Maintenance:
• Add a check to prevent pesky Toons from "farming" Bean Bags.

---
Comments
Sorry! Comments are closed.
---
---
---
---
---
---
---
---
---
---
---
---
---
---
---
---
---
---
---
---
---
---
---
---
---
---
---
---
---
---
---
---
---
---
---
---
---
---
---
---
---
---
---
---
---
---
---
---
---
---
---
---
---
---
---
---
---
---
---
---
---
---
---
---
---
---
---
---
---
---
---
---
---
---
---
---
---
---
---
---
---
---
---
---
---
---
---
---
---
---
---
---
---
---
---
---
---
---
---
---
---
---
---
---
---
---
---
---
---
---
---
---
---
---
---
---
---
---
---
---
---
---
---
---
---
Back To Top