More News
Update 3.5.0 is Here, There, and Everywhere!
Posted by Detective Dirge on September 16, 2022 at 2:45 PM
Oh, WOE is me! BEHOLD, Toontown -- it is I, Detective Dirge, one most plagued by DREADFUL knowledge and mysteries of the land! What does it all mean? Boxes of juke, Districts of safes… and just WHAT, exactly, is a 'Diss cord?' Unlike the other duck detective, Samantha Spade, I have a very UNserious way of going about my detective work. Allow me, myself, and I guide you through unpacking this most UNSCRUPULOUS mystery -- the Most Mysterious 3.5.0 Update!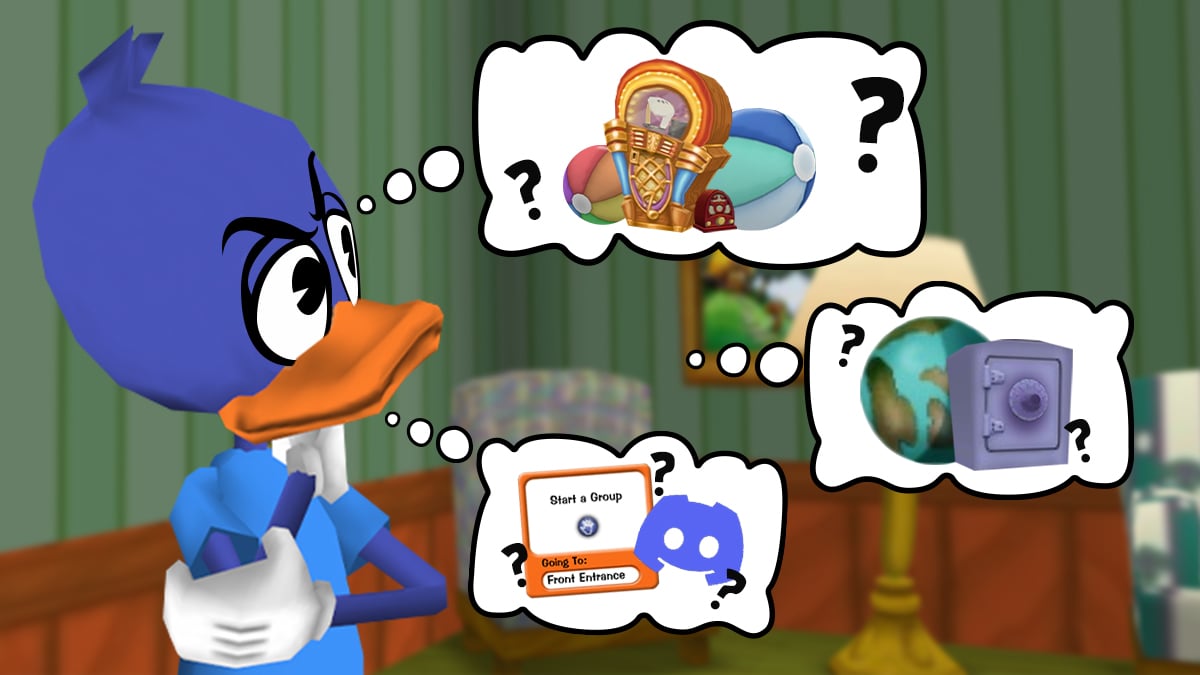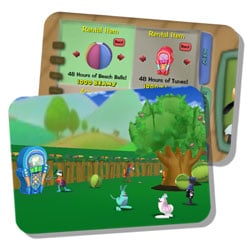 Admittedly, it's not that mysterious… at all… I just added that part for DRAMATIC EFFECT! There is however, MUCH to unpack. Let us begin with the tale… of silence. Yes, once upon a case solved by yours truly, my path crossed upon the locale of a Toon estate. To my shock, I was greeted with nothing… but SILENCE. No music, not a note. The memory of this lack of music irks me to this day! A resident of the Melodyland cannot STAND for that! So, I SAT down, and wrote to the Cattlelog with plans to not only BRING Jukeboxes to the estate, but also add NEW music to them! You can pick up this brand-new rental in your Cattlelog -- along with the other brand-new rental, Beach Balls! I realized that Toons don't just want TUNES, they want more fun, and what's more fun than even more rentals? In fact, fear not about choosing between them: you may now have multiple rentals at once!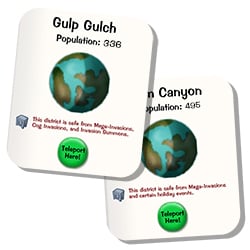 Now let us turn the page to the next tale, as that was only ONE of the many in this (not very) mysterious update! I was recently tipped off about a PLOT being put together in Cashbot HQ. You see, the C.F.O. hasn't had much heat put on him since Operation: Crash Cashbot Headquarters, so he's been up to ALL kinds of nonsense. Documents I snatched directly from the Cashbot Vault reveal that the Cashbots have been MEDDLING with our safes -- safe and super-safe Districts as you knew them are no more! Thankfully, I alerted Toon Hall JUST in time, and they're implementing a replacement as we speak! From now on, some safe Districts will NOT contain any invasions, and some will NOT contain any events. This also makes Toontown a bit SAFE-r for new Toons, which is a win. Is this some sort of CONSPIRACY by the Cogs to make things easier for us Toons?
Next, I turned my suspicion to Lawbot HQ. As far as I know, that C.J. is just SITTING THERE all day… What's REALLY going on behind the scenes, though? As it turns out… not much. Retrying Bumpy Bumblebehr OVER and OVER again seems to take up all his time… Other than that, Ambulance Chasers recently got a pay cut, meaning SUBSTANTIALLY less crashes -- in Cog HQs and Facilities, of course! My little birdie tells me this accounts for about 79% of all crashes in Cog Facilities. They'll NEVER be able to stop us from infiltrating their headquarters at this point!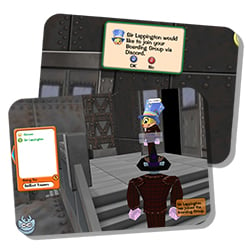 And at long last, it's the last piece of this 3.5.0 puzzle -- BEHOLD! The Rich Presence of Discord! My intel indicates that if you have Discord Integration enabled in your settings, Discord's Rich Presence will now show more detail on your account! BUT! That isn't what's interesting here. As it turns out, you can now use Discord to invite Toons to your Boarding Groups AND your estate -- they don't even have to be on your Friends List! Joining something on Discord will also teleport you DIRECTLY to the group or estate you're joining!
I've ALMOST cracked this case… I just need a few more seconds… YES, it's all coming to me now! All of this can only mean one thing -- this update is packed with some brand-new features that are sure to RAMP UP the FUN you're having during this Cartoonival season! Be sure to check out the patch notes below for the full scoop. As for me, though… I've got more work to do. There's ALWAYS more work to do in the streets of this town. Until next time, Toontown -- it's back into the shadows for me. And remember, I may be Zither Here Nor There… but I am ALWAYS everywhere.
Disclaimer
Terms of Service require you to be at least 13 years of age and the minimum age of digital consent in your country to use their platform. Toontown Rewritten is not responsible for Discord as a platform. Furthermore, Toontown Rewritten has no control over what content is posted or shared. Ask a parent or guardian before accessing Discord or any social media.

September 16, 2022 [ttr-live-v3.5.0]
Boarding Groups
• Discord support is here! If you've enabled Discord Integration from the Options Menu, you can send out group invites to your friends through Discord.
• Toons that accept the invite through Discord will automatically teleport to you upon logging in.
• Estate Groups can now be created with up to 40 Toons -- making group Doodle training and Estate events a snap!
• We're working with the folks at ToonHQ.org to integrate this feature with the website -- arriving soon!
• Boarding Groups can once again be automatically created by inviting a Toon in-game.

Toon Estates
• Party time! 48 Hours of Beach Balls and Estate Jukebox have been added to the Cattlelog.
• Multiple Estate activities can be active at once -- so go have fun with your friends at your Estate!
• Added nineteen new songs to the Jukebox from the past few years of Toontown.
• Implemented several different Beach Ball variations to spice up your physics simulation shenanigans.
• Added the ability to re-purchase the default window view "Wild Garden" from the Cattlelog for 900 Jellybeans.

Boss Cogs
• Tweaked and fixed several issues in Vice President and Chief Financial Officer cutscenes.
• Addressed a long-standing issue that would let Toons walk around while the C.E.O. is being demoted.

Districts
• Safe Districts have been overhauled to be more intuitive for players.
• Notably, this change was made to ensure that lower-Laff Toons aren't thrown into districts with higher-level Cogs.
• When logging in, automatic District selection will now prefer Safe Districts.

Performance
• Significantly reduced the memory usage of SpeedChat menus.
• Fixed a client crash with Unite phrases.
• Addressed countless client crashes within Cog facilities.
• Fixed a client crash related to Cog Golf Karts in Bossbot HQ.
• Patched up several client crashes throughout Toontown.

Miscellaneous
• Discord Rich Presence now reflects the color of your Toon's Laff Meter.
• Made the Screenshots page in the Shticker Book more intuitive to use.
• You can now use a hotkey to hide or show nametags -- this feature is bound to SHIFT+F3 by default.
• Tweaked the laws of physics -- teleporting Toons will no longer get stuck stretched out mid-air for others.
• Fixed a typo in the Cog Thief trolley game.
• Addressed a soft lock when trying to board the Trolley while sad.

---
Comments
Sorry! Comments are closed.
---
---
---
---
---
---
---
---
---
---
---
---
---
---
---
---
---
---
---
---
---
---
---
---
---
---
---
---
---
---
---
---
---
---
---
---
---
---
---
---
---
---
---
---
---
---
---
---
---
---
---
---
Back To Top