More News
Hopping for a Double Bean Days Giveaway!
Posted by Colorful Clover on March 18, 2022 at 2:00 PM
21 striped crimson shirts, 8 bubblegum vests, 10 jellybean skirts… wait, ten jellybean skirts?
Eep! Sorry I didn't notice you there -- I was a tad busy counting our current stock. The name's Colorful Clover, and per my name, I'm a little colorful rabbit who loves all things colorful and creative! Oh, and most importantly, I'm a tailor for the Toon Troop! Normally I'm not one to be crunching numbers, but with Toons receiving double jellybeans from the Trolley due to Double Bean Days going on from now until March 20 at 11:59 PM Toontown Time (PDT), Toons from all across Toontown are flocking to the Clothing Stores to buy a new look or two, so it's up to me to help ensure our tailors are able to keep up with the demand!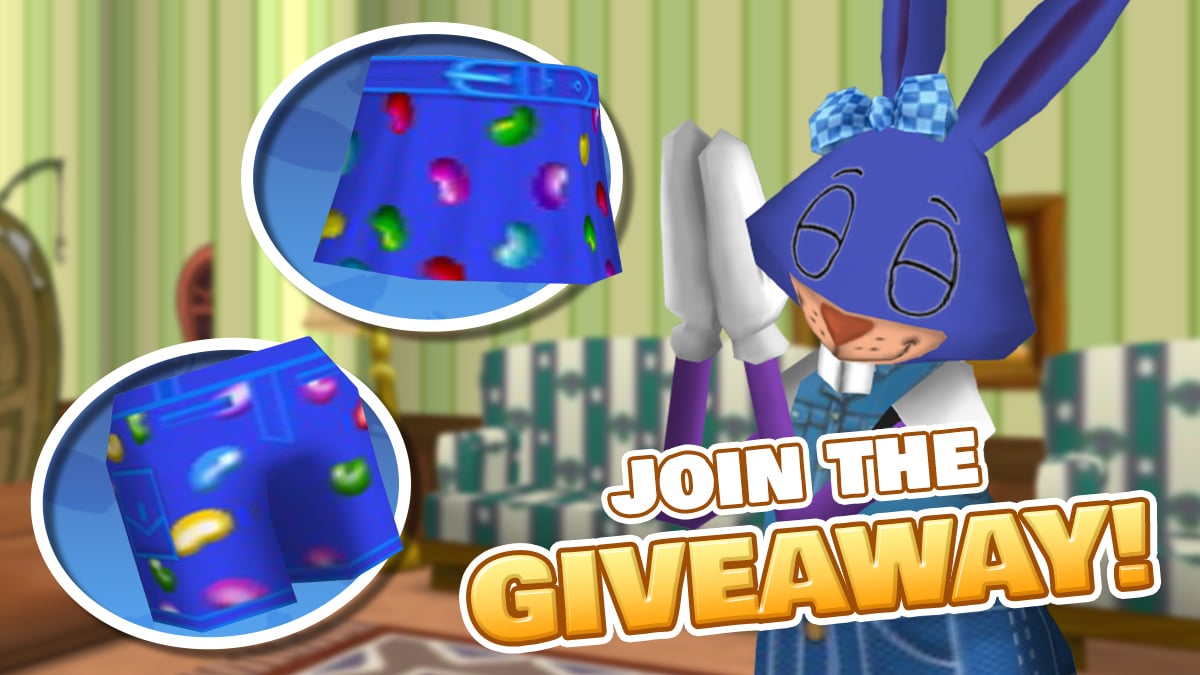 Speaking of demand, I ended up striking gold with the most fashionable find EVER! Shorts and skirts with a beautiful striking royal blue base with a wide variety of different jellybeans masterfully embroidered all around, topped off with a royal blue belt and a hint of cyan… Believe me when I say this was truly the work of a very talented tailor. They might as well call me "Four-Leaf Clover" since I must be as lucky as one to find something so exclusive! After remarking at how rare and beautiful these outfits were, an idea came to me quicker than any sewing machine: why not give them away to some lucky Toons in Toontown?
That said, from now until April 1st, email support@toontownrewritten.com with a photo of you playing the Trolley -- either by yourself or with your friends -- for a chance to win a Jellybean Outfit Code! However, for those of you who absolutely just adore arts and crafts just like me, want to go above and beyond, or even both, I would love to see some of your TOONTASTIC art celebrating Double Bean Days! Whether it's a drawing of you swimming through a pile of beans or building a jellybean themed house exterior with candy, it's such a wonderful treat to see all the styles and forms of art Toons indulge in, so just by putting a little extra paint on the tip of the brush, I'll give you one extra entry for the giveaway. Now, I bet that's enough to color you excited!
---
Giveaway Guidelines
Label your email "Jellybean OutCode Giveaway" and let us know if you're sending in a snapshot and/or a piece of art along with your Toon's name.
You can receive up to two entries for the giveaway, one for a snapshot of you playing the Trolley and another for sending in jellybean themed art/creations. However, no participant is allowed to send in multiple submissions of the same category.
Please send in all your Toontown Rewritten usernames within the body of the email.
10 lucky winners will be randomly picked and announced in a later blog post. However, even if you send in art and aren't chosen, there's a chance your art will be showcased! Let us know if you'd like to opt out of being featured.
The code will only work for one account, but every Toon on that account will be able to redeem it. Choose wisely!
If you've recently received a serious infraction before or during the giveaway or have a recent extensive infraction history, you may not be eligible to participate. If you would like to inquire about your eligibility for the giveaway, send an email over to support@toontownrewritten.com!
Note: Toontown Rewritten reserves the right to revoke your prize or remove your entry from the giveaway at our discretion at any time, so make sure to play fair and kind, Toons!
---
You better believe I'm absolutely hopping with excitement because I just can't wait to see all the snapshots and art! Oh, right -- sorry for keeping you for so long. I'm sure you are more than ready to buy a new outfit by now, so allow me to show you what's in stock now…
---
Comments
Sorry! Comments are closed.
---
---
---
---
---
---
---
---
---
---
---
---
---
---
---
---
---
---
Back To Top