More News
Playing It Safe on Safer Internet Day
Posted by Shockley on February 11, 2020 at 4:00 PM
One Safe! Two Safe! Thrreeeee... Safe! Oh, sorry, I was just working on my Safer Internet Day workout. I'm Shockley, and I'm one of the Toon Troopers in charge of making sure that everyone in Toontown stays safe. No, not just by buying more Drop gags!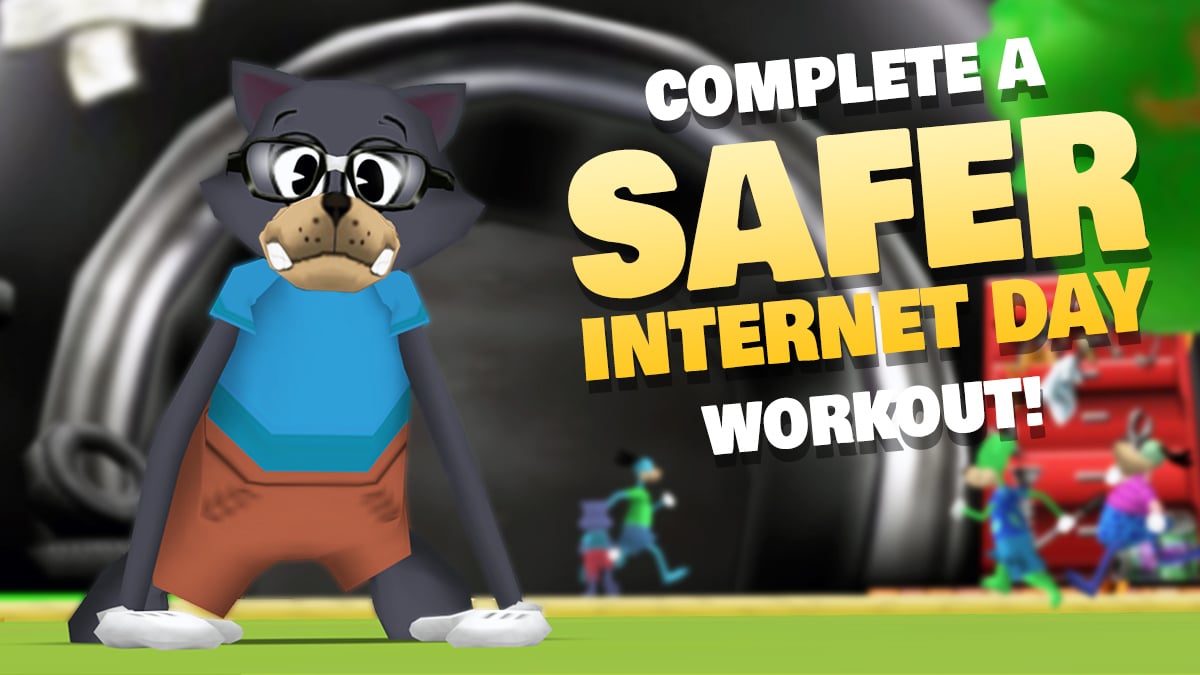 To begin strengthening myself to levels of safety never-before-seen in Toontown, I went to the one place where no one ever gets hurt: professional sports. Bats, cleats, and rackets -- the pinnacle of safety in the workplace! These tools of destruction can surely make for nothing less than a clean, fun game.
Truth be told, the Toon Council had to turn Screwball Stadium from a sports complex into a racing course after just one day of safety disasters. As it turns out, professional sports aren't all that safe after all. Luckily, I've been watching some archival films of the old stadium events, and I think I have the gist of this. Here's the rules of being safe in sports -- as well on the internet!


Keep your Game Plan a Secret!
There's nothing sadder in Gum-ball (The amazing game of chewing!) than a predictable play. Keep your plans safe, and never reveal your personal information online! Whether you're in Toontown or some other whimsical world, your identity should be your greatest secret. Sharing information such as phone numbers and addresses could lead to potentially dangerous visits from Cold Callers, Telemarketers, and even worse.


Secure your Locker!
Sometimes it might seem like a good idea to share your Locker with friends, but it can lead to some sticky situations. Much like your locker might have your most valuable gags, your Toontown Account has valuable possessions as well: Your Toons! You should never share your Toontown Account's password. If your friend wants to play, they can create as many accounts as they could possibly need, all for free! As with your personal information, our Support Toons will never ask for your account's password.


Don't Make a Foul Play!
Unlike what I saw on those old film reels, the most important part of any sporting event is winning fair and square. Of course, that also means that you shouldn't be a sore loser! While it doesn't necessarily make you safer, being kind to others makes the internet a better place for everyone!


Ask for your Team's Help!
The best chewers in Gum-ball didn't get there on their own. The best way to win any game is through teamwork -- and that extends to Toontown! If you ever fear for your safety in Toontown, use the "Report" button and contact support@toontownrewritten.com for help! Our team of Support Toons are there to help solve any issues you may have.


There you have it, ladies and gentletoons! Now, I'm off to learn about other safe pastimes in Toontown. I've always wanted to learn about the art of skydiving...
---
Comments
Sorry! Comments are closed.
---
---
---
---
---
---
---
---
---
---
---
---
---
---
---
Back To Top