More News
"TOON" In to Our First ToonCast!
Posted by The Toontown Team on January 25, 2020 at 11:00 AM
You may have heard of ToonTasks, but have you ever heard of ToonCasts? Of course you haven't -- it's a brand new event being held by The Toontown Team!
During the Main Event of ToonFest at ReplayFX 2019, we announced that we were working on setting up Development Livestreams to create an opportunity for YOU to see some of the exciting things that we're working on behind the scenes of Toontown Rewritten. We've decided to call these events "ToonCasts," and for the first one we'll be giving you an exclusive look at some of the progress we've made on Sellbot Field Offices!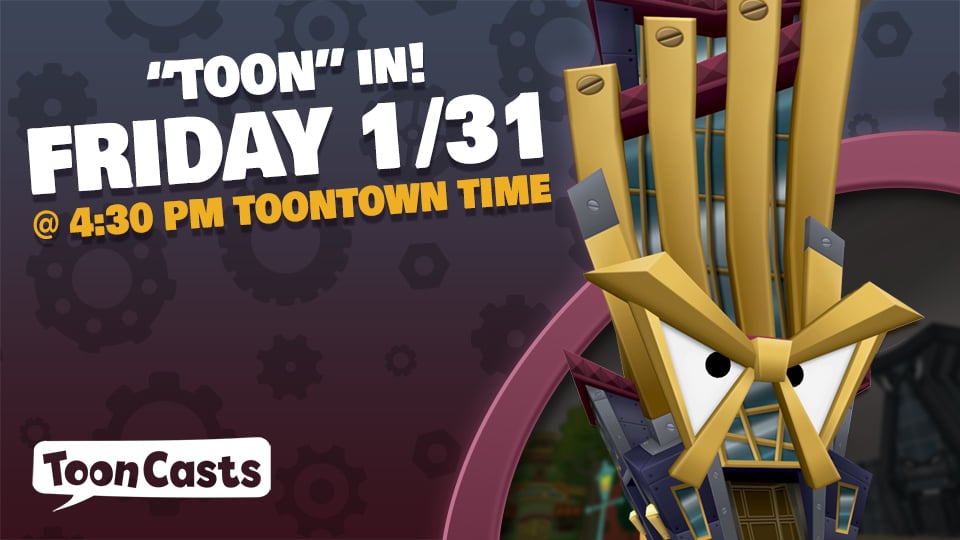 As promised at ToonFest, we're airing this first stream before the season of fall is over... What do you mean it's January? How long was I asleep after Thanksgiving dinner?!
So, it turns out we missed our fall deadline, and we're very sorry for any disappointment. Moving forward, we're hoping to host ToonCasts every couple of months throughout the year to keep you up "Toon" date on the latest happenings on The Toontown Team.

Our first ToonCast of 2020 will be hosted on January 31st at 4:30 PM Toontown Time (PST)! We're so excited to have this opportunity to take you backstage and give a progress update on our current major project, Sellbot Field Offices.
Sellbot Field Offices are our main focus for this stream, but that's not all that we'll talk about! Stick around throughout the whole stream for some exclusive backstage info. Additionally, we'll be hosting a Q&A session at the end of the stream, so bring a question and you may just have it answered by a member of the team!
It's time to stock up on popcorn and start pondering what deep, Tooniverse-shattering questions you may ask at the end of the stream. Be sure to subscribe to sign up for an event reminder on YouTube or follow us on Twitch so that you don't miss out. We'll see you on Friday!
---
Comments
Sorry! Comments are closed.
---
---
---
---
---
---
---
---
---
---
---
---
---
---
---
---
---
---
---
---
---
---
---
---
---
---
---
---
---
---
---
---
---
---
---
---
---
---
---
---
---
---
---
---
Back To Top