More News
Operation: Crash Cashbot Headquarters Begins TODAY!
Posted by Lord Lowden Clear on May 2, 2019 at 2:00 PM
The Toon Resistance has been monitoring Cog activity for years: shutting down factories, infiltrating the Bosses' offices, and intercepting classified memos. Ever since the construction of the Cashbot Headquarters, the Cashbot freight trains have been a vital part of Cog infrastructure. Today, Toons, we're shutting those freight trains down.
After uncovering a highly classified Cog Memo with mentions of a "C.F.O Project" to fight back against the Silly Meter, I went straight to work putting together our fiercest operation yet. Toons of Toontown, I'm officially initiating Operation: Crash Cashbot Headquarters.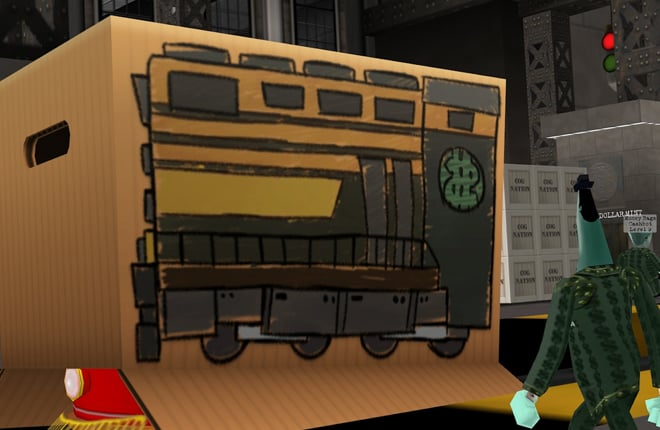 The Resistance Outpost
Crashing an entire Cog Headquarters is no easy feat. That's why I've instructed a number of Resistance Rangers to construct an entire Outpost located at the heart of Cashbot Headquarters! Here, we have barrels of Gags and plenty of jokes for Toons of all experience who want to help out. It seems that some Resistance members went a bit overboard with the wall art... I suppose we can never have too much wackiness, can we?
The Toon Resistance, at the Toon Council's approval, has set up a teleportation bypass for all Toons to have temporary teleport access to Cashbot HQ as well! We've even partnered with Goofy's Gag Shop, setting up a temporary stand within a train car. You'll never be without a full backpack of Gags to take on the Cogs throughout this battle!


Resistance ToonTasks Return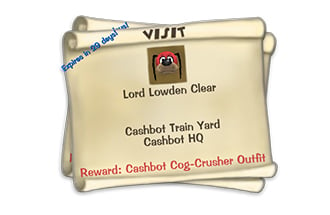 It's been a long time since Operation: Storm Sellbot Headquarters, and the Toon Resistance has grown enormously. However, there simply aren't enough Rangers to complete all of the ToonTasks for this Operation! Throughout the Headquarters you'll find brand new ToonTasks to take on, with some very special rewards for you to get your gloves on.
From Double Experience, new Unites, special SOS Cards and fabulous apparel -- there's certainly something for everyone to get excited about. In fact, we'll be adding even more rewards as the Operation continues! There are over twice as many rewards as Storm Sellbot that we'll be rolling out.
These ToonTasks are vital in making this operation a success. We need them completed in record time, Toons! That's why you will only have the duration of this operation to complete them. Once our takeover of Cashbot Headquarters concludes, so will the ToonTasks, and you will not be able to claim your reward.


The Toon Resistance needs YOU!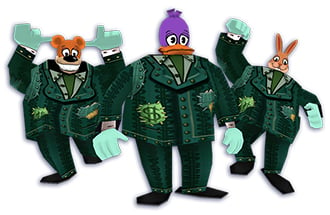 If this mission is to be a success, we all must work together. Whether you are a high-laff veteran or a new Toon in town, team up with your friends to help us Crash Cashbot Headquarters once and for all!
The Toon Resistance has once again teamed up with Loony Labs to create the Cashbot "Rental Suit". If you don't yet have your own Cashbot disguise, pick up one of these and slip right past the weakened Cashbot security straight into the C.F.O's vault.
We can't let the Cogs get ahead of our plan. Starting today, until May 31st at 11:59 PM Toontown Time (PST), Operation: Crash Cashbot Headquarters is in full effect. If you're ready to fight back against the Cogs and put a stop to the "C.F.O. Project", you know where to find us. If you're not ready to team up with the Toon Resistance, you can visit any S.A.F.E. district for an Operation-free experience.
Now, let's keep them busting -- with laughter! See you at the Outpost, Toons.


Lord Lowden Clear
Leader of the Toon Resistance


May 2, 2019 [ttr-live-v2.6.0]
Crash Cashbot Headquarters
• Operation: Crash Cashbot Headquarters has arrived! Until May 31st, the Toon Resistance will be on full attack over at Cashbot Headquarters. Whether you're a new Toon or a seasoned veteran, anyone can participate in the event!
• Cashbot Headquarters has been Crashed! The place is a mess, and The Resistance has set up their outpost in the heart of the Headquarters.
• Goofy's Gag Shop has partnered with the Toon Resistance and has temporarily set up shop within the Resistance Outpost.
• Limited-time ToonTasks have been added with new exclusive clothing, accessories, and rewards. Check back every week to see what new items the Toon Resistance has to offer!
• Hey, who's driving the Trolley? Run after it on the tracks of Cashbot HQ to regain Laff Points!
• Due to increased Silliness in the area, all Toons will have teleport access to Cashbot Headquarters during the event.
• Laff Requirements have been temporarily lifted from the Dollar and Bullion Mints.
• To guard himself, the C.F.O. has sent out some Goons near the doors to the Cashbot Vault.

General
• Removed the 125 FPS cap. High refresh rate users rejoice!

Visuals
• Adjusted Whole Fruit/Cream Pie model to fix a texture issue.
• Added an updated Party Cannon texture, featuring more detail and an improved design!
• Fixed a transparency issue with the Twitter Birb hat. Long Live the Birb!

Streets
• Street Signs have been re-implemented, and now feature an advertisement for Crash Cashbot Headquarters. Be sure to watch these signs regularly to see what's going on in Toontown!

Toons
• Adjusted accessory positioning for nearly every accessory on every type of Toon. Deer and Crocodile Toons in particular should notice a massive difference in quality!
• Increased the size of the Closet and Accessory Trunk, which now hold up to 300 items each!

---
Comments
Sorry! Comments are closed.
---
---
---
---
---
---
---
---
---
---
---
---
---
---
---
---
---
---
---
---
---
---
---
---
---
---
---
---
---
---
---
---
---
---
---
---
---
---
---
---
---
---
---
---
---
---
---
---
---
---
---
---
---
---
---
---
---
---
---
---
---
---
---
---
---
---
---
---
---
---
---
---
---
---
---
---
---
---
---
---
---
---
---
---
---
---
---
---
---
---
---
---
---
---
---
---
---
---
---
---
---
---
---
---
---
---
---
---
---
---
---
---
---
---
---
---
---
---
---
---
---
---
---
---
---
---
---
---
Back To Top