More News
Ending ToonFest with a Delightful Double
Posted by Riggy Marole on December 2, 2016 at 6:00 AM
Boy oh boy, what a week.
HAH!
It's a good thing I'm a rabbit, because my legs would be sore as a salesman if I wasn't so used to jumping around. At long last ToonFest is wrapping up for the year, but I've got one more surprise in store.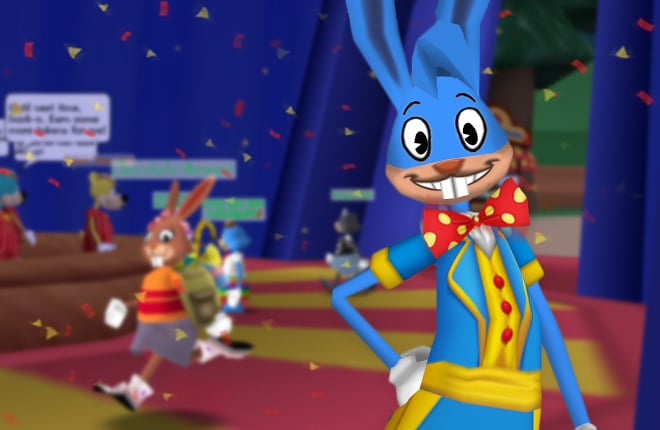 In the short time our prizes have been available, you crazy kooks have been mauling those Token Takers day and night.
LITERALLY!
Ah, don't you worry about it, they enjoy it. Bears love Token Taking, it's a well documented fact.
The point is, you fella's love those accessories and I love that you're taking 'em off my gloves. Those bowties are so September,
yuhck.
For that reason, I'm DOUBLING ToonFest. That means
Double ToonFest Tokens
on Trampoline and Cannon activities, along with a sweet extension that will keep the festivities rocking
all weekend
.
Make sure to use those tokens wisely, because once they're gone, they're gone! Those same tokens won't be available to use during next year's event. I hate to say it, but once this weekend is over, this'll be the last of ol' Riggy Marole until next year! I'll miss you chums, let me tell ya's.
Enjoy the weekend, fellas. Thanks for sticking around this quite
eventful, heh
, ToonFest!
December 1, 2016 [ttr-beta-v1.13.2]
Features:
• Double Days and Double Tokens -- ToonFest has been extended through the weekend to allow you to make some last minute purchases!

Bugfixes:
• Fix a number of exploits relating to the Teleport GUI.
• Graphic Options GUI now closes when the Shtickerbook is closed.
• Fix a crash when sleeping at a picnic table.
• Cannon collisions have been updated for better gameplay.
• Toon shadows now properly appear after landing from a cannon.

Tweaks:
• Shorten Black Friday holiday whisper.

---
Comments
Sorry! Comments are closed.
---
---
---
---
---
---
---
---
---
---
---
---
---
---
---
---
---
---
---
---
---
---
---
---
---
---
---
---
---
---
---
---
---
---
---
---
---
---
---
---
---
---
---
---
---
---
---
---
---
---
---
---
---
---
Back To Top