More News
Sales, GETCHA' Sales Here!
Posted by Token Taker Ted on November 25, 2016 at 8:00 PM
Welcome one and all, welcome, WELCOME! This is a day long awaited, I dare say, as sure as the mustache on my muzzle! Not only have we got a grand amount of
brand new ToonFest prizes
finally released, but today is the start of Clarabelle's Annual Cattlelog Sale!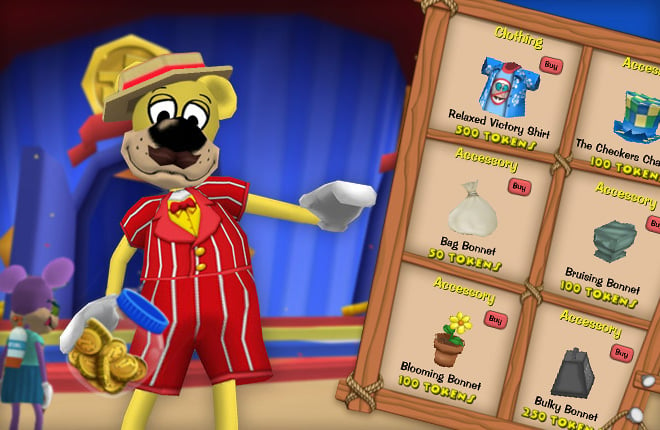 Toons far and wide, have I got a treat in store for YOU down at the ToonFest Tower! New shirt, new hats, new glasses galore -- but don't drool yet pal, we've got more than just apparel this time around. Stop by the
Merry Multiplier
booth to
boost your Gag or Promotion experience
, for just a small pouch of ToonFest tokens!
In addition to all of this, keep your eyes peeled on that Cattlelog of yours! Clarabelle's Annual Sale starts RIGHT NOW in the spirit of Black Friday, meaning the issue you receive this week will have sales beyond belief.
Just make sure to pick it up before December 2nd
!
Say, now that my boss is done with all this rigmarole o' sorts, I reckon he's on his way to the ToonFest grounds at this very moment. You autta' stop by and see him! Riggy Marole will be strolling around as clear as day out there.
Say, we carnies ain't normally one for sales -- but times are tight with the holidays, let me tell ya! Just for the occasion, if you act now, I say we can strike an under-the-counter agreement of sorts, eh? Riggy would have my 'stache if he found out, but I'll secretly take 25% off all ToonFest items just for ya!
Come on up folks - ToonFest will be closing for the year on the very date of
December 2nd
, and these prizes are selling out fast! Hope ya enjoy the last of it 'til next year!
November 25, 2016 [ttr-beta-v1.13.1]
Bugfixes:
• Fix a long-standing crash with HQ Officers in Donald's Dock.
• ToonFest Cannons have been fixed for better gameplay!
• Fix capitalization on the unites SpeedChat menu.
• Fix a bug causing jerky movements when hitting a ToonFest Cog dummy.
• Fix incorrect texture being loaded for ToonFest token bags.
• Nametags now display correctly in areas with Picnic Tables.
• Fix transparency for some glasses accessories which weren't loading correctly.

Tweaks:
• Increase ToonFest token bag amount to 20 tokens.
• Bean Bags now display how many beans or tokens have been earned when redeemed.

Features:
• The ToonFest Tower has opened its doors with brand new prizes, as well as many loved items from last year!
• Merry Multipliers are here! Head over to the booth to the right of the ToonFest tower to use your tokens on gag and promotion experience.
• Riggy Marole is here! He'll be walking around the ToonFest area to talk to Toons throughout the remainder of the event with brand new animation.
• ToonFest will close its doors for the year on December 2nd! Any features not yet released have been saved for next year's celebration.

---
Comments
Sorry! Comments are closed.
---
---
---
---
---
---
---
---
---
---
---
---
---
---
---
---
---
---
---
---
---
---
---
---
---
---
---
---
---
---
---
---
---
---
---
---
---
---
---
---
---
---
---
---
---
---
---
---
---
---
---
---
---
---
---
---
---
---
---
---
---
---
---
---
---
---
---
---
---
---
---
---
---
---
---
---
---
---
---
---
---
---
---
---
---
---
---
---
---
---
Back To Top