More News
Go Out and VOTE!
Posted by Alec Tinn on November 8, 2016 at 6:00 AM
Hello, hello,
HELLO
Toontown! Alec Tinn here, bringing you another update on the Road to the
Toontown Species Election
.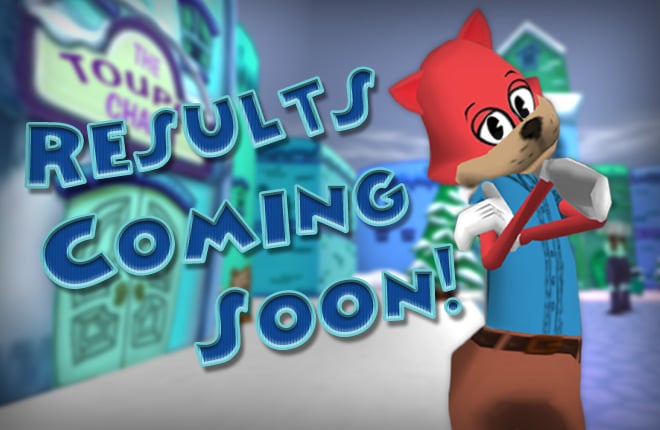 I've been busy working with our electoral editors to figure out which of the nominees YOU picked is best suited for our grand election, and pretty soon their candidacies will be announced and this election rally will begin! We're running a bit behind schedule, but no matter. An election of this grand proportion must be carefully planned!
Very soon, we'll be releasing the details about which animals will be starting their campaign complete with
portraits of their appearances and all of their various goals and hobbies
. You'll know exactly what you're putting your vote on the ballot for!
Now, although you can't vote for your species today, there is
another certain vote
that I
highly
recommend you participate in if you're eligible.
Speaking of which, a lot of you have been asking questions about ToonFest. Riggy Marole was too busy to come and comment, but he sent Donald Frump
(Owner of "The Toupee Chalet" in The Brrrgh)
to pay us a visit with some exclusive details.
"I've seen ToonFest, and let me tell you, we've got the best ToonFest around. We're making ToonFest great again, it's gonna be HUGE. I respect ToonFest more than anyone, and we are bringing this ToonFest in big league. AND THE COGS ARE PAYING FOR IT!"
I don't know about that last part, but Donald Frump's excitement portrays us all as the final additions of ToonFest are finally being wrapped up among all of the other excitement. Stay TOONed, and don't forget to go VOTE!
---
Comments
Sorry! Comments are closed.
---
---
---
---
---
---
---
---
---
---
---
---
---
---
---
---
---
---
---
---
---
---
---
---
---
---
---
---
---
---
---
---
---
---
---
---
---
---
---
---
---
---
---
---
---
---
---
---
---
---
---
---
---
---
---
---
---
---
---
---
---
---
---
---
---
---
---
---
---
---
---
---
---
---
---
---
---
---
---
---
---
---
---
---
---
---
---
---
---
---
---
---
---
---
---
---
---
---
---
---
---
---
---
---
---
---
---
---
---
---
---
---
---
---
---
---
---
---
---
---
---
---
---
---
---
---
---
---
---
---
---
---
---
---
---
---
---
---
---
---
---
---
---
---
---
---
---
---
---
---
---
---
---
---
---
---
---
---
---
Back To Top