More News
Have a Horrific Halloween!
Posted by Sir Max on October 31, 2015 at 12:00 AM
Did you miss me?
The time around ToonFest always puts me out of a job for writing blog posts, but you know that I wouldn't dare be absent for the only holiday of the entire year where I won't get in trouble for unleashing a swarm of bats into Shockley's yard!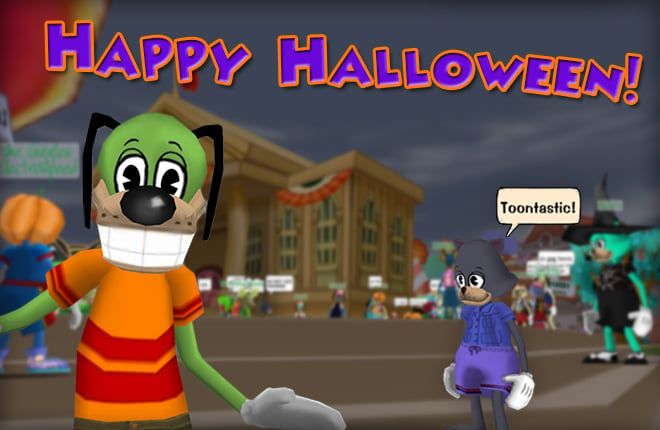 It's normally Flippy who gets this prime-time post at 12:00AM on the night of Hallow's Eve -- after all, Halloween was the day he launched his election campaign
two years ago
in 2002! -- but he's got himself tied up with other things. Not literally! He wasn't the one I tied up this year.
In light of Flippy's absence, of course, someone had to take on the role of President of the Toon Council during our near-apocalyptic circumstances caused by Jack O' Kazam! Luckily, I already had a Flippy suit for my costume this year, and the Toon Council was stuck in a candy coma before they could veto the decision. Democracy is neat like that!
Between the gloomy curse-filled weather, cheerless curse-filled pumpkins, mysterious curse-filled bean bags, and dangerous surprisingly-not-cursed
Bloodsucker Mega-Invasion
, there really could not be a better day to head outside and spread some Halloween horrors!
Even though Flippy is busy on his hunt, that would never stop him from spreading some horror himself over by Toontorial Tom's shop. He always has a
"TOONTASTIC"
surprise for any cats that may cross his path!
As you head out on your tricksy and treatsy missions tonight, kids, just remember: 'Tis better to
treat and trick
than to
trick or treat!
Parents, just never mind I said that.
Have a Horrific Halloween!
-- Sir Max
(Temporary Stand-In President in Charge of Presidency during Flippy's Absence)
---
Comments
Sorry! Comments are closed.
---
---
---
---
---
---
---
---
---
---
---
---
---
---
---
---
---
---
---
---
---
---
---
---
---
---
---
---
---
---
---
---
---
---
---
---
---
---
---
---
---
---
---
---
---
---
---
---
---
---
---
---
---
---
---
---
---
---
---
---
---
---
---
---
---
---
---
---
---
---
---
---
---
---
---
---
---
---
---
---
---
---
---
---
---
---
---
---
---
---
---
---
---
---
---
---
---
---
---
---
---
---
---
---
---
---
---
---
---
---
---
---
---
---
---
---
---
---
---
Back To Top