More News
The Silly Spotlight: Lord Lowden Clear
Posted by Sir Max on November 7, 2015 at 2:00 PM
You may have been led on the miraculous missions, heeded the woeful warnings, or heard the valiant voice of the bold Leader of the Toon Resistance,
Lord Lowden Clear
-- but do you really know who he is? Our new column,
The Silly Spotlight
, is here to tell you all about the wackiest Toons of Toontown!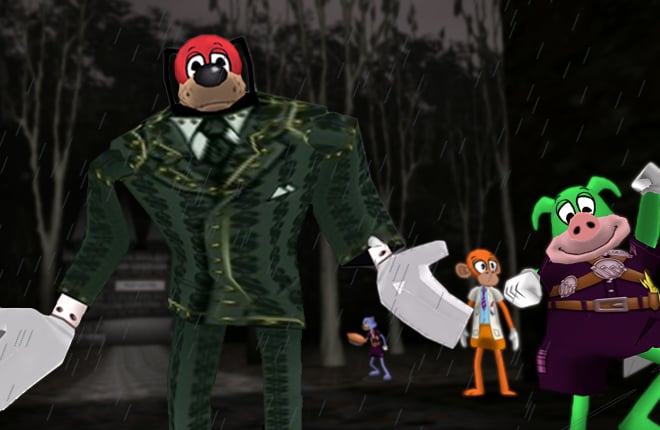 Lord Lowden Who?
Let me tell it to you loud and clear: Lord Lowden Clear is the fearless leader of the Toon Resistance, the ongoing effort to fight back the Cogs from our fair town. He was the one who proposed the formation of the Toon Resistance, and thus was appointed leader of it by Flippy himself. Now, he's one of Flippy's most faithful advisers on the Toon Council!
What made him such a charming choice, you ask? Well, have you ever worn one of those newfangled Cog Disguises to break into the Cog Headquarters? That was
his own design!
The invention by far outranked the other prototypes that Loony Labs had been working on, and when he busted through the doors of
the very first Toon Council meeting
to show it off, we were all amazed. He's never been seen without it since!
Why the Cashbot Disguise?
Lord Lowden Clear has made quite a name for himself in the Cog's nation, you see. Lowden is a master of disguise, which is why he never takes off his suit to keep those Cogs going along with his ruse! He is known within their headquarters as a traveling businessman, and breaks in so much that the Goons don't even bat their eye.
Many More Missions
By far, Lowden's biggest roles yet has been the parts he played in
Operation: Storm Sellbot Headquarters
and the formation of the (mostly) great
Team LHAAFBBHQ
, but don't think he would ever stop there! The Cogs are growing stronger than ever, and there are still many questions left unanswered...
Is Slappy still out there? Where was Team LHAAFBBHQ taken? Where did the Cogs come from? And do they have more headquarters outside of our view?
If I know Lord Lowden Clear, I know that he'll never stop until we've answered all of those questions and more. He's our fearless leader, and he will help us defeat those Cogs, soon enough, without a doubt -- as sure as his name is Lord Lowden Clear.
As he always says: Keep those Cogs busting -- with LAUGHTER!
---
Comments
Sorry! Comments are closed.
---
---
---
---
---
---
---
---
---
---
---
---
---
---
---
---
---
---
---
---
---
---
---
---
---
---
---
---
---
---
---
---
---
---
---
---
---
---
---
---
---
---
---
---
---
---
---
---
---
---
---
---
---
---
---
---
---
---
---
---
---
---
---
---
---
---
---
---
---
---
---
---
---
---
---
---
---
---
---
---
---
---
---
---
---
---
---
---
---
---
---
---
---
---
---
---
Back To Top