More News
The Cartoonival Finale: All Styles for All Toons
Posted by Riggy Marole on October 14, 2023 at 6:45 AM
Yada yada, Cartoonival Finale. Something something, double tokens and fireworks 'til the 20th. Gah, isn't dis year supposed to be all special? Dis finale is the same as last year… AND the one before that! I don't mean to skirt my responsibilities as host-with-most, but I can't help feeling dat the tail-end of this celebration is comin' up a lil' short.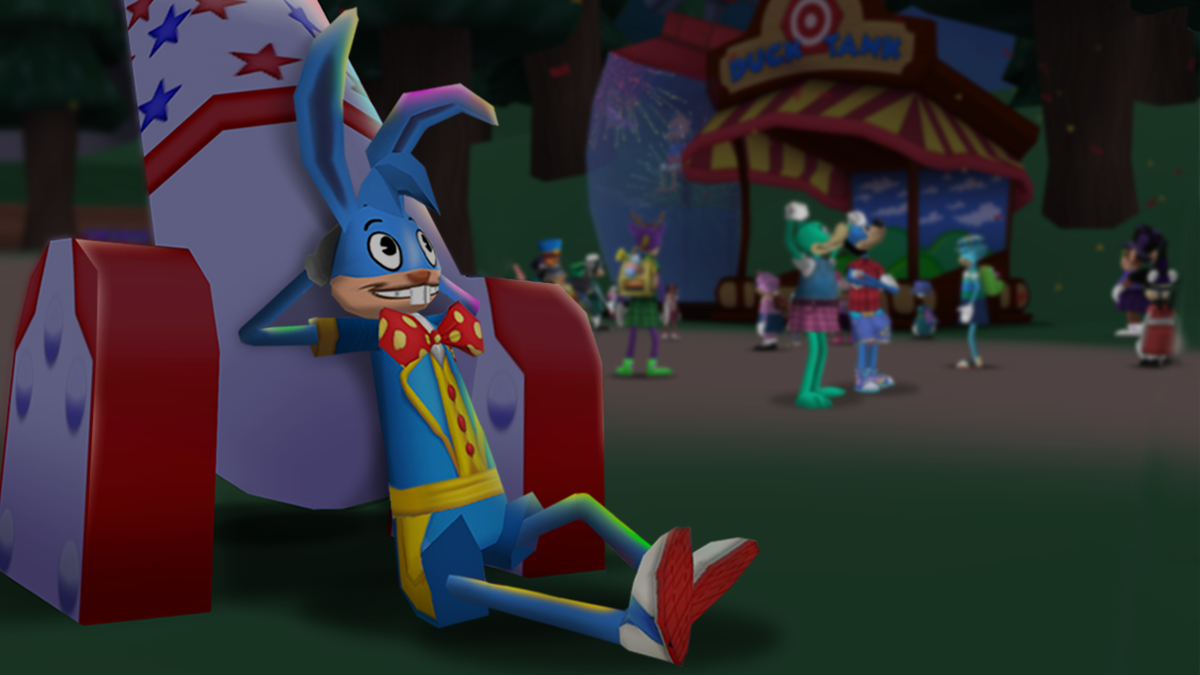 You know what? Dats it, I'm goin' out there and makin' ACTUAL news! Boy oh boy, what bee-YOOTIFUL timing dis is! I was actually gettin' a bit tired of all dat driving around…
Tokeneers, call up dem folks at the Cattlelog. Ring the telly-phone for the Toon Tailors. Just like we changed the course o' Toon History with our fabulous fashion from the Cartoonival Tower, we're pushing fashion forward so dat EVERY style in Toontown will be available for EVERY Toon from now on!
Ahem, to clarify: Anything dat was previously unavailable for boy or girl Toons -- it ain't anymore, buck-o! Every Toon out there can express demselves with the full foray of fashion at the tip o' their gloves! Feel like puttin' on eyelashes for the day? Don't worry about it, pal, just check your wardrobe! Ooh, and don't forget to complete your Extraordinaire Outfit with dem Token Takers -- now available in both shorts and skirts!
In fact, you can get a taste of these styles-for-all-toons right now for FREE. That's a code you can redeem until the end of the Cartoonival for the public ToonFest 2018 shorts and skirts, courtesy of dem birthday bashers. Ahh, now that's confusing! Has my best-est friend, the letter F, betrayed me? Best not to be questionin' it.
Oh, yeah -- I almost forgot about the stuff I'm actually supposed to be sayin'. During dis finale week of the Cartoonival, we'll be hosting a fireworks show every 3 hours at the Cartoonival Grounds. Additionally, ALL Cartoonival Token gains are doubled, so you'll have an even easier time nabbin' all dose wonderful rewards we gots set out for YOU!
So, whatcha waitin' for? Cartoonival is THE best time o' the year, and hibernation season is quickly approachin'! Get to outfittin' yourselves however you might fancy, den hop on down to express yourself at dis year's Cartoonival -- and now I can say dis with utmost confidence -- GRAND Finale!
See ya 'round, Toontown! Don't forget to write… or even Rewrite! HAH!
---
Note From The Toontown Team
Today's Toon customization update has been one of the most requested features since the dawn of Toontown Rewritten - and it's been our long-time desire to see it implemented! This feature may seem simple on the surface, but it required a major technical undertaking that our Tech Toons have been working on for a long time.
We're extremely happy to open up Toon customization more for everyone to better express themselves in the wacky world of Toontown. This is just the first step, and there is much more to do in the future!
Check out our new FAQ entries for additional information about this update! We'd love to hear your feedback on our official Discord or by sending an email to support@toontownrewritten.com.
---
October 14, 2023 [ttr-live-v3.10.3]
Toons
• Eyelashes are now a toggle. Just head to your Wardrobe, and toggle away!
• Made a ton of underlying changes to enable everything in this release. Shoutouts to our Programming and Technical Operations teams!

Clothing
• Gender-lock no more! Every Toon can wear anything they want.
• Both Shorts and Skirts are available in every Clothing Shop, alongside in your next Cattlelog issue.
• If you missed out on clothing as a reward for maxing an activity, you'll just need to complete one more instance of the activity to complete the set.

Make-a-Toon
• Updated the first room of Make-a-Toon to include more inclusive language.

---
Comments
Sorry! Comments are closed.
---
---
---
---
---
---
---
---
---
---
---
---
---
---
---
---
---
---
---
---
---
---
---
---
---
---
---
---
---
---
---
---
---
---
---
---
---
---
---
---
---
---
---
---
---
---
---
---
---
---
---
---
---
Back To Top