More News
Stay Frightful for Friday the 13th!
Posted by Booregard on October 13, 2023 at 12:00 AM
BOO! For this freaky, frightful Friday the 13th, Toontown's due reward has come: YOU'VE ALL TURNED INTO BLACK CATS! Mwahahaha!! If you'd like to be your non-spooky self instead of a Black Cat, you can visit ME, Baron von Booregard, in Toontown Central -- but until day's end, the Black Cats' Curse has taken its bitter hold on the entire town!!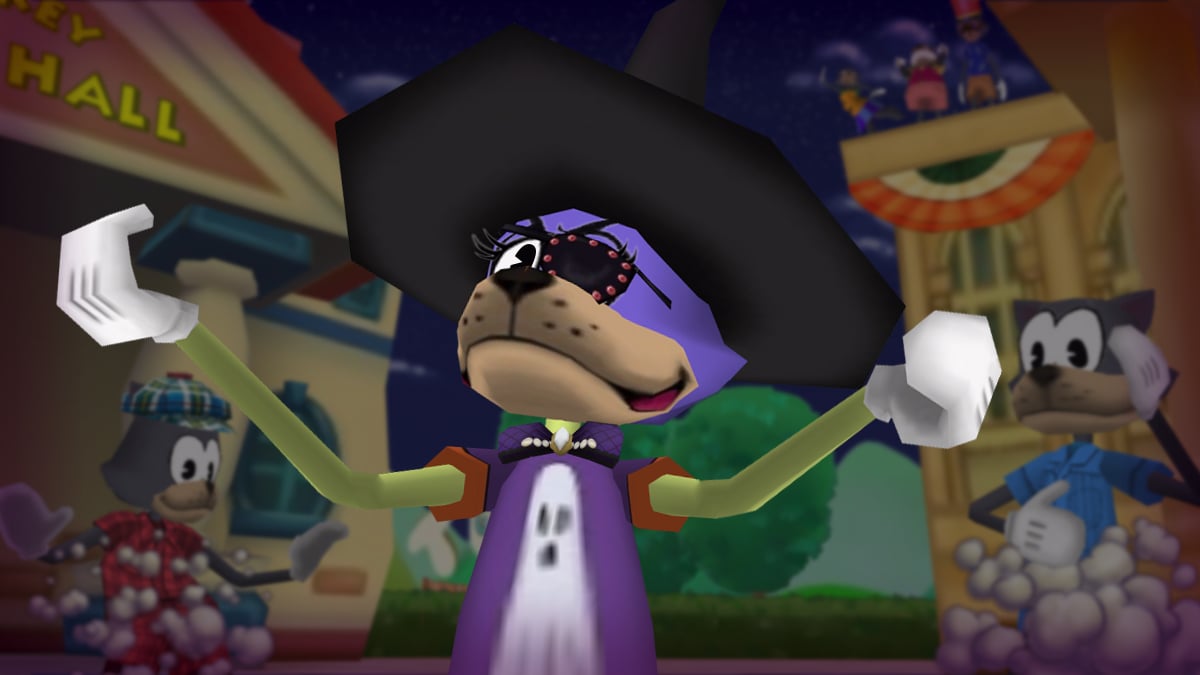 Every Toon, from the iciest blue horses to the snowiest bears, even Black Cats themselves -- none of ya's spared from my Midnight Incantation! Ta EVERY TOON waking up to task, ya will find yourself with a taste of the Black Cats' Curse.
What this means is, instead of your pretty pink dogs and radical red cats, every Toon has been beholden with my curse and transformed into a totally random Black Cat. That ought ta knock your socks off the second ya look in the mirror!
Be warned: today is a Trick or Treat, but hold the treat! I'll wish you a Happy Halloween no matter the date, but I'm not offering my Halloween surprises today, so no existing cats can get a coat of black. I'm already usin' every ounce of this here tome's spooky magic! Using any more for permanent transformations would have me outta commission in minutes, and I've got too many more Toons ta trick to do that.
Stay frightful for Friday the 13th, Toontown! See ya 'round the candy bowl!
October 12, 2023 [ttr-live-v3.10.2]
Toon Recolors
• Added a dash of permanent ink to various special Toon colors such as Cartoonival Blue - permanently adding them to your Toon's color palette!
• Special color purchases have become Toon Recolors. This allows you to mix-and-match this special new color with your other colors!
• Once accepted from your mailbox, Toon Recolors are applied at the Pick-A-Toon screen like Rewrites and Renames.
• Any color in your palette is available for use in Toon Rewrites.
• Special colors include Cartoonival Blue, Cartoonival Pink, Spooky Purple, Black, and White. If any part of your Toon was one of these colors prior to this update, it will remain permanently in your palette.

Black Cat Day
• Booregard has transformed every Toon into a random Black Cat for Friday the 13th! Owoooo!!!
• Flippy, Kitty Marole, even Booregard themself - no Toon is spared from the Black Cats' Curse!
• To be spared from the Black Cats' Curse, speak to Booregard outside Toon Hall. You'll feel like yourself in no time.
• If you change your mind, just speak to Booregard to become a random Black Cat again.

---
Comments
Sorry! Comments are closed.
---
---
---
---
---
---
---
---
---
---
---
---
---
---
---
---
---
---
---
---
---
---
---
Back To Top