More News
Tracing Thanksgiving Turkeys
Posted by Sir Max on November 22, 2018 at 3:00 PM
Happy Thanksgiving, Toontown! If you're like me, the best part of Thanksgiving has got to be the life sized meal at the end of the challenge. What's the challenge, you might ask? Spending time with the family, of course! Have you ever heard Shockley go on about the tiniest details of Raspberry Pies? It's too much to bear!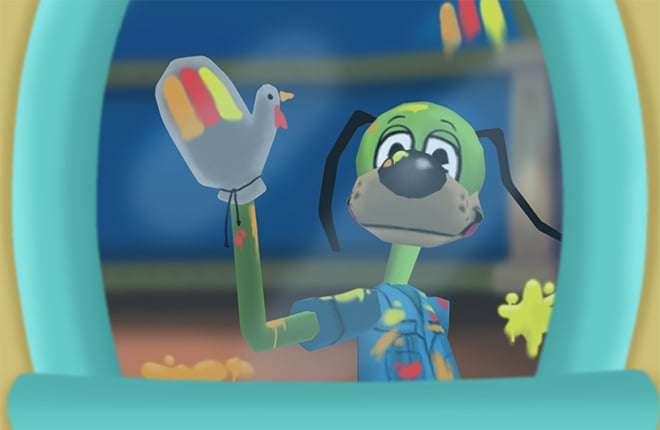 Luckily, I managed to get away from the hustle and bustle of Thanksgiving. I got to talking with Mustavo about the policies of the Toon Council towards journalists such as myself, and he enjoyed the conversation so much that he gave me a challenge: paint the best turkey known to Toon-kind. As he walked away, he looked very satisfied with himself, although I don't quite know why.
Although I do pride myself on my amazing sign making skills, I have no idea what I'm doing. For hours, I locked myself in Toon Hall, waiting for inspiration to strike. Three hours, only Sir Max, a canvas, and a couple of Scientoons working on some doohickey behind me. I wonder what that's about? I think I've got an idea how to make this piece work.
It's been two more hours, and my canvas is blank. I begun to study the back of my glove, memorizing the smooth cloth's texture. It was at that moment that inspiration struck! I quickly got my paint supplies out of the storage closet and began painting the window. That'll show ol' Mustavo!
Doctor Surlee was not happy with what I had done. With a shove, I was thrown out of Toon Hall to find a search party looking for me. I think I'm supposed to learn a valuable lesson from this experience, but I'm still trying to figure out what that is.
…What? You want me to what? Sounds good enough to me.
On this Thanksgiving, I learned a valuable lesson. Don't trust what Mustavo says. Also, I suppose that if I had just been thankful for my Toontown family, I would have had a far more fun Thanksgiving. That's the important part here, right?
Note from The TTR Team: As you go through your day today, take some time to remember how thankful we are to have Toontown. By the hard work and generosity of Toontown's developers throughout the years, and most importantly the founders over at Disney, we've been able to experience this wonderful game for over 15 years. We're thankful for YOU, and we wanted to show it! Toons of the world, UNITE!

---
Comments
Sorry! Comments are closed.
---
---
---
---
---
---
---
---
---
---
---
---
---
---
---
---
---
---
---
---
---
---
---
---
---
---
---
---
---
---
---
Back To Top