More News
Have YOU Met a Cast Member? | Backstage Toontown
Posted by The Toontown Team on November 9, 2018 at 2:00 PM
Say, have you met a Cast Member yet? Wait, do you even know what a Cast Member is?! Oh, who am I? Boy, you sure ask a lot of questions. I'm here to answer them in our latest Backstage Column, where we take a look at what's going on behind the scenes of Toontown Rewritten.
I'm Quentin, and you might've seen my Toon "Quackosaurus" running around Toontown. I'm a Community Coordinator for Toontown Rewritten, and I'm super excited today to tell you all about some of the ways we're changing the way we communicate with Toons just like YOU!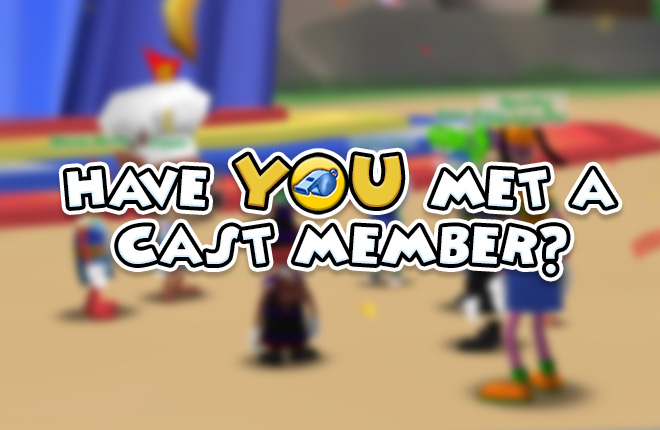 This post may seem like old news for some of you who have met Cast Members before, but we've made some changes to the way we use these Toons that we think will bring some brand new experiences to Toontown for the more social players.
Bridging Staff and Players
A little while ago, we talked about something we're extremely passionate about: Supporting the Toontown Community. Since then, we've worked hard to review and revamp the approach we take to community engagement. After all, all of us here on the Toontown Rewritten Team are passionate Toontown players just like you!
One area we saw room for improvement in is the bridge between the team and our players. In the past, members of the team haven't had too many appearances in the game, and we recognize that there's potential for people to think that we're just not there. We also understand that lots of you out there want to meet up and spend time with us in the game. Well, we did too!
Luckily enough for both you and I though, all that has now changed. I would like to formally introduce Cast Members, Cast Member Minigames, and Staff Toons!


Casting the Cast Members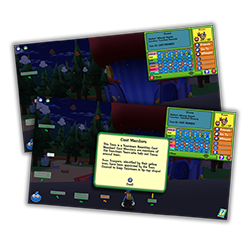 So, what is a Cast Member anyway? We use the term "Cast Member" as a homage to Disney, who uses the same term to describe the staff members in their parks who are in charge of creating a pleasant and entertaining experience for their guests. Likewise, that's our job for you!
Cast Members are what we collectively call Toon Troopers and Resistance Rangers, who you may have seen mentioned on the Toontown Blog in the past. These are characters fully immersed in the world of Toontown and will give you an interactive roleplaying experience in the game.
Toon Troopers

have a yellow whistle icon above their head and work on the Toon Council, meaning they work for our old pal Flippy! Troopers are tasked with keeping Toontown in tip-top shape, whether it be building new areas or helping Postmaster Pete deliver mail.
Resistance Rangers

are identified through their green fist icon. These brave Toons work for the Toon Resistance, under the direction of Lord Lowden Clear, and help lead the fight against the Cogs! There's no challenge too big or too difficult for our Resistance Rangers. Apparently, helping them in the fight against the Cogs could land you with a Toontastic Cog Crusher Outfit of your own.


Mingle with Minigames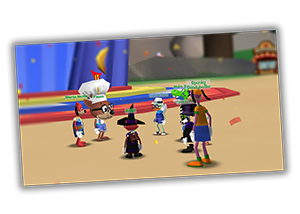 While focusing on strengthening the fun of meeting a Cast Member, we threw around a whole bunch of ideas. Rather than just standing around talking, we wanted meeting a Cast Member to be a unique experience that you can't get anywhere else in Toontown!
As a result, we recently added our first ever Cast Member Minigame! Some of you may have already gotten a chance to play it.
If you find a Toon Trooper around town, you may just find yourself in a game of "Toon Tag" in the playground. This is just our initial test of Cast Member Minigames, so we want to hear from YOU: What other ways can we add more fun when meeting Cast Members? Let us know in the comments!


The Difference of Cast and Staff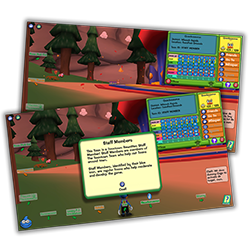 Maybe roleplaying with an interactive Cast Member isn't your thing. That's okay! These Toons are just one way we're hoping to draw closer with the community of Toontown.
In addition to our in-character Cast Member Toons, you might also find Staff Toons

running around Toontown. These are the main Toons of our Team Members, who can be identified with a blue icon above their head, as well as their Toon ID displaying as "STAFF MEMBER."
These are just normal Toontown Team Members playing the game who would be happy to answer questions, take suggestions, and talk to you about what's going on with the Toontown Team in a more personal way.


---

Well, that was quite the long backstage post wasn't it? I could go on for much longer, but instead I think it's better for you to go meet a Cast Member for yourself. In fact, there will be Toon Troopers running around all weekend!
Anyway, thanks for reading, and I hope I've been able to give you a little bit more insight into our community engagement efforts. Be sure to keep your eyes peeled when you're running around the town, as I hear you'll be seeing Cast and Staff members much more frequently, and not just at special events.

See you around, Toontown!

---
Comments
Sorry! Comments are closed.
---
---
---
---
---
---
---
---
---
---
---
---
---
---
---
---
---
---
---
---
---
---
---
---
---
---
---
---
---
---
---
---
---
---
---
---
---
---
---
---
---
---
---
---
---
---
---
---
Back To Top