More News
Decking Toontown With Boughs of Holly
Posted by Hawkheart on December 16, 2017 at 2:00 PM
On the second day of winter, Toontown gives to you:
Festive decorations,
And an update to make your holidays brand new!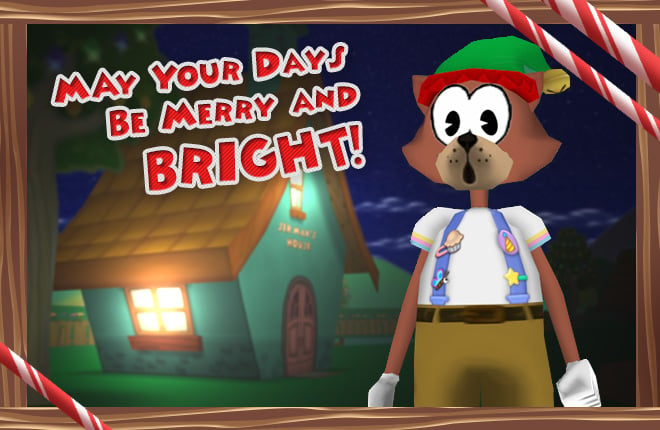 Happy Winter Holiday! It's Hawkheart, one of Toontown's Toon Troopers here. After last year's fantastic job, the Toon Council was practically begging me to come back for Christmas decorations. Granted, they'd take anything to prevent Sir Max from having access to that kind of voltage. I had to oblige -- decorating at Christmas is my calling, right next to being the Fish Bingo Operator.
Frankly though, a certain friend of mine has always felt the need to crash the party. Away to the supply closet I went with a crash, yet all of my supplies were gone in a flash! Apparently Sir Max's interior decor is more important than the rest of Toontown. I have to admit though, it sure is joyful and triumphant. How does he even fit that many lights into a single room?
Luckily, I spent all of last night creating exact replicas of the old lights! Believe me, you won't even be able to tell the difference. Just in time, every square inch of Toontown has been decorated for the Christmas season again! After all of that work, I think it's time to settle down for a long winter's nap. Who knows, maybe I'll wake up before Christmas this year.
We've got a lot more in store for this Winter Holiday, but of course we can't get started without decorations. Check back tomorrow to see what comes next for the Twelve Days of Winter, and make sure to enjoy the lights around town!
---
Comments
Sorry! Comments are closed.
---
---
---
---
---
---
---
---
---
---
---
---
---
---
---
---
---
---
---
---
---
---
---
---
---
---
---
---
---
---
---
---
---
---
---
---
---
---
---
Back To Top