More News
Celebrating a #ToonEnough Halloween | Community Spotlight
Posted by The Toontown Team on November 2, 2017 at 1:00 PM
Welcome, gals and ghouls, to the first ever Toontown Community Spotlight! Halloween is over and Jack O. Kazam's curse has been lifted, but that doesn't mean that we can't keep doing the "Monster Mash" a little bit longer. We're quite good at it, you know.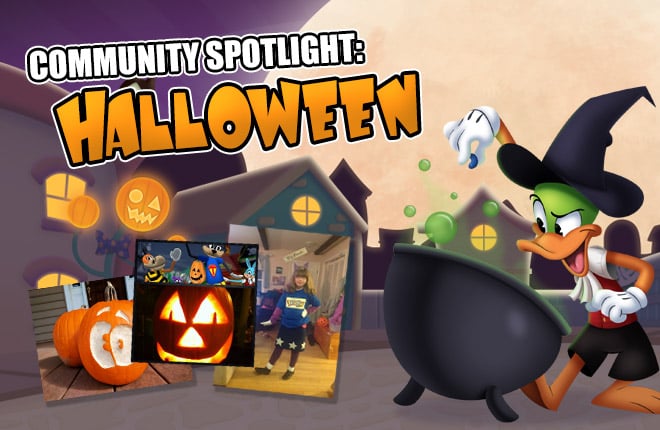 Even better than our "Monster Mash" skills, however, are the players in this community! On our social media accounts (Which you should totally follow - you can find them at the bottom of the page), we asked Toons to send in pictures and stories about how they celebrate a "#ToonEnough" Halloween. We've highlighted our favorites here!

---
Worthy of the Pumpkin Head Curse
Halloween is almost here! Post any Toontown pumpkins, costumes, or other Halloween traditions with #ToonEnough! We'll retweet our favorites. pic.twitter.com/qDWNloavGH

— Toontown Rewritten (@TT_Rewritten) October 30, 2017
As a longtime fan of Toontown Online, I decided to carve a familiar design on a small pumpkin! #ToonEnough pic.twitter.com/NNPhgT4O2w

— Karbonated Yo-kai (@Karbonated) October 30, 2017
Cog-Busting Costumes
@TT_Rewritten Dressing up as my Toon Salty C. Ice Cream this year. I made the costume myself. #ToonEnough pic.twitter.com/TDFSzryilY

— Salty C. Ice Cream (@SeaSaltMouse96) October 31, 2017
In-Game Creations
Jack O. Kazam's Trick or Treat puzzle got you stumped? Turn that stump into a pumpkin with @lorenzodeniro's guide!https://t.co/dXAnxBub5o

— Toontown Rewritten (@TT_Rewritten) October 31, 2017
---
These are some awesome community creations, and we know there's a whole lot more out there! Make sure to follow us on Facebook, Twitter, Instagram, and Google+ so that you don't miss out on future Community Spotlights. Through the Member Mailer program, you can also send us your own physical creations, like fan art, to be featured on the website!
We're going to head back now to keep scarfing down that Halloween Candy. We've been on a nonstop sugar rush for the past two days, and there's no stopping us now. Hope that you enjoyed Toontown's Halloween Event!
Let us know in the comments: What do YOU want to see next on the Toontown Community Spotlight?


---
Comments
Sorry! Comments are closed.
---
---
---
---
---
---
---
---
---
---
---
---
---
---
---
---
---
---
---
---
---
---
---
---
---
---
---
---
---
---
---
---
---
---
---
---
---
---
---
Back To Top