More News
ToonFest: The Party Starts NOW!
Posted by Riggy Marole on September 30, 2016 at 2:00 PM
Don't even give me that look for a single second -- you know what this post means and you know it very well. Toons, Toons, and other Toons, my name is Riggy Marole, and it's finally time.
HA HA!
Boy, is it time.
Let's get this ToonFest party pumped up!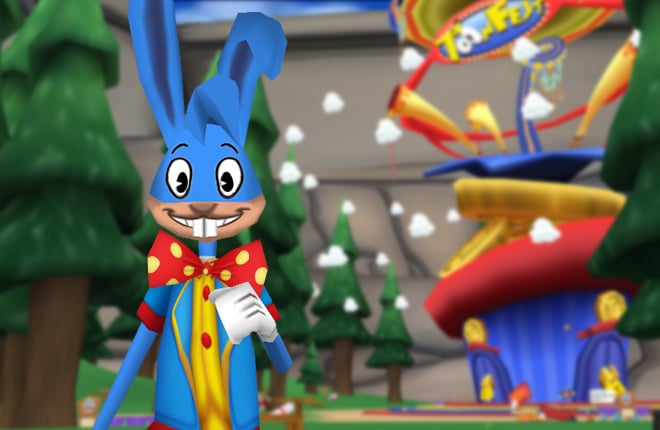 ToonFest Grounds Earned a Makeover!
Just like always, this year's ToonFest celebratory sorts are being hosted right in my own backyard near that little hub of Acorn Acres. Just don't go snooping in my rabbit hole, yasee!
Last year we went through and took down the tower, then built a
nearly
identical one that looked EVEN BETTER! It just does, alright? No questions asked. Building upon that philosophy, my minions ("Toon Troopers", some would say) trimmed up the trees and are working on making a better layout for the area. Act now, because that place is going to be covered in several tons of confetti before the week ends!
The Tower and the Tokens, a ToonFest Tale!
With the introductory intro of induction into our incredible improvements of insanity enacted into ToonFest, we created a brand new currency called
ToonFest tokens
to throw jellybeans out the window! With all of the activities in the area, you can earn plenty o' tokens -- and trust me when I say that there's even more headin' your way.
You're going to want to stock up on those tokens for the weeks to come, because we've got PRIZES and PRIZES galore this year, even more than last! Don't make the same mistake I did though, I went looking for my tokens the other day and all I found was a big pile of melted chocolate where I left them!
Oof.
We're also going to be bringing along brand new ways to earn tokens, so if you don't have a blast with cannons or can't seem to get a spring to your step with the trampolines, just you wait and SEE what I'm bringing to the table.
Heh,
you'll love it.
The Host with the Most!
For those of ya's who got left behind on the last train, allow me to introduce myself. I'm your humble host for this extraordinary event, and boy have I got some surprises for you.
ToonFest is starting out this year the way it does every year:
BOR-ING.
Boring to the most terrific Toons, at least, who know that everything sitting here now is the same stuff that was sitting here on October 19th of the last year. As the even goes on, you're going to see
new minigames
,
new prizes
,
new ToonTasks
, and best of all...
ME!
Once I'm done preppin' over these next few days, I'll head outta my rabbit hole and meet and greet you all while we wait for the bigginz' to get here. What's a good host without talking to his party guests,
eh?
Take Your Time, We've Got It!
Ah, right -- forgot the big little major detail. To make up for the delays getting these grounds open, ToonFest has been extended to
October 26th
to make sure this party reaches MAXIMUM CAPACITY!
Heh. Excuse my
uproarious
laughter. You don't even
want
to know how many jellybeans I've eaten to prepare for this!
I've gotta hop out and make sure this party goes according to plan. ToonFest is opening up TONIGHT -- just you wait and see! Keep your eyes on updates from Toon HQ to see the exact time the doors open.
Until next time, buck-o's. Have fun at the greatest party in the TOONIVERSE!
September 30, 2016 [ttr-beta-v1.13.0]
Features:
• ToonFest 2016 has opened its gates!

• Trimmed the trees to make ToonFest a lot more spacious.
• Optimized the area for better performance.
• More activities are hidden in this update... They'll appear in ToonFest in the days to come!
• ToonFest will last until October 26th. Prizes are coming soon, so stock up on tokens!



Tweaks:
• Cog nametags now appear exactly as they did in Disney's Toontown Online.

Maintenance:
• Miscellaneous maintenance and bugfixes.

---
Comments
Sorry! Comments are closed.
---
---
---
---
---
---
---
---
---
---
---
---
---
---
---
---
---
---
---
---
---
---
---
---
---
---
---
---
---
---
---
---
---
---
---
---
---
---
---
---
---
---
---
---
---
---
---
---
---
---
---
---
---
---
---
---
---
---
---
---
---
---
---
---
Back To Top