More News
The Lawbot's Liability
Posted by Lord Lowden Clear on June 27, 2014 at 2:00 PM
Afternoon, fellow Toons of Toontown! We've got a problem on our hands. As many of you know, just yesterday a group of Toons found a secret entrance into the depths of our biggest threat yet:
The Lawbot HQ
.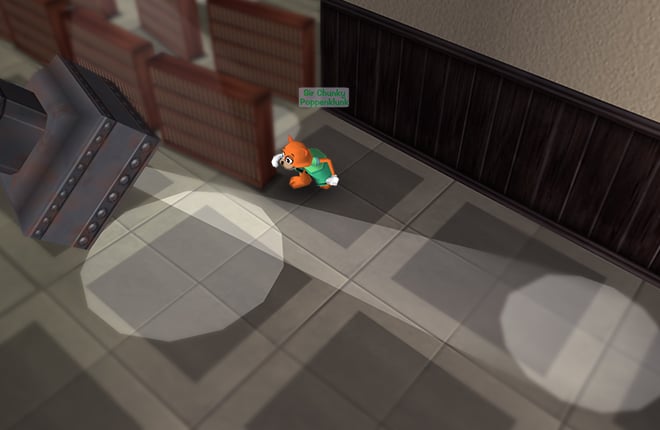 A long-time Tester Toon of ours by the name of
Sir Chunky Poppenklunk
managed to crack the code of the blueprint, and was then followed by
Harley Quinn
,
Darkgrumly
,
Tropical Storm
, and
Lisosaurus
as a few of the first brave toons to step foot into the bodaciously boring Headquarters that those Cogs call an office.
We've received information that the Cogs have been putting Toons on trial inside of the Chief Justice's main Courtroom. Even one of our own Toon Council members, Doctor Surlee, was put on trial and lived to tell the tale. Don't worry -- he managed to escape is back in his lab safe and sound!
The Lawbots, on the other hand, aren't off the hook just yet. Before the discovery of their Headquarters, we managed to capture a Bottomfeeder and took him in for questioning. He refused to fess up to the information revolving around a Lawbot HQ, putting the Cogs at quite a bit of a
LIE
-ability. Beary Bumblebehr has the evidence against their case, and we're going to need your help to fight for it. For those strong enough to try, head over to the Chief Justice's Courtroom and take him on to show those Cogs who's boss!
For any of those wanting to catch up on the shenanigans of Doctor Surlee's trial, two toons by the name of
Addison
(Decoded post) and
Temas
(In-game puzzle) have put together videos to explain what went down yesterday.
Until next time, keep them bustling -- with laughter!
Lord Lowden Clear
Leader of the Toon Resistance
June 26, 2014 [ttr-beta-v1.2.10]
Maintenance:
• Code cleanup and improvements for Toon T.A.G.S.
• Backend administration updates

Bugfixes:
• Update click region of whispers to be more reliable
• Show the correct color for Animation whispers
• Add widescreen support for the Cog Gallery page
• Potential fix for "ghosts" that appear when players disconnect uncleanly

Tweaks:
• Improve the animation of "Fountain Pen" and "Fill with Lead" attacks
• Improve animation and camera position for the "Train" trap gag
• Improve teleportation animation so that shadows and nametags aren't left behind after teleporting

Features:
• Discover Doctor Surlee's teleportation bypasses

June 27, 2014 [ttr-beta-v1.3.0]
Bugfixes:
• Fix a crash relating to Toon T.A.G.S.
• Fix a bug where the DA office door would require a Cog Disguise to get out
• Spawn jury chairs before the elevator opens in the C.J. Battle to prevent a visual glitch

Tweaks:
• Add visual Laff Meters to the final round of all boss battles
• Add an animation when Cogs are stunned in the C.J. Battle.

Features:
• Build a tunnel to the player-discovered Lawbot HQ
• Implement the Lawbot DA Offices and Chief Justice battle

---
Comments
Sorry! Comments are closed.
---
---
---
---
---
---
---
---
---
---
---
---
---
---
---
---
---
---
---
---
---
---
---
---
---
---
---
---
---
---
---
---
---
---
---
---
---
---
---
---
---
Back To Top