More News
Break Out the Cake for Toontown's Birthday!
Posted by Sir Max on June 2, 2019 at 2:00 PM
Munch munch munch...Oh! Hey there, Toons. I have an announcement to make. Let me just...munch munch... finish this... And THERE! Not a crumb in sight. That, ladies and gentletoons, was the last piece of birthday cake I'll be eating for the next five minutes. What's the birthday cake for, Sir Max? First off, don't get any clever ideas -- that cake is mine. Secondly, today is Toontown's Birthday!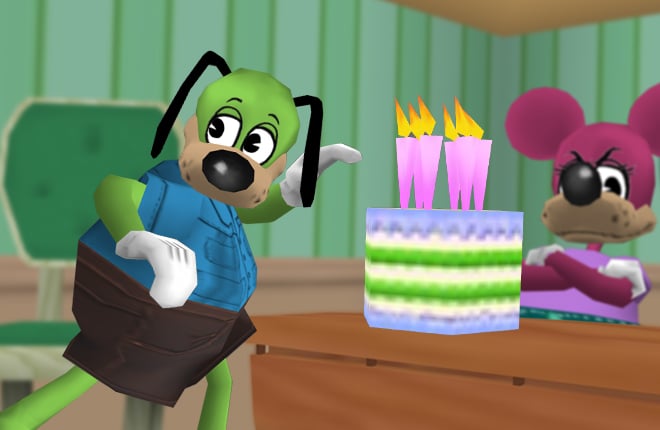 I've come to the realization that maybe, just maybe, I need to shed a few pounds off the ol' bean belly. It's not obvious, is it? Well, you can't blame me! Toontown has survived yet another year of nasty Cog drama, and what else was I going to do besides prepare for this Birthday Bash while the Toon Resistance stole my precious Toontown Blog for a month?
Hmm... Maybe I do need to get back into shape. Baker Bridget is the sweetest baker I know (No, really, I once saw her put several gallons of sugar into her mixing bowl), and even she is getting tired of me snatching her cakes when she's not looking. Maybe I should run around a bit? Play some games? I bet the rest of you Toons would want to help me with that... Ah-HA! I just came up with another one for the Sir Max List of Good Ideas.
Starting today and for the rest of the week, my fellow Toon Troopers and I will be hosting parties across Toontown to celebrate our home's grand opening all those years ago. All of you are invited! I bet you can't beat me in a good ol' match of Tug-o-War. If anything, this new belly gives me an edge! You can't pull me into the water if you can't move me! Take this opportunity to go and plan your own Toon Parties to celebrate, too, and we can make this the biggest Birthday Bash that Toontown has ever seen!
Here's to many more years of TOONTASTIC fun! Happy Birthday, Toontown!
Munch munch munch... Oh, don't look at me like that. Planning parties is gonna take some energy, you know?
---
Comments
Sorry! Comments are closed.
---
---
---
---
---
---
---
---
---
---
---
---
---
---
---
---
---
---
---
---
---
---
---
---
---
---
---
---
---
---
---
---
---
---
---
---
---
---
---
---
---
---
---
---
---
---
---
---
---
---
---
---
---
---
---
---
---
---
---
---
Back To Top