More News
House of Giggles, Inc.
Posted by Professor Wiggle on May 15, 2014 at 2:00 PM
Heavens to Betsy! I got here just as quick as I could. You don't understand toons, this is no average post. This is an emergency, and dare I say...
Serious business.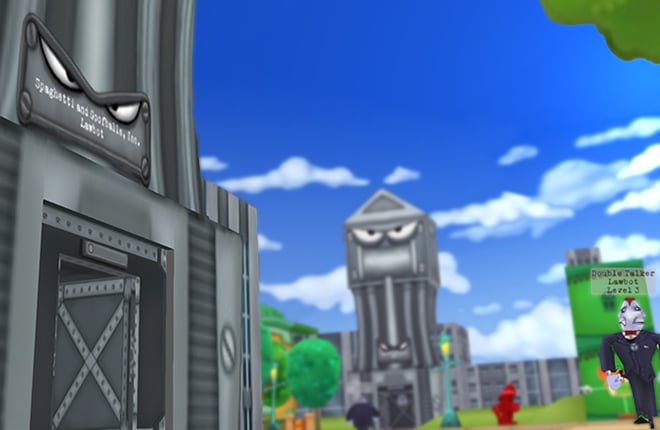 Many of you don't know me, but I'm the owner of Professor Wiggle's House of Giggles over on Punchline Place. At least, I
was
the owner! I was just minding my own business looking around for some octopus ink in my shop when suddenly the entire block began rattling. I could hear a faint whistle, so I ran outside to see what the hub-bub was about. Just as I stepped out the door, some sort of humongous
Cog Building
landed on top of my shop and crushed the whole thing!
I stood in horror as the cogs began marching in and out of it, changing my small-town shop into a mega-corporation of mass production. How
dare
they try to increase my work efficiency. You can't produce giggles from typewriters and assembly lines! I dashed over to Toon HQ, but they were all gone. I caught one of the officers on the side of the street, who was on his way to Loopy Lane. It turns out that my building wasn't the only one -- Sticky Lou's shop had been taken over as well, and Lou wasn't quite as lucky as I.
Just as the building was falling, in a frantic mess Sticky Lou tried to dart out the door but accidentally knocked over some of his famous Blue Glue on the way. It stuck him right to the ground! They incorporated his building with him inside, and he's still in there now to this minute. You see, that's why I had to run here to make the post and warn all of you -- Toon HQ is busy trying to get him out. They really weren't kidding when they thought that the Cogs had a scheme up their sleeve. Buildings are dropping like flies - and not dead ones!
Last I heard, there was a squad of toons about to enter the elevator and try to bring the business down and save Sticky Lou. I just hope they can get my building next before those Pencil Pushers and Bloodsuckers steal my octopus ink!
---
Comments
Sorry! Comments are closed.
---
---
---
---
---
---
---
---
---
---
---
---
---
---
---
---
---
---
---
---
---
---
---
---
---
---
---
---
---
---
---
---
---
---
---
---
---
---
---
---
---
---
---
---
---
---
---
---
---
---
---
---
---
---
---
---
---
---
---
---
---
---
---
---
---
---
---
---
---
---
---
---
---
---
---
---
---
---
---
---
---
---
---
---
---
Back To Top